The US has formally announced that an agreement has been reached with Japan over relaxation of current age limits on US imported beef.
A statement issued this morning by US Trade Representative Ron Kirk and Agriculture Secretary Tom Vilsack said the US and Japan have agreed on new terms and conditions which pave the way for expanded exports of US beef and beef products.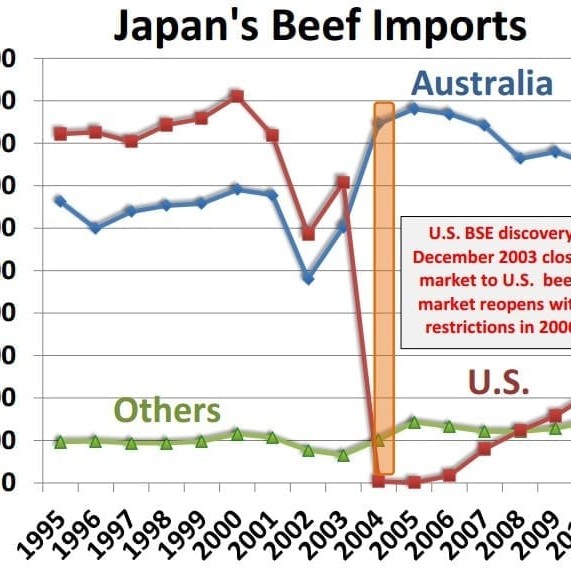 Under the new terms, effective February 1, Japan will now permit the importation of beef from US cattle less than 30 months of age, relaxing the previous 20 month limit imposed due to BSE health risk fears.
The statement suggested the changes would result in hundreds of millions of dollars' worth of additional exports of US beef to Japan in the coming years.
"This agreement also goes a long way toward normalising trade with Japan by addressing long-standing restrictions that Japan introduced in response to BSE," Mr Vilsack said.
"It is great news for American ranchers and beef companies, who can now – as a result of this agreement – increase their exports of beef to their largest market in Asia," Ambassador Kirk said.
The two governments also agreed to regular consultations to review progress under the agreement and address any issues that might arise.
Japan banned all US beef in December 2003, following the detection of a BSE-positive animal in the US. In July 2006, the market was partially reopened to allow imports of some US beef from animals aged 20 months or younger, produced under a special program for Japan.
Further North, the Canadian beef industry is also celebrating its opportunity to sell more beef to Japan.
"This is an exciting announcement and we've been looking forward to this for quite some time," Martin Unrau, president of the Canadian Cattlemen's Association said.
"Japan is extremely important market and this expanded access will breathe new life into the Canadian beef sector," he said.
Canada Beef Inc, the industry's marketing arm, said the decision could potentially double Canadian beef sales to Japan, to about $150 million a year.
US analyst Brett Stuart, from Global AgriTrends, said the announcement was potentially a 'game-changer' for US cattle and beef.
From 2000-2003, before the imposition of the US ban and later trade restriction, Japan bought an average of about 450,000 tonnes of US beef and beef products each year. In 2011, US trade totalled about 207,000t, suggesting there was great potential for expansion under the revised rules.
Global AgriTrends forecast for 2013 is an expansion of 27pc US beef exports to Japan (+54,000 tonnes, carcase-weight basis), as cattle eligibility increases from roughly 20pc of US slaughter stock to more than 95pc, based on the ease of dentition verification at 30 months of age.
As a result, age-verification premiums on US cattle eligible for Japan will likely collapse, Mr Stuart said. However, price hikes for tongues, chucks, and other under-utilised items more highly prized in Japan than the US, may offset age-verification premiums, as the value of all cattle will rise, he said.
"It is important to understand the impact on US and global beef flows and prices. Japan is facing a near-recession currently and US cattle/beef prices are posting record highs. In relative historical terms (yen pricing versus Australia), US beef remains competitive in the marketplace," Mr Stuart said.
Writing in his weekly Cattle Buyers Weekly commentary issued on Friday, editor Steve Kay said the change in access might not take effect for several months.
While the specific logistical details on resolving access issues must be addressed, the change is expected to be finalised in the first half of 2013, he was told by Phil Seng, president of the US Meat Export Federation.
These details likely include protocols regarding verification and certification of cattle age, what occurs in the event of a shipping error and other matters, CBW reported.
Once these details are finalised, any increase in shipments would depend more on the price of US beef than any other factor, analysts told CBW.
The void in the Japan market (2012 imports from all suppliers was roughly 575,000t compared to 857,715t in 2000) was an opportunity for the US to regain lost sales to the highest margin market in the world, Mr Seng said.
A Catch-22 for US exports was that expected reduced production in 2013 would make less beef available for export, and make it more expensive than in 2012.
After a 19pc rise in value of its Japanese exports last year, it was difficult to see US exports to Japan increasing this much in value in 2013, as the country remains in recession, analysts told CBW.