IT''S become a modern catch-cry that there's a growing thirst for knowledge among 'foodies' about the provenance behind their food choices, and what makes a certain meal ingredient item 'tick.'
Increasingly, beef producers themselves are engaging in that process, helping educate, inform and enthuse their big city end-customers about new and creative ways with red meat protein.
A good example will be seen in Brisbane next month, when Central Queensland beef producers Blair and Josie Angus will travel south to participate in an inner city restaurant showcase for their branded beef products.
Based out of Kimberley Station at Clermont, and the Angus's North Queensland 'calf factory' at Carpentaria Downs near Einasleigh in the Gulf, Angus Pastoral Co has carved-out a unique vertically integrated beef supply chain which ends up in front of consumers in the form of their Signature Beef brand.
"Our beef is years in the making," the marketing message on Angus Pastoral Co's website explains.
"Decades of selections, years of nurturing each animal, months of finely-adjusted nutrition and finally weeks of ageing comes down to one moment of savouring. Flavour is the reward of patience," it says, with some poetic license.
"Maturity gives our beef deep flavour and enhanced marbling. A consistent flavour that is defined by the unique and pristine environment in which these cattle were raised. Flavour that gives this beef a sense of place."
With descriptors like those, it's no wonder customers in inner city Brisbane food service outlets want to know more.
The Angus's will partner with one of their Brisbane food service customers to deliver a 'Nose to Tail beef appreciation night' on Wednesday, March 6. The venue is the Pig 'N' Whistle Riverside bar and restaurant, in the heart of Brisbane's CBD.
Upwards of 100 guests will not only sample a wide range of cuts and preparation styles, but will receive a backgrounder from the production perspective from Blair Angus, as well as viewing a bone-out of a side of beef and seam-cutting demonstration exploring some of the lesser known muscle groups, and how they can best be used.
As the carcase is broken down before the guests, Blair will discuss and explain best cooking styles for each particular cut. Following the demonstration, Pig 'N' Whistle chefs are planning a menu to showcase creative use of some of the cuts as part of the five-course degustation menu paired with Penfolds wines.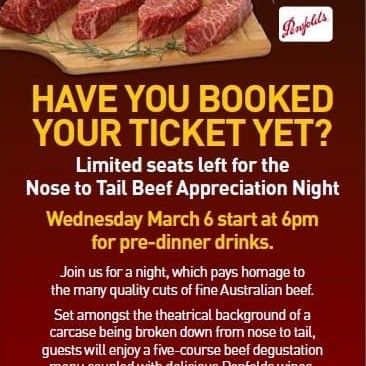 Blair said the night is about educating Brisbane residents in a fun way about the many lesser known cuts of beef and to promote the idea of enjoying beef sustainably. Flank steak and oyster blade, for example, are lesser known cuts that are popular on the Pig 'N' Whistle's extensive steak menu.
"The nose to tail concept is about understanding and enjoying the many beef cuts, rather than just the most common few pieces that we all revert to," he said.
"There are many delicious cuts that are often ignored because consumers have never heard of them, or are just not sure how to prepare them appropriately."
"For example, cuts like Serratus Ventralis and Subscapularis don't often see the light of day yet they are the fourth and sixth most tender beef cuts in a carcase," Blair said.
In comparison, rib fillet rates at 12 and sirloin, 15.
"We're passionate about taking our beef from paddock to plate and building relationships with our customers who share this philosophy. This appreciation night is about connecting diners with their food, learning more about how and where it is produced and gaining a true appreciation of the beef at the centre of their plate," he said.
Pig 'N' Whistle's executive chef Deniz Coskun, a former head chef of Brett's Wharf, will be preparing the dishes using the cuts from Angus Pastoral Co's Kimberley Red brand range.
"From grilled flank steak, chimmi churri and wild weed salad to brioche-crusted slow-cooked short rib, we're really going to push the envelope with these dishes and show cooking with beef is not just stews and steaks on the barbecues," Deniz said.
"It's a very versatile product that can be used in many different ways. We're really looking forward to showing our guests something different and educating on the lesser-known cuts."
While the event is already heavily subscribed, a handful of tickets remain if Beef Central's Brisbane or surrounding district readers wish to attend. The night costs $95 per person, including an accompanying booklet to take home.
For more information about the night or to book a ticket visit www.pignwhistle.com.au or call 3832 9099.