McDonald's much-heralded recovery will have to wait at least another quarter before it shows positive results, as the company posted another disappointing second quarter result on Friday.
The burger giant reported global comparable sales down 0.7 percent on the same period last year, reflecting negative guest traffic in all major regions. A profit of US$1.2 billion was down 13pc from the same period a year ago, while net income declined 13pc, and consolidated revenues decrease of 10pc, year-on-year.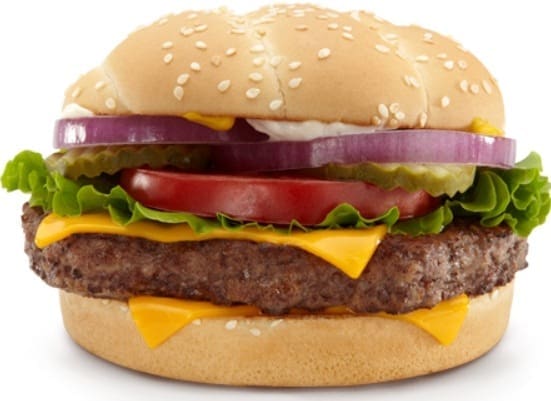 But executives at the burger giant say there's reason to believe the company's turnaround efforts are paying dividends, after two tough years. Global sales comparisons are expected to turn positive in the third quarter ending September 30, with the exception of the company's US operations.
McDonald's remains the single largest international customer for Australian manufacturing beef.
"Currently, the US is a little bit of a drag," CEO Steve Easterbrook told analysts during a briefing on Friday.
"We're looking just to narrow that gap and return that business to growth. But we're not putting in anything significant for growth at all in the third quarter, but we're working hard towards getting it by the end of the year."
He said cost-cutting and restructuring efforts, plus a recommitment to better service, food and value offered at McDonald's, has the company seeing "early signs of momentum."
"While recovery will be bumpy, I'm confident we're moving in the right direction," Mr Easterbrook said.
In the US market, second-quarter same-store sales dropped a worse-than-expected 2pc.
The Europe division's second quarter comparable sales increased 1.2pc driven by solid performance in the UK and Germany, partly offset by negative results in France. Second quarter operating income decreased 20pc reflecting economic challenges in certain key markets and strategic charges associated with the global business turnaround plan.
In the Asia, Pacific, Middle East, Africa division (including Australia), second quarter comparable sales decreased 4.5pc, and operating income declined 26pc, primarily due to the impact of prolonged, broad-based consumer perception issues in Japan along with negative performance in China and other Asian markets due to earlier food safety incidents in China food manufacturing plants. This was partly offset by strong performance in Australia.
Mr Easterbrook said he expected positive global sales in the third quarter to be buoyed by the growth in the newly created "International lead market" — which includes Australia, Canada, France, Germany and the UK— and continued recovery from supplier problems in China.
In May, McDonald's announced plans to sell about 3500 company-owned restaurants to franchisees by the end of 2018, up from a previous target of 1500 restaurants by 2016. That would make 90pc of its restaurants around the world run by franchisees, up from 81pc.
"We have made meaningful progress since announcing the initial steps of McDonald's turnaround plan in early May," Mr Easterbrook said. "To position the business for long-term growth, we've undergone significant organisational change and are streamlining our global resources to improve our efficiency and effectiveness. While our second quarter results were disappointing, we are seeing early signs of momentum."