From time-to-time, Beef Central likes to wander into the domestic food service market to see what's emerging in latest beef trends. Here's our latest observations….
THE highly successful Coffee Club chain knows a thing or two about food service operations in the incredibly competitive coffee shop/cafe market, and is now focusing its attention on building a presence in a new consumer market segment – casual steak dining.
Coffee Club is Australia's largest home-grown café group operating more than 340 outlets across Australia, New Zealand, Thailand, New Caledonia and China. It serves 40 million cups of coffee every year and employing more than 6000 staff.
Looking at diversification, the company bought the Rumps and Ribs casual steakhouse business three years ago, and has since grown the operations to 13 outlets in Queensland, NSW and Victoria, plus two 'pilot' restaurants in the Middle East. More outlets are planned this year, and franchising is a possibility, following the Coffee Club business model.
Beef Central visited one of the chain's flagship outlets in Brisbane's bustling Fortitude Valley entertainment precinct recently to share a rump steak sampling plate with the chain's brands manager, Lee-anne Nichols.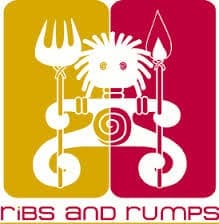 While the outlets serve a range of steak cuts and other beef items, it's really the rump offer that is the 'hero' of the steak menu.
What's impressive is the wide diversity and descriptions on offer, including well-described grassfed, grainfed and Wagyu rump options, providing plenty of variety for customers. Sirloins and fillets supplement the central rump offer, starting from 180 gram ladies' fillets to a 1kg rump.
"Here at Ribs & Rumps we see rump as the quintessential steak, the king of natural flavour," the menu proclaims.
"Rump has a reputation for being perhaps the least consistent of the grilling cuts, but Meat Standards Australia grading has definitely played a role in delivering a rump cut that has the consistency of tenderness required to make it a worthy, prominent item on the Ribs & Rumps menu," Lee-anne said.
Featuring rump so heavily not only provides something of a point of difference from the normal casual steak dining offer of sirloins, rib-eyes or fillets, but also helps keep raw material costs in check. That allows the Ribs & Rumps outlets to not only offer generous serve-sizes, but also delivers reasonably sharp price points, by metropolitan CBD food service standards.
The grainfed MSA rumps on offer (JBS Riverina) are priced at $23 for a smaller 220g portion, $29 for a 380g serve and $49 for a 1kg monster sharing plate. Grassfed MSA rump (mostly JBS Great Southern, out of Brooklyn) is a 400g serve, selling for $34, while the mid-sized 400-day grainfed Wagyu rump (Andrews Meats' own brand), described as 'marbling score 9', sells well at $47.
A popular talking point is a rump 'tasting plate' allowing a group of diners to sample all three variations – grassfed, grainfed and Wagyu.
"Customers now are really into shared items like this," Lee-anne said.
"We've found in the Queensland market, particularly, that customers really go after rump steak, because it can be more flavourful," she said.
"NSW and further south is a little different, with a greater proportion of sirloins, but rump sales are still very strong."
As the business name implies, bone-in rib-meat is the other main feature item on the menu – coming in beef, lamb and pork versions. The week before Christmas saw a record turnover in rib-meat, totalling 500kg over seven days.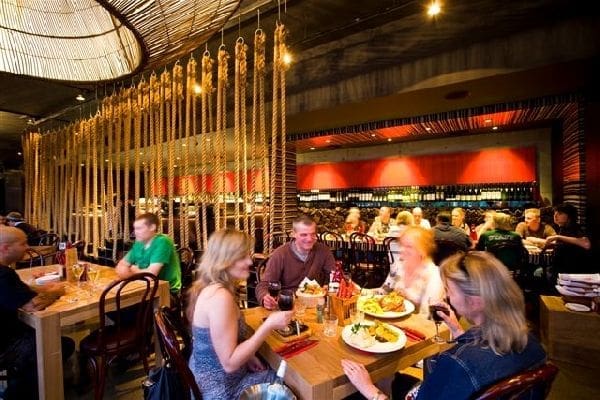 Beef Central asked whether Coffee Club had been able to apply its sharp merchandising, customer focus and food service skills learned in years of café operations into the new Ribs & Rumps venture.
"Definitely," Lee-anne said.
"Coffee Club is built on a very strong business model (both franchised and outright owned outlets), which is based on strong customer awareness and guaranteed quality. We've worked hard to transfer those principles across into the casual steak dining venture," she said.
Once the model had been fully bedded-down, it was likely that a franchise option will be added, to build the number of restaurants.
The Fortitude Valley outlet we visited has a relatively small 'footprint' but with the addition of a second mezzanine level including a private dining room, and large outdoor dining area, it can accommodate close to 160 diners at a sitting. The place was packed during our Thursday lunchtime visit.
All the seaming and portioning work for the 13 current outlets is done through Andrews Meats in Sydney.
The outlets are open seven days a week for lunch and dinner, and recently launched an 'express' feature at lunchtime to get busy office workers in and out in quick-time. Cheaper steak sandwich options are available at lunchtime, when a popular option is a signature Wagyu strips beef roll.
Two large grills can handle the big lunchtime surge in orders, while evenings tend to be less congested, with orders spaced over a longer period.
Lee-anne said there was some cross-over occurring with the separate Coffee Club business, which includes steak sandwiches and other items utilising rump muscles like caps not used in the Ribs & Rumps business.
On-trend pulled meats (beef and pork) are also making a growing contribution to turnover through the Ribs & Rumps business, in the form of sliders and rolls.