A direct descendent of one of the oldest names in the Australian meat industry and the meat processing company that pioneered chilled vacuum packed beef exports to Japan is now exporting Australian beef in value-added products to Japan in his own right.
Angus Borthwick from Borthwick Food Group in Melbourne is a fifth generation descendent of Thomas Borthwick, a butcher from Edinburgh who started Thomas Borthwick & Sons in the late 1800s. The importing company went on to become a major meat processor and leading player in the export beef trade between Australia and Britain for several decades.
As recorded by former AMIC CEO Steve Martyn in his meat industy history "World on a Plate", Thomas Borthwick & Sons pioneered the vacuum packed chilled beef trade to Japan in the late 1960s (more on Thomas Borthwicks & Sons below).
Given his family's history it was perhaps inevitable that Angus Borthwick would inherit a strong passion for the meat industry.
After working for a food importing company in the 1980s, he established his own business in Melbourne specialising in supplying gourmet fine foods to the food service and hospitality industries.
Borthwick Food Group has developed its own range of value-added gourmet foods for retail and food service including Angus beef burgers and an innovative cocktail Angus beef burger Do-It-Yourself kit, which was named best Australian Made Product at the Australian Made awards in 2014.
Available in packs of 10 and 20, the kits contain 100 percent pure Angus cocktail beef burgers, brioche buns and tomato relish with bamboo skewers.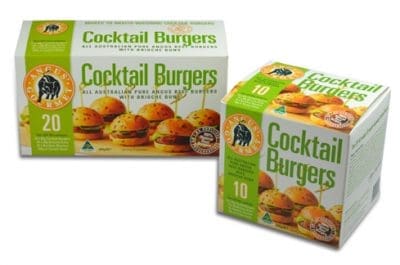 Starting with a frozen product, it takes only a few minutes using a fry pan/grill for the beef and an oven for the buns to prepare the cocktail burgers, offering a highly convenient home cooking, food service and catering solution.
The unique products, described as a "party in a box", have proven a hit in Australia, and now sell through Costco's Australian stores, including other retailers.
The partnership with Costco has also provided a springboard into the export arena.
Borthwick Food Group products now sell through Costco stores and other retail outlets in Asia including Korea, the Philippines, Hong Kong and more recently Japan.
The small family company has also used international trade shows to build its brand presence in export markets.
Beef Central caught up with Angus and Jane Borthwick at the large Foodex trade show in Tokyo earlier this month, where the cocktail burgers served from their stand on the Victorian Government site were attracting a steady stream of sample tasters from the passing crowds.
In addition to Costco, Borthwick Food Group supplies products including cocktail burgers and crab cakes to distributors to the food service trade in Japan.
"We had our first container go into Japan last November and we are now onto our fourth container coming up in May," Angus explained.
"We are also looking for other value-added ideas to take over there."
Historic meat industry connection
The entrepreneurial spirit of the Borthwick Food Group reflects that of Thomas Borthwick, the butcher from Edinburgh who history records as having taken an enormous risk to start what became one of the word's largest meat companies.
It is documented that in 1872 Thomas Borthwick invested his savings to charter a new sailing ship with a refrigerated hold to New Zealand.
At the time, all meat imported to the UK from New Zealand was transported pickled in brine.
Upon his arrival in New Zealand, Thomas bought mutton and lamb for a knock-down price, filled the refrigerated hold with the meat, and set sail for home.
During the return voyage, the refrigeration broke down and the meat perished and had to be thrown overboard.
The ship turned around and returned to New Zealand where another cargo of meat was loaded into the now repaired refrigerated hold.
On returning to the UK, Thomas Borthwick made a large profit on the frozen meat.
He went on to develop the company into a large meat wholesale and distributing business.
In 1895 his sons became partners in the company, which took the name Thomas Borthwick & Sons Ltd in 1904.
The London-based company established abattoirs and freezing works in New Zealand and Australia, including Portland (1905), Brooklyn (1905), Moreton (1909), Burdekin (1928), Bowen (1933), Albany (1948), and Yahl, near Mt Gambier (1948), and branch offices in Christchurch, Sydney, Melbourne, and Brisbane. Borthwicks also had several properties in New Zealand and Australia and was a dominant player in the livestock trade from  Australia and New Zealand to Britain.
By the 1980s the trade to Britain had declined and many of the company's meatworks had closed.
The company's significant chapter in the Australia meat industry ended with the sale of the Mackay meatworks to Nippon Meat Packers (now NH Foods) in 1988, which continues to trade today under the name Thomas Borthwick & Sons Mackay.