WHILE the domestic market during the past nine months of COVID uncertainty has easily been the Australian beef industry's most reliable market, flat international trading conditions at present and a rising currency is seeing more surplus product being pushed back into the local trade.
The domestic market is also seen as a 'safe haven' during times of rising currency value, and the Aussie dollar has recently risen to two-and-a-half year highs.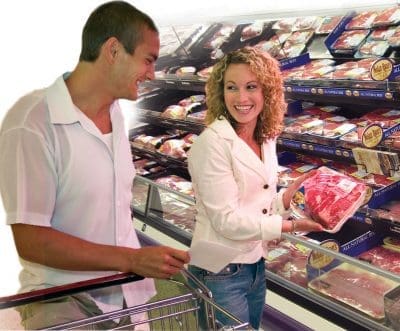 This morning, the A$ was trading at US75.5c, up about US5c since the start of November, and US6.5c higher than this time last year. In fact the A$ has not traded at today's levels since June, 2018.
The last full trading week before Christmas is traditionally the biggest trading week of the year for domestic meat wholesalers, but the buffeting taken by the economy, and the food service sector this year has created some uncertainty in the market on the eve of the Christmas period.
Earlier, there was a strong feeling evident in the trade that it was worthwhile buying meat supplies now, because stocks 'could get very short' in January and February next year, if the forecast La Nina summer rain event delivered across large parts of eastern Australia.
That pushed domestic wholesale prices 'to ridiculous levels,' one wholesaler said – way above equivalent value in the export trade.
"A similar thing happened about five years ago – and people blew their brains out when the market sank dramatically," he said.
"People have a lot of meat around them at present, and many of them have now put the cue in the rack," one large multi-state wholesaler said.
Older Cow (A cipher) and ox/steer meat (S cipher) beef was clearly more abundant in the domestic market at present than normal, which tended to pull the rest of the market back, when it happens. Recurrent COVID across large parts of the US and Europe, as the northern hemisphere winter approaches was also putting a handbrake on export demand.
"I don't get the feeling there is massive volumes of beef sitting in cold storage yet, but domestic trade has just gotten a bit slow recently," one trader said.
Extreme hot conditions earlier in December also contributed to flat recent retail trade, as consumers abandoned their barbecues to head inside to air-conditioning. Some retail sites claimed to be 10pc off normal early December trade, in recent weeks.
Beef Central spoke to a number of prominent domestic market wholesalers for this report.
In broad terms, they divided the current wholesale supply/demand position into three segments:
Grinding meat/trim
Grinding meat, used for cheap, easy barbecue meal solutions over the summer holiday period, is under greatest pressure, falling dramatically over the past six to eight weeks as stocks grow.
Biggest factor in that is the default of export product back onto the domestic market. As Beef Central reported earlier, November beef exports to the US, historically Australia's largest grinding beef market, fell to their lowest monthly levels in a decade last month, at just 9700 tonnes.
The domestic market for many wholesalers has been the only game in town for quite a while, but there is an inherent risk in oversupply, and killing the golden goose
Commodity product like shank meat that previously went to China in greater volume has also diverted back into the domestic grinding beef market. China export volumes have fallen to around one third of what they were earlier in the year.
"Australian grinding beef is not particularly competitive at present on international markets, and we've been lucky to be able to write these high prices at home, as consumers build confidence after the COVID setbacks," one trader said.
However quotes in the domestic wholesale market on Friday were around 600c/kg for 85CL cow trim for hamburgers, and some trades this morning were below that figure. That's down from +700c/kg only a couple of months ago.
Some traders think that trim over-supply situation will resolve itself in the new year, if the US steps back into the imported beef market, as anticipated.
"There's plenty of money in the domestic market economy this year as a result of COVID, but having said that, it could be a year when Australians eat more ground beef burgers and sausages instead of steaks over summer," one large trader said.
Considerably higher prices on better quality barbecue cuts than this time last year might also prompt more domestic consumers to 'trade down' over summer to a mince burger, he suggested.
Barbecue cuts
The supply/demand balance on barbecue cuts is much better than hamburger beef at present, Beef Central was told.
The past few weeks has seen some considerable quantities of New Zealand beef arriving on the Australian wholesale market – principally rumps, cube rolls and other grilling cuts. Examples were in clear evidence on the weekend in large wholesale/retail outlets like Superbutcher.
New Zealand is one of only three overseas countries eligible to export to Australia (the others being Vanuatu and Japan), and NZ product appears only opportunistically in this country when currency and international demand changes are out of cycle.
One trader suggested NZ rumps of reasonable quality were landing in Australia for $11-$13/kg, versus $15 or $16/kg for similar quality Australian rumps earlier this month. Some buyers who had stocked up earlier on cheaper NZ rumps might end up 'sitting on them' for a while, as domestic equivalent product starts to come back to closer levels, one trader said.
One large wholesale contact said as often happens at this time of year, a clear premium had emerged for smaller MSA grilling primals over larger export-weight examples, which were harder to cut into steak portions without getting too thin. He thought the margin this week might be as much as $1/kg on lighter MSA steak primals.
Wholesalers were consistently reluctant to share too much on price this week, given the uncertainly and complexity in the market this year.
One operator thought good quality MSA yearling type strips and cubes were currently 'worth close to $30/kg in the packer's eyes', while any customer or wholesaler who had some meat in storage was trying to tell them it was worth 'closer to $20/kg'.
"There's a real disconnect there at present, between the buy side and the sell side," one contact said. "Current cattle prices are just too dear, but it can't continue. Many striploins are probably $5/kg dearer than they have ever been at this time of year. Some better cube rolls had gone up $10/kg in price in the past three to four months, driven by earlier low processor throughput, while exports remained active. I have never seen them so high."
"Wholesale grainfed prices have been too high on the domestic market. Because there has been lack of supply, the domestic price has been sustained, but it's now coming to the stage where everybody (exporters) are coming back into the domestic market – and it is a real worry," one veteran trade source said.
"I've been offered a lot of surplus meat since Friday last week."
Middle meats
As often happens heading into the hotter summer months, middle meats used for slow cooking, like knuckles, topsides and briskets, are currently proving very hard to shift, but there is nothing unusual in that at this time of year. But flat export trade is pushing more of that product back onto the domestic market this year, and could impact domestic pricing, traders said.
Beef Central asked a number of contacts whether there was any 'push-back' evident this pre-Christmas period on current high retail beef prices on grilling cuts, but several said it was not yet evident, at least.
"Retailers generally, have done pretty good December trade so far, based on prior years' performance, and food service has had a good first few weeks of summer trade – especially in regions like WA, where business is booming," one wholesaler said.
"Part of that is the cash reserve that has built up in peoples' bank accounts over COVID, and a bit of 'Live for today and not for tomorrow' attitude – they don't know yet what 2021 will bring, in terms of COVID relapse."
Some wholesalers spoken to on Friday said they 'did not know which way to jump' at present.
Many food service customers last week were wary about building-up stocks, fearful that meat prices might decline sharply in the lead-up to Christmas, and lacking confidence in customer demand at the end of a highly unusual trading year.
"And those guys who have a bit of meat around them are not wanting to put their hands up, because they are worried about getting through what they have, and the risk of any stock on hand looking expensive, if grilling cuts do start to decline in price, under supply pressure," one contact said.
"The domestic market for many wholesalers has been the only game in town for quite a while, but there is an inherent risk in oversupply, and killing the golden goose," he said.
"Even though national beef kill volumes remain low, a decline in export like we are seeing can very quickly pressure the domestic supply/demand situation – even in a high demand period around summer holidays."