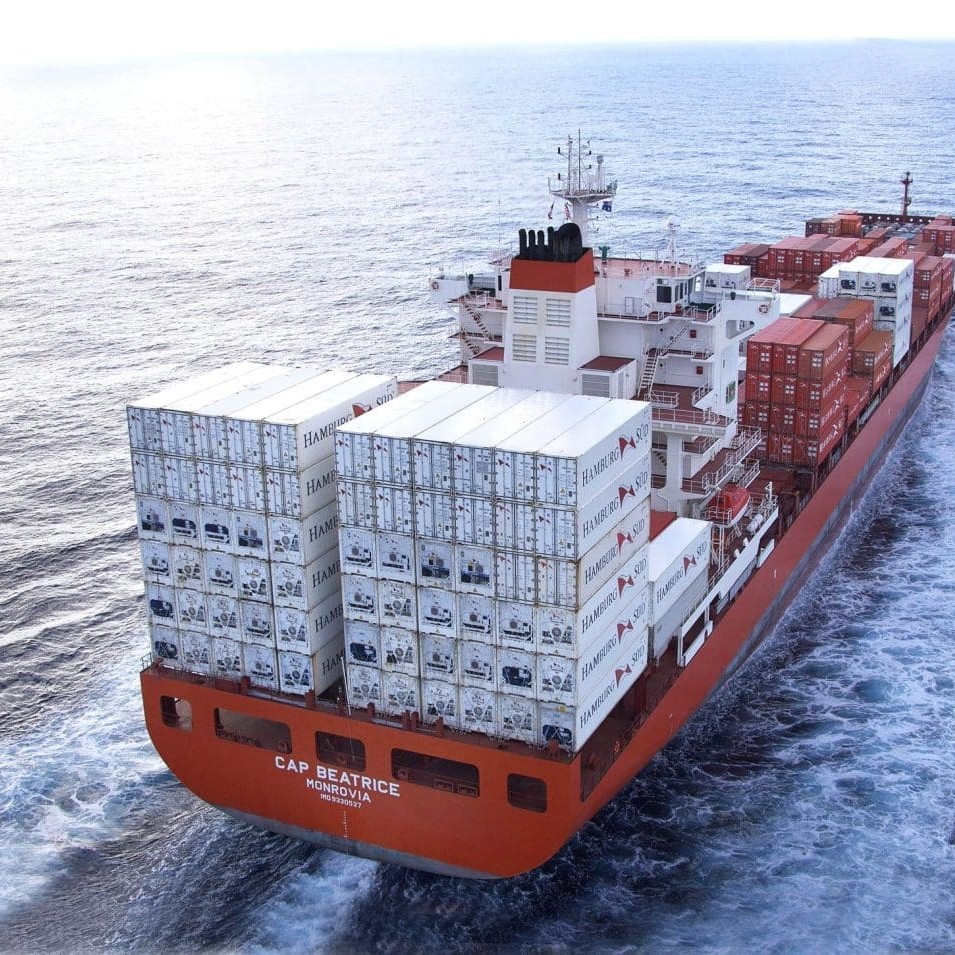 Australian lean grinding beef prices in the US rose to their highest level in A$ terms in five months last week, driven mostly by currency movement, but also a little by increased demand and higher US$ prices.
Our 90CL frozen cow beef last week was quoted at A407.4c/kg, the best figure seen since February 21.
In US$ terms, imported beef prices were also modestly higher, with CIF prices gaining US1-2c/lb compared to the week prior, rising to US181.5c. That's still well behind this time last year, when the price was US194c. At that time, the A$ currency factor was a lot more kind to US buyers, with the A$ then still worth US103.65c, more than US12c above today's value.
Steiner Consulting's weekly US imported beef report said market participants last week indicated that business appeared to be somewhat better, with end-users inquiring for product delivering for August and early September.
There also appeared to be some interest for grinding beef for fourth-quarter needs.
"Some end-users certainly are looking at the possibility that US cow meat supplies could be tighter later in the year, and higher domestic US cattle prices for Q4 are also supportive of grinding beef prices later in the year," Steiner's report said.
Imported beef cuts had been steady for much of the northern hemisphere summer, but there appeared to be some upward momentum. US packers had increased asking prices for rounds and chucks now that middle meats had collapsed.
US packer margins did not appear to be as rosy as they were in late May and June, the report said. The USDA Choice cut-out dropped 2pc compared to the previous week and is now down 10pc compared to levels in late May.
Steiner's report said while lean grinding beef prices had been for the most part steady in recent weeks, the price of fat beef trimmings continued to move sharply higher, now standing at around US110c/lb, more than double year-ago levels.
That's being driven mostly by tight spot supplies and those looking for additional loads are finding that they needed to pay significant premiums to secure them, the report said.
"But while true, that answer fails to give a proper picture of what is really going on. We think that, in part, the recent spike in fat trim prices reflects the work that US packers have done in the last 12 months to:
eliminate the backlog of product that accumulated after the Lean Finely Textured Beef debacle last year as well as the effects from the bankruptcy of one of the largest buyers of grinding beef in the US;
packers also have been able to increase the supply of 50CL beef that they price off the sheet; and
the slow increase in the production of LFTB and LFTB like production," Steiner said.
The changing face of Australian loin exports
In its weekly bulletin issued this morning, Meat & Livestock Australia makes some interesting comment about the rise of developing markets for Australian export beef seen this year, and the impact this is having on export destination for higher-value loin cuts.
The shift in exports away from Japan, Korea and the US has not only been felt across commodity frozen beef exports, but also in high value loin cuts, MLA's report said.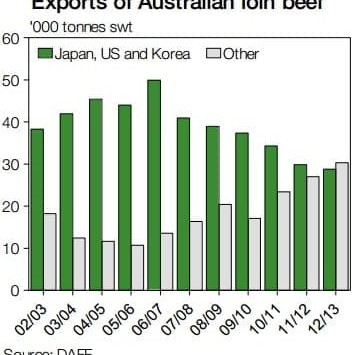 In 2002-03, Australian loin exports (striploin, cube roll and tenderloin), were dominated by shipments to Japan (38pc of total), the US (25pc), Canada (11pc) and Taiwan (6pc).
Fast forward to 2012-13, the export environment for loin cuts is different, with Japan (28pc), the US (11pc), Korea (10pc), the EU (8pc) and the Middle East (7pc) taking large quantities of Australian loin cuts.
The emergence of the EU and the Middle East, in particular, over the past three years has provided a high value outlet for Australian loin cuts, as shipments to Japan and the US slow (see graph).
In 2012-13, the EU took 5000 tonnes of Australian loins, up 21pc year-on-year. This has come on the back of the expansion in grainfed exports to the market, as Australia capitalises on increased access to the EU under the expanded EU grainfed beef quota.
Loin exports to the Middle East surged to 4200t, up 57pc, as Saudi Arabia took large quantities of Australian beef (1400t), while the United Arab Emirates (1700t), and Qatar (400t) also took significant volumes, MLA's report said.
The emergence of the EU and the Middle East as large and growing markets for Australian loin cuts has provided the Australian industry with valuable alternatives as the exports to traditional markets face difficulties.