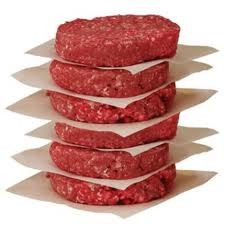 The price of domestically-produced US fatty trim and the rate of US cow slaughter are likely to have a strong bearing on prices Australia receives for 90CL grinding beef into the US market over the remainder of the year.
That's the view of US analysts Len Steiner and Steve Meyer, commenting in a recent weekly US imported beef report.
Steiner Consulting sees a number of factors impacting on the grinding beef business in the US in the short term.
"Imported grinding beef in the US is for the most part sold through foodservice outlets, especially some of the large fast food chain restaurants," Len Steiner said.
"With lower prices for lean grinding beef, one would expect hamburger raw materials to be more competitive with chicken, and also present fast food buyers with the opportunity to book raw materials below last year's costs," he said.
However for a fast food operation, lean beef (90pc lean beef, or 90CL) makes up only 65pc of the meat-block (composition of the final burger pattie product). Fat trim sourced out of the domestic US grainfed industry is an important component, blended with imported lean 90CL to produce the ideal pattie formulation, often around 76CL.
Fat trim prices in the US have increased sharply, especially compared to a year ago, Steiner Consulting's weekly reports point out.
The calculated 76CL meat-block value a week ago stood at US$1.653/lb, 8.7pc higher than where it sat a year ago.
"The overall meat-block price is notably higher than last year, even as the price of imported lean grinding beef is 5.9pc lower than a year ago, while the price of domestic 90CL beef is down 5.6pc compared to last year," the report said.
The normal seasonal cycle sees the price of 50CL domestic US beef trend lower after September 1, and some end-users likely did not want to build finished good inventory given current very high fat trim prices, Steiner said.
"They also would likely want to see fat trim prices decline before making further commitments for deliveries of imported beef in October and November."
In past years, November has been a tricky period for US food service operators looking to build inventories going into the holidays.
"It remains to be seen if the much expected break in the price of 50CL beef materialises in the US market and if it does, how long it holds at those levels," Steiner said.
"And while fat trim supplies are tight now, it is unlikely they will improve next year. A combination of sharply lower US cattle slaughter and flat growth in cattle weights will tend to limit fat trim availability."
Japan is currently purchasing significantly more US short plate than it did in 2011 and 2012, which would further reduce the supply of grinding meat coming to market.
Another factor was US cow slaughter, which continues to track close to year-ago levels.
Reports from US cow producers continue to point to significant improvements in terms of feed supplies and pastures compared to a year ago, Steiner's report said.
Lower grain prices and improvement in forage supplies had supported a rebound in US feeder cattle prices.
"At some point this will lead to fewer cows coming to market," Steiner said.
US dairy cow slaughter is also likely to decline, and this will further limit the overall supply of cow grinding beef in the US.