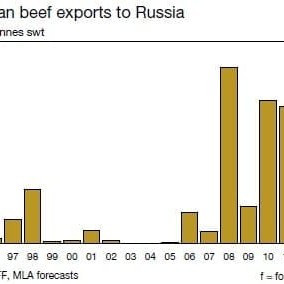 Australia looks unlikely to benefit greatly from Russia's recent close-out of US beef exports due to concerns over the use of the growth enhancement product, ractopamine in US production systems.
Meat and Livestock Australia's Europe and Russia market analyst Ben Larkin said Australia's shipments to Russia had started the new year slowly, reaching just 758 tonnes in January. That was down 36 percent year-on-year, and followed a sluggish year for Australian exports in 2012.
January exports comprised mainly cheaper frozen grassfed product, accounting for 90pc of the total.
Contributing to the slowdown in exports to Russia in January was reduced demand, typical for this period of the year, combined with cheaper product coming from Brazil and Paraguay, Mr Larkin said.
Although the Brazilian currency appreciated throughout January, this was not expected to contribute to a significant increase in exports prices as the Brazilian Real was still down 10pc compared with this time last year.
Since early February, Russia has banned the importation of both chilled and frozen beef and pork from the US and Canada, in response to the use in US production systems of the leanness-enhancing beta agonist, ractopamine.
Russia's Rosselkhoznadzor Veterinary and Phytosanitary Service has applied a similar ban on beef imports from Germany. The dispute is not over the use of ractopamine itself, but is Russia's response to what they perceive as the absence of systems which can accurately segregate treated, and untreated product for export.
The ban on US supply will leave a gap in the frozen imported beef market in Russia, as Russia's imports of US frozen beef last year (January-November figures), totalled 41,000t. A significant depreciation in the Brazilian exchange rate in 2012 and cheap product coming out of Paraguay suggests most of the frozen product deficit this year (or at least, for the length of the ban) is likely to be filled out of South America.
Chilled prospects stronger for Australia

In the chilled beef segment, however, Australia may gain some momentum. Russian imports of US chilled beef are relatively small when compared to frozen, totalling only about 1100t for 2012.
"US chilled product competes directly with Australian chilled product in the Russian market, so any potential ban placed on US product could lead to a spike in demand for Australian chilled beef," US analysts believe.
Russia imported 950t of Australian chilled beef from January to November 2012.
Russian officials so far have shown little indication that they are willing to discuss the issue of ractopamine use in livestock production with the US. With more beef available from Brazil, and the willingness of Brazilian authorities to implement a program to test and segregate for ractopamine, Russia appears confident that it can source most of its needs from Brazil, Uruguay and Australia, with no need for US beef in 2013, analyst Steiner Consulting said this week.
Gains expected to be made in Japan this year would help offset the loss of the Russian market for US exporters, Steiner said.
"We think Japan shipments will increase in the short term as there is some pent-up demand for specific cuts. However, the increase in US exports to Japan may not be as large as some think, given that Japan already had access to eligible product in 2012 but was limited by high US prices and more competitive offers from Australia."
Australian beef exports to Russia slowed throughout 2012, with exports down 41pc to 32,000t last year. After two earlier strong years for Australian beef shipments into the Russian market, 2012 saw a combination of factors contribute to the lull.
A significant depreciation in the Brazilian exchange rate, cheap product coming out of Paraguay, and the resurgence in Australian manufacturing beef exports to the US, was reflected in reduced volumes to Russia.
In its recent 2013 Industry Projections, MLA predicts that Australian beef exports to Russia will remain challenged this year, particularly while the A$ remains high compared to the Brazilian Real and other competing countries' currencies.
Additionally, Australian exports to the US are forecast to increase significantly in 2013, where higher prices for manufacturing beef are available.
MLA expects total Australian shipments to Russia and other CIS states in 2013 to decline a further 15pc, to 30,000t.
"The one bright spot for Australia's position in Russia is the increased chilled quota, which should assist in lifting volumes of higher valued product," MLA said.