In its latest quarterly commodity report released today, ABARES has examined the growth of India's buffalo meat export trade and provides an update on where most of its exports are going, and how that is impacting on Australia's beef export trade:
In 2013 India was the world's largest beef exporter in volume terms, with shipments totaling 1.56 million tonnes (shipped weight), valued at US$4.49 billion.
Brazil was the world's second largest exporter in volume terms, shipping 1.18 million tonnes (valued at US$5.36 billion), and Australia the third largest, shipping 1.07 million tonnes (valued at US$5.04 billion).
Exports of buffalo meat, or 'Carabeef' as it is sold in global markets, are included in the beef category, which largely explains India's current status as the world's largest beef exporter.
According to the Food and Agriculture Organization of the United Nations, India has 58 per cent of the world's buffalo. Subsistence farmers raise most of these herds, which are mainly for milking. When they reach an unproductive age the buffalo are sold to livestock traders or at saleyards and slaughtered for meat production.
As of 2013, around 54 per cent of Indian buffalo meat production is consumed domestically and the remaining 46 per cent is exported.
Outgoing Government encouraged industry growth
Indian exports of carabeef increased substantially in the three years to 2013, after growing steadily from 1990 to 2010. Greater investment in buffalo processing in India in recent years has coincided with increasing demand for inexpensive protein in South-East Asia and a preference for halal slaughtered meat in the Middle East.
India's outgoing government introduced policies aimed at increasing the supply of buffalo meat. For example, the Ministry of Food Processing Industries designed the Setting up of New/Modernization of Existing Abattoirs policy to increase the number of new abattoirs and retrofit existing facilities to increase efficiency.
The Ministry of Agriculture's Scheme for Salvaging and Rearing of Male Buffalo Calves aimed to increase use of previously unwanted male dairy buffalo for meat and hides.
Uncertainty for trade under new Govt
However, such policies may change under India's newly elected government.
During the election campaign, the leader of the Bharatiya Janata Party, which gained power in the May 2014 elections, denounced India's status as one of the world's largest beef exporters on religious grounds.
Cows are revered as sacred in the majority Hindu nation. However, India's beef exports are largely sourced from buffalo.
Low cost structure, competitive prices
Indian buffalo meat has a competitive position in world markets to which it has access.
For example, the 2013 average export price for Indian buffalo meat was US$2.88 a kilogram.
In contrast, the average Brazilian beef export price was US4.52 a kilogram and the average Australian beef export price was US$4.73 a kilogram.
Lower export prices, in part, reflect the low cost structure of industry in India.
According to a 2013 report by the Federation of Indian Chambers of Commerce and Industry (FICCI), the average farm-gate price for live buffalo for processing for export was around 60 rupees (A$1.10) a kilogram live weight. FICCI reported that labour costs at a typical 700-head per day abattoir are around 5000 rupees (A$91) a month for unskilled workers and between 6000 rupees and 12,000 rupees (A$110–$220) a month for skilled workers.
Additionally, buffalo are generally slaughtered older than beef cattle in other countries, which contributes to the production of lower quality meat.
Major markets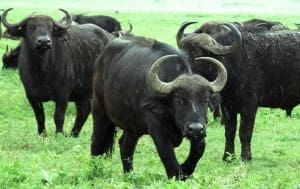 India's largest beef export market is Vietnam, with exports increasing by 87pc in 2013 to 533,000 tonnes (shipped weight). In contrast, Vietnam is a minor market for Australian beef exports, accounting for only 2300 tonnes in 2013 (0.2 per cent of Australian exports).
Thailand is India's second largest export market, with shipments increasing more than fourfold in 2013 to 259,000 tonnes (shipped weight). Thailand is also a minor market for Australian exports of beef and veal, accounting for only 4300 tonnes in 2013 (0.4 per cent of Australian exports). Special agricultural safeguards in the Thailand–Australia Free Trade Agreement act as a tariff quota. In 2014 the tariff on beef imports from Australia increases from 16 per cent to 50 per cent after around 1200 tonnes of beef has been imported, on a calendar year basis. This is usually triggered in the first quarter of a calendar year and substantially increases the landed price of Australian beef in Thailand.
More significant competition between exports of Indian and Australian beef occurs in Malaysia, Saudi Arabia and the Philippines.
In 2013 Malaysia was India's third largest beef export market and Australia's 11th largest. In the decade to 2013, India accounted for 82 per cent of Malaysia's beef imports, compared with Australia's share of 9 per cent. The landed price of Indian beef averaged 33 per cent lower than Australian beef in this period.
In 2013 Saudi Arabia was India's fifth largest beef export market and Australia's seventh largest. From 2004 to 2012 India was the largest supplier of beef to Saudi Arabia, accounting for 53 per cent of imports, compared with Australia's share of 3 per cent. Australian exports to Saudi Arabia increased sixfold in 2013 following the Saudi Government's decision to ban imports from Brazil in late 2012 after detection of a case of bovine spongiform encephalopathy (BSE) in that country. In 2013 Australia accounted for around 29 per cent of Saudi Arabia's imports and became the second largest supplier after India.
The Philippines was India's and Australia's eighth largest beef export market in 2013. India has been the largest supplier of beef to the Philippines for more than 15 years. However, imports from India have declined as prices have risen closer to those of Australian beef. In the price sensitive Philippine beef market even small price increases significantly affect consumption. Australian beef exports to the Philippines have increased in the last decade.
FMD restrictions
Although India is the largest beef exporter in the world, it is not a competitor for Australian beef in Japan, the United States or the Republic of Korea.
These countries import beef only from suppliers that have freedom from foot-and-mouth disease (FMD) status with the World Organisation for Animal Health. In contrast, India is classified as FMD endemic and controls the disease by vaccination.
In 2013 the governments of India and China signed a memorandum of understanding for direct trade in buffalo meat from India to China, but official shipments have not yet commenced.
As of May 2014, China Customs continues to intercept shipments of buffalo meat illegally imported from Vietnam.