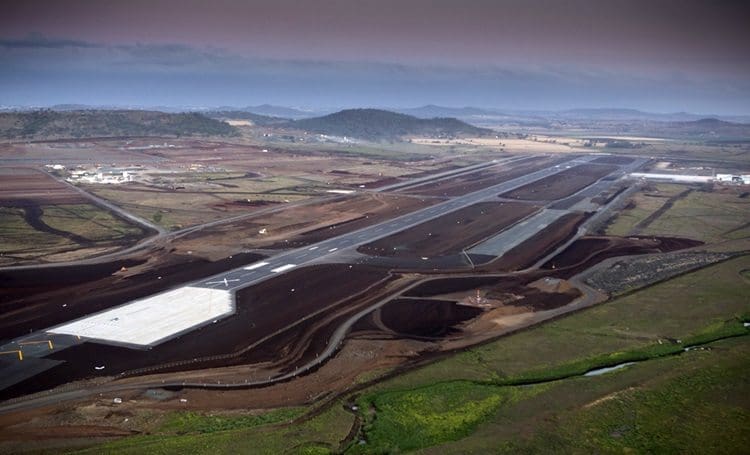 Toowoomba's new Wellcamp airport is on the cusp of transforming how agricultural produce is exported from regional Australia, with confirmation that the Federal Government has now approved the Wagners Global built and owned facility for export freight take-off.
The big news from the final day of the Ag in the Asian Century conference in Toowoomba yesterday was confirmation from Wagners Global chairman John Wagner that Brisbane West Wellcamp Airport is now accredited for international freight.
Mr Wagner told Beef Central that a trial air-freight consignment of chilled beef into Asia is likely to occur from the airport either later this year or early next year.
The opportunities now being created through e-commerce to connect Australian exporters directly with consumers in Asia was a big talking point at the Ag in the Asian Century conference over the past two days.
Now in its second year, the conference is an initiative of the Toowoomba and Surat Basin Enterprise, a local economic development agency which has been proactively working in recent years to match existing and prospective exporters from the Darling Downs region with importers in Asia.
TSBE has conducted several trade missions to Asia and invited many Chinese importers to this year's conference. A clear buzz of new trade partnerships being formed and deals being forged was evident throughout the two day event.
A key driver of that opportunity is the Brisbane West Wellcamp airport which has given agricultural exporters of all sizes in the region a unique springboard from which to launch their products directly into Asia.
Mr Wagner told the final day of the conference yesterday that while he encountered many skeptics when his family first began building the airport, who told him it was ridiculous to think that international freight could ever be moved out of major cities such as Sydney, people were now realising the compelling case that exists for exporting directly from regional Australia.
"Let me tell you that paradigm is changing quite dramatically and quickly, to a point where we have a number of airlines saying we actually get this regional Australia bit, we get the fact that we don't need to go into Sydney and put up with their slots and their curfews and the high cost of operating, and the fact that it takes two, three, four hours up to a day to get our product through AQIS and Customs and get it cleared," Mr Wagner said.
"We have airlines now looking at coming on board, one in particular is very keen to start services out of Wellcamp, and we also have got a range of shippers and freight forwarders that are now looking at it."
He said the family had found a real willingness within the Federal Government to support moves to export fresh produce out of regional Australia to Asia in the very near future.
Federal Minister for Regional Development and Infrastructure Warren Truss had helped to fast track the airport's international accreditation for freight, a process that normally took years to achieve, Mr Wagner said.
Now it was up to agricultural producers in the region to get proactive and seize the opportunity before them.
"We have got the world at our feet, we just have to get our backsides and make it happen," Mr Wagner said.
"We are the airport guys, the infrastructure guys, but I can tell you whilst I am involved in this process we will make it happen. "
Speaking to Beef Central at the conference Mr Wagner said that everywhere he went in Asia, customers told him they wanted to be able to order fresh chilled beef with full traceability online, and receive it to their doors a couple of days later.
"We're 10 hours from China, probably less depending on which way the wind is blowing, why wouldn't we capitalise on that," he said.
He said export consignments ranging from 30t to 50t of chilled beef were being flown out of Sydney in the bellies of passenger jets each day, but exporters there were facing problems with flights occasionally being bumped. Wellcamp will provide a dedicated freight service, he said.
"And it is not just beef, it is many other products. There is a lot of product that comes out of this region that goes international."
'It appalls me that Australia is known as fantasy island around the world'
In a final word to the conference, Mr Wagner said it was appalling to note that Australia's failure to build new infrastructure and to innovate meant it was now known around the world as "fantasy island".
"What we have got here is that we live in a fantasy because our wages are too high, our productivity is too low, our industrial relations is screwed pretty well, so we need to keep sorting that stuff out and we need the Government to get behind that and to actually make us better and smarter.
"If you look at the air freight industry I don't find any innovation of any note, I go back through what I have seen Qantas freight doing for the last 20 years in Sydney and it hasn't changed so there has got to be a smarter way to do it in my opinion. "