High-marbling Wagyu beef is attracting growing demand in China, so much so that one local importer plans to open as many as 40 retail shops specialising in Australian product.
Qinglin Zhao is one of the largest importers of Wagyu and grainfed beef in China.
He has built his business over the past 10 years sourcing Wagyu and grainfed beef from Australia, and currently imports full sets from AACo and Security Foods in volumes of up to five shipping containers a month.
Mr Zhao sells the Wagyu and grainfed beef he imports to restaurants and through his own high-end retail shops in Dalian and Qingdao.
He said he plans to open as many as 40 specialist Australian Wagyu and grainfed beef shops, mainly in Shanghai where he also has a cold store.
The first shop in Shanghai is under design and will feature a custom-built cool room made of salt bricks where Australian Wagyu beef will be dry-aged at temperatures of between 0-4 degrees Celsius for 40 days.
High quality Wagyu sells for two to five times the retail price of conventional beef in China, he said, with prices in his stores for 500 grams of beef (note these prices are for half of one kilogram) ranging from 100 RMB (A$20) to 500 RMB (A$100) for best quality full blood product.
As a guide to how committed Mr Zhou is to Australian Wagyu and grainfed beef, he has branded his own business with a distinct Aussie flavour.
His company Fitzroy River Foods Pty Ltd is named after the Fitzroy River in Central Queensland.
Mr Zhao explained through a translator: "the river runs across the most famous grassland in Australia. We are very impressed with this so we use the name of this."
Additionally, his growing network of high-end retail shops are branded "Australian Morning", which he said was symbolic of "nature and healthy and nutritious beef".
Mr Zhao said he was very pleased to have partnered with AACo and Security Foods.
"We're aiming to achieve the utmost top quality, we are one of the most careful buyers," he said.
"For Australian beef is not about the price, it is about the quality."
"We want to do the best and to have very top quality, so we will become the best choice for our customers."
Mr Zhao said 20 years ago Chinese people ate beef 'just for the sake of eating', but as incomes had improved consumers were now focusing on how to eat in a more healthy way, and demand for premium products such as Wagyu was growing strongly.
"The reason I import Wagyu is that the market is upgrading and more and more people are chasing for high quality products," he said.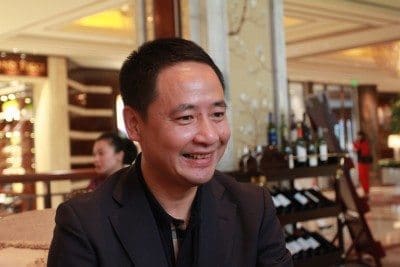 "Especially for people born after the 1980s, they pay more attention to the quality of life.
"With their income and their age, they will become the mainstream consumer for the Chinese market.
"So as long as your product is high quality you have a better choice and high end market."
Asked if consumers in China had any resistance to Wagyu produced outside of Japan – in the same way that some consumers regard non-French champagne as non-genuine regardless of its quality – Mr Zhao said Australia was seen as a country surrounded by sea and with no disease issues, and consumers had full confidence in the quality of product from Australia.
"For Australian beef is not about the price, it is about the quality."
Mr Zhao said there was not enough Wagyu produced in Australia at present to supply the volume of high quality product he will need if and when he opens 40 shops.
"There are many farms in Australia, some are nice, some are not, we are trying to get the best possible in order to meet the highest quality of Wagyu standard
"It really depends on the cattle farm."