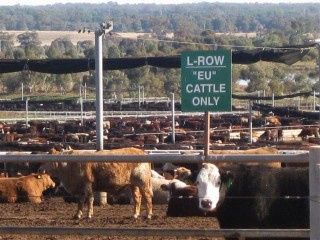 The US Trade Representative for Agriculture has contacted the European Commission urging it to find a solution to current quota access distortions that are prohibiting genuine EU beef importers from properly utilising the high quality grainfed beef quota.
The US concerns highlight the fact that oversubscription for import licenses under this regime has been an ongoing issue which has intensified in recent months.
It comes despite an attempt by the Commission to address the issue last May, when rules governing importer eligibility were supposedly 'tightened.'
As highlighted in Beef Central's recent article "EU grainfed trade corrupted by quota loophole", the current situation has encouraged speculation in import licenses by meat traders who are not, and have no intention of being involved in the importation of high quality beef from Australia or the US.
The result of the distortion has been the inability of EU importers to secure sufficient import licenses, making it difficult for both importers and suppliers to plan shipments, as contracts must be finalised several months in advance to ensure the availability of product.
Illustrating how debilitating the system has become, for the 1667 tonnes available for distribution during September, the EU Commission quota administrators received applications for 339,974 tonnes, meaning each applicant, theoretically, would receive only 0.49pc of their requested allocation.
Australian representatives have been working with the US Meat Export Federation as they develop proposals to address the issues with the EU Commission.
Meanwhile, Australia's total beef exports to the EU for July totalled 1348t, including 780t of grassfed and 568t under the grainfed import quota. Calendar year to date, Australian exports have totalled 7317t, up from 4309t for the same period last year, a rise of 70pc.
Topside/inside was the most popular export primal, representing 18pc, followed by striploin (16pc), rump (13pc); silverside/outside 14pc and cube roll (9pc).