Beef supplies in the US are expected to remain tight heading into 2012, partly due to the shift in the US beef trade balance.
For the first time in more than 40 years, the US will become a net beef exporter in 2011 and that trend is expected to continue next year.
That shift is significant, given that as recently as 2004 (immediately after the US outbreak of BSE and closure of a number of key export beef markets to US supply) the US imported 1.36 million tonnes of beef more than it exported to the rest of the world.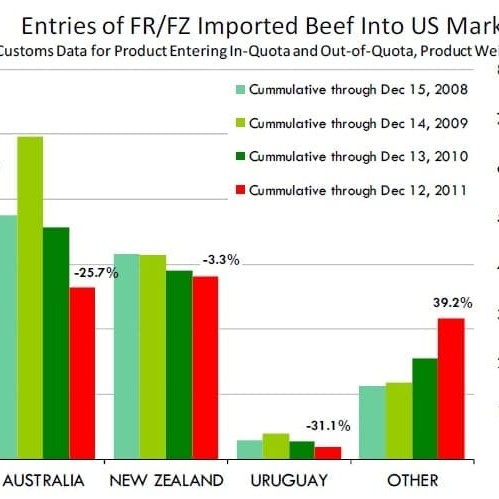 US beef producers have been in liquidation-mode since the mid 1990s and the outbreak of BSE only delayed the full impact of that liquidation, says US analyst Len Steiner, from the Chicago Mercantile Exchange.
"The US beef industry has been able to sustain production levels by accelerating the time it takes cattle to reach market weight and also by increasing carcase weight," Mr Steiner said in a recent Daily Livestock Report.
Drought pushing more cattle into feedlots has also played a part.
"Still, the industry has not been able to keep up with normal population growth and as US beef exports have finally normalised, the supply of beef available per capita is now at the lowest point in almost 20 years," he said.
While USDA/Census data is published with a 45-day lag, the latest data from US Customs (updated weekly) shows significant reductions in imports from a number of key supplying countries.
As the accompanying graph shows, US Customs reports that through December 12, Australian beef entries (product that has cleared US Customs) were down 25.7 percent from the same period a year ago. Entries of Canadian beef were down 21.7pc over the same comparison.
Entries of New Zealand beef have been more consistent with historical levels, declining only 3.3pc compared to a year ago. Possibly for the first time in history, NZ looks like being a larger exporter to the US than Australia is this year, exporting close to 150,000t.
While Uruguay was still a large supplier of imported beef to the US in 2006 and 2007, since then supplies have been minimal as strong demand from other markets, particularly Russia and the EU have pulled product away from the US. Similarly, with exchange rate movements, Australia has been able to sell manufacturing beef more profitably into markets other than the US.
One area of growth this year has been in US imports from other countries, which are up 39pc from a year ago. Entries of Mexican beef are up 51pc from a year ago, largely due to very strong beef prices in the US, a weaker Peso and softer beef demand in Mexico.
Drought in a number of Mexican states has pushed more cattle to slaughter, increasing the supply of beef available for imports. US imports from Central American suppliers also are up 30pc compared to last year.
Overall, US imports of fresh/frozen beef this year are down 12.2pc from a year ago.
One item not included in the graph published here is cooked beef, most of it coming from Argentina and Brazil. For that segment, USDA data shows Brazilian beef imports to the US through to the end of October were down 51pc from a year ago while Argentine shipments, historically limited in size, were modestly higher in 2011 than a year earlier.
Brazil continues to work on gaining access to the US fresh/frozen beef market, on a zone-based risk assessment proposal, and there is a possibility this may happen in 2012.
One Brazilian state, Santa Catarina, can potentially ship chilled and frozen beef to the US now but no plants there have been certified to ship to the US, and the State is only a very small beef producer, by Brazilian standards.
Outlook for 2012
US beef imports are expected to increase modestly in 2012, but this forecast remains vulnerable to currency shifts as well as the broader global economic outlook.
A number of potential export countries (namely Australia, Canada and Brazil) are in herd rebuilding mode, which will limit global beef supplies in 2012 and constrain US imports, CME's Len Steiner says.
However, imports may recover in 2013 and 2014 on higher cattle numbers and slaughter in the above key exporting countries.