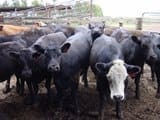 With the exception of Korea, Australia's beef exports for May were down in a basket of important customer countries, and were particularly hard-hit in the US where volume was down 37 percent year-on-year to 15,141 tonnes.
Total Australian beef exports were back 1pc in May, to 84,661t, or three percent below the monthly average for the past five years, according to shipment data released today.
Contributing to the lower result was the very high A$, averaging US107¢ for the month, and listless demand in key markets including Japan and the US.
Australia's beef trade to Japan continues to be affected by poor retail and food service demand for beef generally, portrayed by lower export prices, with volumes back 0.6pc year-on-year, to 30,586t. The May figure was still 11pc lower than the five-year average.
The high A$ and intensifying export competition with the US continues to challenge Australian exports in Japan, on the back of the post-quake economic downturn, MLA said following the release of the trade statistics today.
Grainfed beef exports during the month improved 12pc year-on-year, to 13,345t, due to a lift in both chilled (up 7pc to 8746t) and frozen consignments (up 23pc to 4600t). Subdued buying by Japanese importers over the last several months, and slight recovery in consumer and trade confidence in recent weeks may have assisted the increase during May.
The robust A$, however, is likely to have significantly eroded returns for Australian exporters, while the weak US$ continued to give momentum to its exports to Japan.
For the period January to May, Australia's beef exports to Japan totalled 135,600t, down 6pc from the same period last year.
In contrast with Japan, May exports to Korea rose 5pc year-on-year, to 11,406t continuing the strong growth trend seen so far in 2011. That comes despite ongoing reports of high and growing imported beef inventories.
Increased export volumes were also recorded to the Middle East, up 73pc from a low base to 3344t; and the EU, up 49pc, to 1321t.
From an import country perspective, Korea's total beef intake for the previous month of April was up by 32pc year-on-year and 22pc year-to-date.
The surge in imported beef may be being driven by a short-term consumer switch from domestic beef to imported, due to concerns over the FMD crisis. Based on the current import rate, Korea's imported beef market is expected to grow to 292,000t, an increase of 13pc year-on-year.
Australia continues to defend its leading position with 49pc market share, followed by the US at 37pc and New Zealand, 13pc. In terms of cuts, 47pc of the US total imports are shortrib while Australia's cut mix is more varied with shortrib, chuck roll, and brisket accounting for 47pc.
With the fallout from the FMD outbreak in Korea beginning to be fully realised, media reports this week suggested that Taiwan has still not recovered from the collapse of its livestock industry following a massive FMD outbreak in March 1997.
That outbreak saw the culling of 10.68 million animals, including 40pc of the nation's pig population.
Korean farmers are becoming concerned that the current FMD crisis will have a similar end result, especially given the accelerating level of pork and beef imports.