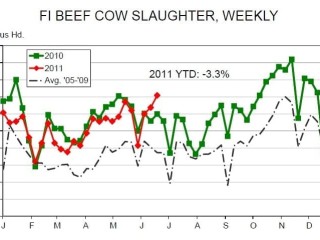 The proportion of cows in weekly beef slaughter statistics in the US has surged in the past fortnight– a sure sign that drought conditions across the southern US States are starting to bite hard.
Many cow-calf operations across a wide expanse of US beef producing heartland country are facing one of the most severe droughts to hit the nation in years.The impact from this is likely to be seen in lower US fed cattle production and higher beef prices in 2012, analysts say.
Chicago Mercantile Exchange's Daily Livestock Report says while US beef cow slaughter remains below the near-record levels of 2010 on a year-to-date basis, cow slaughter numbers for the weeks of June 19 and 26 – the most recent weeks for which records are available – show numbers up 5.8pc and 7.9pc respectively, from last year.
Analysts Len Steiner and Steve Meyer say this reflects the fact that in many areas there simply isn't enough grass to support cow herds.
"Add to that the fact that this drought has been in place since last (northern hemisphere) Autumn, and we get a situation where there is little hay on hand, and the feed that is available is very expensive. Even with a positive outlook for the US beef sector, many cattlemen simply do not have the necessary resources to hang on," Mr Steiner said.
Drought is impacting on a large portion of the US beef cow herd. The states that contain designated areas of drought stretch from Arizona in the west all the way to Maryland in the east, numbering 16 in total.
Those 16 states had 14.44 million beef cows on January 1 according to USDA records. That number represents 46.8 percent of the total US beef cow herd and includes the two largest beef cow states, Texas and Oklahoma.
There were other implications beyond the impact on the cow herd, Mr Steiner said.
"We must give some thought to how these dry conditions may impact us feedlot placements and inventories as we go through the summer. We question just how long higher placements can continue given USDA's last two cattle inventory reports that pointed to lower supplies of cattle outside of feedlots and the increasingly smaller calf crops we've seen over the past few years," he said.
Wheat pasture conditions last autumn and winter forced more cattle into US feedyards, keeping feedlot inventories significantly higher than what most analysts (Steiner and Meyer included) expected.
"However May feedlot placements were 10.8pc lower than last year, suggesting that the feeder cattle well may have finally run dry," Mr Steiner said. "It now appears that the drought and high fertiliser prices have reduced available grass pastures enough to push more cattle — even some spring calves— into yards."
"It would not be surprising to see June placements at or above year-ago levels and easily high enough to keep feedlot inventories above year-ago levels. That would suggest higher fed cattle numbers, year-on-year, through the end of this year."
"But there must be a reckoning. Cow-calf producers in the southern US have been holding-on as long as possible because they see that this can't go on forever."
Unless US Department of Agriculture had badly miscounted the past two years' calf crops and subsequent feeder cattle supplies, the number of available calves had to fall. This set up a potentially-explosive situation for calf prices and eventually, feeder cattle, fed cattle and beef prices, Mr Steiner said.
Meanwhile, JBS chief executive Wesley Batista said the US was gaining export market share in beef, pork and poultry as labour, raw-material and other costs surged in Brazil and other South American countries.
Mr Batista told Bloomberg in Sao Paulo this week that US beef, poultry and pork prices would "increase significantly" by year-end as overseas demand rose.
"For the first time in more than a hundred years, beef production costs in the US are the same as those in Brazil and other Mercosur members," he said.
"A weak US$ is boosting US exports and transforming the country into a very competitive protein player," Mr Batista said.
Emerging market currencies gained on average, 13pc against the US dollar in the past 12 months, according to JPMorgan Chase Bank.
The high rates of US cow kill in 2010 and 2011, relative to the five-year average, are clearly evident by clicking on the graph below for an expanded view