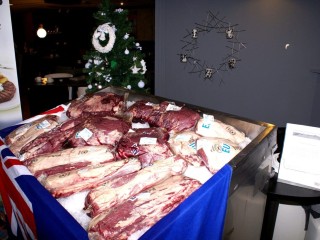 Australia runs the risk of missing out on a huge supply opportunity into its most lucrative export beef market, the EU, unless momentum grows in EU-accredited cattle supply.
Just over 12 months from now, the EU 100-day grainfed quota is scheduled to jump dramatically, from the current figure of 20,000 tonnes to 46,500t.
As part of that overall quota increase from July 2012, Canada was recently granted an additional 1500 tonnes of access as part of the international trade-off on tariffs. That allocation will effectively be accessible by Australia, also, from later this year.
The only caveats on the quota expansion next July will be agreement between the EU and US on a range of measures related to discussions at the start of the quota.
Given the long lead-time in gaining EU accreditation and producing the first drop of eligible calves, Australia looks like being in no position to exploit this growth opportunity for the next year or two, at least, stakeholders suggest.
MLA Europe region manager Jason Strong said Australia was on track to consign between 3500 and 4000t of grainfed beef to the EU under the quota this financial year, ending June 30. That sits neatly in the middle of earlier industry expectations of between 3000 and 5000t for year-one.
One of the notable aspects in the penetration of Australian beef into the EU market this financial year has been the wide range of product being consigned. Among the most notable brands in the trade is beef from F1 Wagyu, straight Angus, flatback British-cross, and even tropically adapted – all finding favour in different market segments, mostly food service.
Among those is Nippon Meat Packers' Oakey Reserve product, based on British and British cross steers, fed out of the company's 60,000 head Whyalla feedlot near Texas on the NSW/Qld border.
Nippon Australia senior executive Stephen Kelly said the number of cattle fed by the company for the EU trade had increased 25pc since it kicked off in June last year.
"In the overall scheme of things, that's still relatively small. But our product has been well received, and we're very happy with the early progress. The big challenge is eligible livestock supply," he said.
"We decided we did not want to feed 200 days to simply try to replicate US grainfed going into the market, so we settled on a 130-140 day program, finding a separate market niche, while slipping under the US in terms of price," he said.
Incentive enough in premium?
Asked whether the current 15-20c/kg liveweight premium for EU-accredited feeder cattle was enough to stimulate further property accreditation uptake, Mr Kelly said it was impossible to say if there would be more engagement with the program if the premium was higher.
"On the opposite side of the ledger, there is a significant impost on feeding these EU cattle without the use of HGP," he said. "In some cases in our feedlot, feeding EU cattle for 130 days is roughly equivalent to feeding conventional cattle for 200 days, in terms of performance cost."
The offset to that was that the grainfed segment of the EU market attracted zero tariff, which provided compensation in other ways.
One of the issues surrounding EU livestock supply that has surfaced this year is the suggestion that the move by domestic supermarket retailer, Coles, into an HGP-free program from January 1 has effectively diverted some young cattle that would normally find their way into EU channels, back onto the domestic market. Weaner sales in Victoria late last year would seem to provide some evidence of that.
Teys Brothers has also put its Teys Certified Black Angus Beef brand into the EU market in the past few months, with considerable success. Livestock general manager Geoff Teys echoed Mr Kelly's sentiments, saying the big challenge for future growth in the market was accredited livestock supply.
"Our main customer in Europe is saying, we want more beef, but feeders are difficult to source with EU accreditation," Mr Teys said.
"We see a huge potential for Australian grainfed beef into Europe. Where the EU had huge stockpiles of beef six or seven years ago, it is now out in the international market looking for supply."
Latest AFFA figures
According to AFFA data released this week, Australia has shipped about 3630 tonnes of grainfed beef to the EU so far this financial year, against the 20,000t grainfed quota.
Australia has also shipped 86pc of its EU High-Quality Beef (grassfed) quota, or around 6170t for the fiscal year to May 12. Given current shipping schedules, it may be difficult to fill the remainder of grassfed quota before the June 30 cut-off, sources say.
The EU's Import Meat Traders Association reports that importer's supplies remain tight with prices high, however the Hilton HQB quotas for Argentina and Brazil were also unlikely to be filled by the end of June. The strength of the Brazilian Real was affecting competitiveness.
Meanwhile, US shipments against the 20,000t EU grainfed beef quota have found their way into the UK, as reported in last week's Beef Central briefs, where supermarket group Tesco is importing US Black Angus beef as a direct competitor to local Aberdeen Angus product.