STEAKHOUSES are booming in Japan but one chain has added a clever twist that caters superbly to the country's famous lunch-time rush.
At Ikinari Steak outlets diners eat steak standing up, maximising use of time and space.
The standing-steak concept was pioneered in Tokyo by chef and restaurateur Kunio Ichinose, who opened his first Ikinari Steak outlet in the Japanese capital in December 2013.
Highlighting its popularity, he has now opened over 130 Ikinari Steak standing-steak outlets throughout Japan. The chain has also opened six restaurants in the United States in the past year.
It's all about allowing customers to eat a quality steak quickly and economically.
The name 'Ikinari' in Japanese literally translates to 'suddenly'.
Beef Central visited a small outlet in Tokyo's Ginza district, one of the original Ikinari Steak establishments, with Meat & Livestock Australia's Japan market manager Andrew Cox and MLA Japan business develoment manager Masayuki Kamijo on Thursday.
The limited floor space around the cooking area would barely accommodate a handful of small tables and chairs, but the standing-only concept means the small establishment can easily serve about 30 diners comfortably eating side-by-side at benches surrounding the open kitchen.
At the stroke of midday customers streamed into the store and donned tie-on adult-sized paper bibs to protect expensive suits, shirts and ties from wayward steak juices. It's somewhat akin to strapping on a nose bag and as fast food goes, it is hard to imagine a more novel and satisfying beef eating experience than this.
In keeping with the speedy service the menu is limited to a handful of options. Customers can order a ribeye, sirloin, tenderloin or "hamburg" (in effect a large beef patty) steak, each priced according to weight. A lunchtime meal typically comes with a side of fried corn (a further bowl of salad is optional) and costs in the vicinity of AUD $20-$30.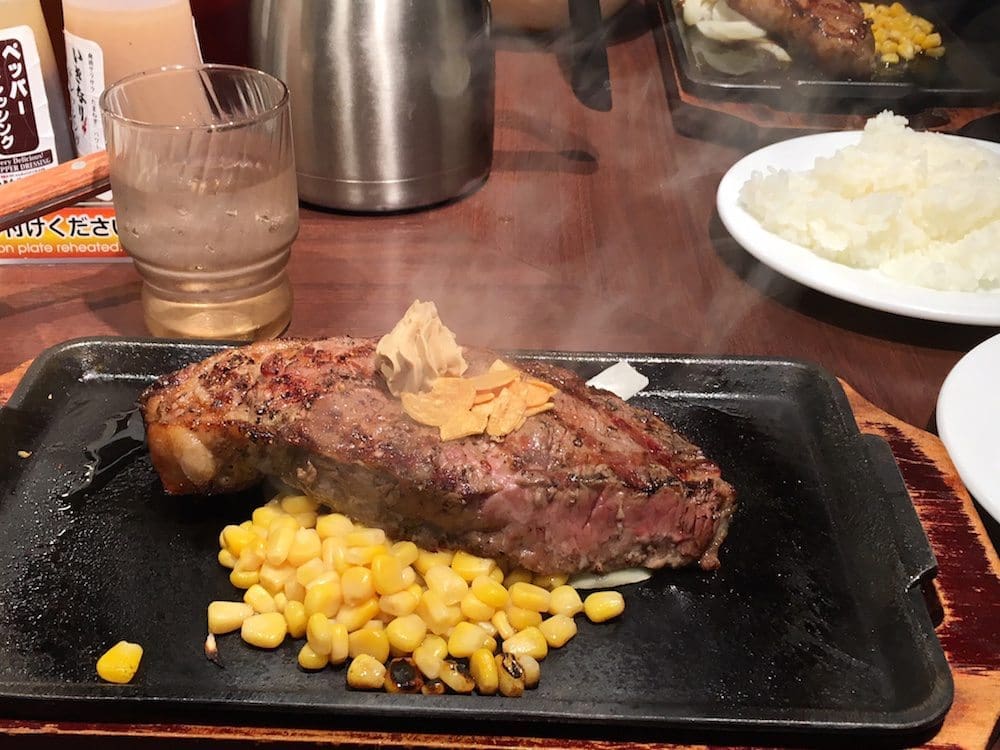 Steaks are served rare on sizzling cast-iron plates allowing customers to cook steaks to their preferred level of doneness, while diners also have a variety of sauces and seasonings from which to choose.
It is fast. Typically a customer will spend about 15 to 20 minutes inside in total. The store was filled to capacity with a queue lined up outside during our visit.
And the quality? A thick, juicy steak full of flavour that was everything you would associate with a traditional sit-down restaurant.
With a rapidly expanding chain of outlets now operating throughout Japan, Ikinari Steak is bringing steak into the fast lunch and dinner dining options for Japanese consumers in a big way.
Beef Central is visiting Japan's largest food show Foodex in Tokyo today, which is attended by 3500 food exhibitors and exporters from all over the world – keep an eye out for reports on key trends for Australia's red meat and grains industries next week.