THE immediate impact of rain on cattle supply and hence beef production has been seen in January beef export data released by DAFF this morning.
Total Australian exports for January were back about three percent on January last year, by which time drought was starting to impact on parts of Eastern Australia – particularly in Queensland.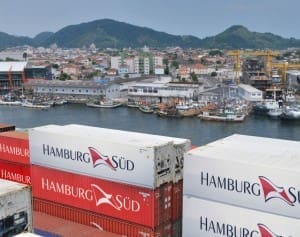 Exports to all destinations last month reached 67,537 tonnes, back about 2000 tonnes on the same time a year earlier.
January is traditionally the quietest month for Australian beef exports for obvious reasons, so it may be too early to draw broader conclusions for the year ahead, but the rate of beef kill seen so far this year suggests beef exports will decline substantially during 2015 compared to last year's drought-fuelled records.
What remains evident is that the re-alignment with Australia's 'core' export markets including the US, Japan and Korea remains in place, while some of the emerging markets have slipped away dramatically.
Exports to the United States in January reached 25,809 tonnes, reconfirming it as easily Australia's strongest market in volume terms.
This time a year ago, the US still accounted for only 13,800 tonnes – not much more than half last month's consignments – as new and emerging customers like China competed vigorously for available Australian manufacturing meat. Since then, however, the US has stormed back as Australia's biggest beef customer, driven by skyrocketing prices for imported lean grinding beef in the US caused by local shortage.
Japan also bought strongly during January, taking 15,500t of Australian beef – about the same as last year, but about 40pc down on the heavy trade levels seen in December.
South Korea took 7500t in January, back about 25pc on the January 2014 trade of 10,200t. Australia remains two years behind the US in tariff differential this year, adding a 5.3pc tariff disadvantage to Australian beef over US supplies.
China trade slows dramatically
In contrast, trade to China was dramatically slower, reaching only 4143 tonnes in January, down from +10,000t this time last year, and a similar volume in December.
The reason? The China market is described by traders as being in a "hell of a mess" at present, with a huge stockpile (just how large, nobody knows) of frozen beef inventory in place. Beef importers are experiencing strong push-back from customers, in the face of rapidly rising (in some cases record high) beef prices. Exporters are describing this as 'price fatigue.'
Chinese consumers are big chicken and pork consumers, of course, and think nothing of switching from one species to another, based on price and availability, and it appears to be happening right now.
Countering that, Beef Central understands there has been a major crackdown recently by Chinese authorities on traders involved in the so-called 'grey channel', with a string of recent arrests inside China for beef smuggled illegally over the border from Vietnam and Hong Kong.
In theory, that should enhance beef export prospects from a 'front-door' supplier like Australia, but what is certain is that, there is no way current 'approved' exporters to the market can fill that gap.
In loose terms, there's currently about 250,000 tonnes of 'front door' exports to China each year, and an estimated 750,000t of illicit grey-channel trade.
All this suggests there may be a 'Plan B' on the way from the Chinese government, most likely approval for another large exporter, like the US or Brazil, to start 'front-door' exports. Given recent developments, it appears that there's something in play in the China market presently that the export trade says it cannot yet put its finger on.
Chinese authorities recently completed an audit of Australian meat plants, looking at chilled beef production, cold-storage and six export abattoirs. Currently China allows only ten Australian plants to export chilled beef, but hopes remain that more will be added to the approved list, following the inspection visit.
The country's caution over chilled beef may be more related to China's limited cold chain infrastructure in many areas to handle less forgiving chilled, as opposed to frozen beef exports, sources suggest.
Indonesia, other export markets mixed
In other export markets, the immediate effects of Indonesia's re-introduced trade restrictions on Australian beef, offal and live cattle imports was in clear evidence last month.
As reported in this January Beef Central story, Indonesia has re-imposed strong quota limits on beef, offal and live cattle exports to in an effort to boost self-sufficiency in domestic beef production.
Beef exports for January to Indonesia reached only 1870 tonnes, less than half the 4000 tonnes consigned for the same period last year.
A similar trend was seen in offal exports, where Indonesia is a key customer for Australia. Beef offals, or 'fancy meats' as described in DAFF's export data, reached just 50 tonnes last month, down from about 1100t this time last year, and a similar volume in December.
For calendar year 2014, total offal exports to Indonesia reached almost 20,000 tonnes, which will now have to be diverted into other channels, if the current government policy remains.
Similarly, beef (muscle meat) exports to Indonesia last year reached their highest level in seven or eight years, topping 53,000 tonnes, however that annual figure looks like being greatly reduced under the Indonesian government's current trade restrictions.
Another market completely absent from export trade in January was Russia (CIS), following its own trade embargo introduced last year in retaliation over sanctions imposed over Russia's military activity in the Ukraine. Russia earlier took more than 40,000 tonnes of Australian beef each year, but took zero in January.
Some Russian beef importers are reportedly struggling to get credit and this has put a constraint on imports of any sort, even from Brazil. Analysts say if Russia was to remove its food bans from Australia tomorrow, it would be unlikely that at current world prices, it could resume trade where it left off, except maybe at the very top end of the hotel/restaurant trade.
Among smaller but in some cases high value markets, the European Union took just over 1000 tonnes of Australian beef last month, which while low, was not that unusual for this time of year.
This time a year ago the EU accepted 1300t of Australian beef, while December exports reached 1750t.
Quota management was another factor in the low January figure, apparently.
As at December 30, the EU's duty-free High Quality grainfed quota was essentially fully-utilised for the second quarter, following a similar result in the first quarter. Only around 323 tonnes remained unused. Analysts suggest the pace of shipments slowed once the quarterly allocation reached its critical phase on December 10, when 90pc of the quota was utilised.
Any unused quota goes into the third quarter (Jan-March) as will any shipments held back in December due to the limited availability of quota. That suggests a similar result is likely in the third quarter as well. Australia has shipped over 10,700 tonnes so far this quota year against the 48,200t quota.
The Middle East remained a solid customer for Australia during January, responsible for 3150t for the month, down a little on this time last year.