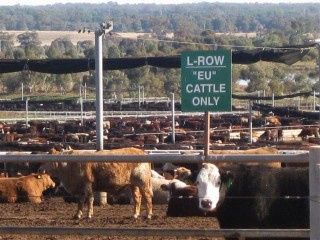 A push is on for EU-accredited feeder cattle to enter grainfed programs destined to service the pre-Christmas holiday peak consumption period in the northern hemisphere.
In order to complete their required 115 days-on feed, be processed, meet shipping schedules necessary to reach the EU, and clear customs and distribution before Christmas, eligible cattle will have to go through feedlot induction within the next three weeks.
The push for eligible cattle now is enhanced because the EU market traditionally enters a relatively quiet period after the Christmas/New Year cycle, processors say.
While there is no huge seasonality evident in the EU beef market in total, EU consumers tend to be loyal to their own local product. Consumers in the UK, for example, show loyalty to local domestic beef first; then to supply from other EU countries like Ireland; and thirdly to other non-EU sources, such as Australia or the US.
For that reason, imported Australian/US beef tends to be the first to feel the effects of any irregularity in EU consumer demand, one major processor targeting the trade explained.
Consequently, any EU-accredited producers with suitable feeder cattle are encouraged to contact their preferred EU-accredited feedlot/processor this week in order to access the pre-Christmas high demand period. Conversely, demand for EU-feeders is likely to decline after the end of June, in line with an easing in post-Christmas demand, before building again going into March and April.
Michael Doyle, general manager feedlots with JBS Australia, said Australia had access to an expanded 45,000 tonne grainfed EU quota from July next year.
"As a country, we need to prepare ourselves for that opportunity," he said.
"Obviously it's in our national interest to have access to as many markets as possible, to maximise the pricing that processors receive, and which can in turn be passed back down the line to producers."
While there was obviously increasing opportunity in the EU, availability of eligible cattle remained the big stumbling block for processors and feedlots servicing the market.
"We really need to look at how the industry increases the availability of cattle. Firstly, we need as many producers as possible to join the existing EU accreditation scheme," Mr Doyle said.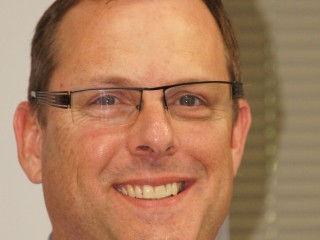 "Our company and others have run a lot of field days, and there has been an encouraging uptake of EU accreditation. But concurrently with that, Australia also needs to scrutinise the system we currently operate under, to see if it can be refined to make the program more attractive."
JBS Australia operates a number of programs for grainfed EU. Broadly speaking, the spec is 400-500kg liveweight, whole of life HGP-free from eligible herds, and all breeds. Typically, fed cattle are more British-based in the south, and may include more Euro/Indicus further north.
In the JBS Beef City feedlot outside Toowoomba, for example, the first Indicus-infused cattle for EU supply will enter the feed pens this week. Caroona, outside Tamworth, already has populations of straight Angus and Shorthorns, and various crosses, while there are about 8500 British and crossbred EU cattle on feed currently at Riverina Beef (formerly known as Rockdale).
Because of the requirement for 100 days on a 12mj ration, that normally translates into a total feeding period of about 120 days, after the lower-energy starter ration period is completed.
"Some EU cattle can be fed for 150 or 200-day programs, based on customer requirements and their desire to differentiate their products and brands in the marketplace," Mr Doyle said.
"But in order for programs like that to be successful in Europe, it is necessary to deliver product every week of every month of every year. Those importers need to build relationships with their end-users, whether they are restaurants, hotels or retail. At present that is extremely difficult, given the current limited supply availability of EU feeder cattle," he said.
"To engage in such programs we need the support of industry – we need a critical mass of EU-accredited livestock out there to enable processors like us to grow, and develop these specialised customers."
There was a definite opportunity for shortfed, midfed and even longfed product into Europe, at a range of quality levels and price points, he said.
JBS is rolling out a strong brand strategy, with several new EU market-specific brands currently under development. The company has been feeding and processing EU grainfed cattle since earlier last year at its Riverina Beef integrated feedlot/processing facility, and has processed EU grainfeds at Beef City near Toowoomba for some time – mostly fed at Caroona feedyard near Tamworth.
The company will soon have all six Australian feedyards accredited for EU grainfed production. That will deliver considerably greater capacity to feed for the high-value EU market – provided the appropriate feeder cattle are out there to drive the program.
Historically, price premiums for EU feeder cattle vary throughout the year, depending on demand and supply. This week, JBS Australia was offering a 5c/kg liveweight premium for Midfed One category (black baldies).
"Is that enough to attract greater supply, given the requirements in place to comply with EU regulations?" Beef Central asked Mr Doyle.
"It's a terrific question," he said.
"My answer is twofold. The hoops for EU-feeder supply basically involve administration. For producers who do not currently use HGP in their production system – as is the case across much of southern Australia – almost everything else is administrative. The producers who have joined the system say it is not as hard as they had envisaged," Mr Doyle said.
"For those not currently using HGP in their production system, I can't understand why they would not take the step and open their marketing options up to another strong market. There won't always be big premiums there, but they will vary through different stages of the year. Producers who have that accreditation in place can take advantage of it."
JBS currently received a lot of cattle through its southern feedyards that were already HGP-free, which the company 'could do a lot more with' if they came from EU-accredited herds.
"It's not a big step to make the transition from herds already exclusive of implant use," Mr Doyle said.
"Those people who have been to one of the industry field days have been able to complete the process quite quickly, and are now supplying cattle. There's no big lead-time to comply, if a producer can tick all the boxes, especially in history on non-implant use. It's not as if they have to go home and wait for the next calf-drop to come through the system."
"We had a group of mostly Hereford breeders at a recent Prime City awareness day near Griffith, and they had cattle in there in no time."
JBS Australia now has a full-time sales staffmember in the EU as part of the JBS team, and chief executive Iain Mars spent time in the market last week to consolidate the Australian arm of the company's presence in Europe.
"We're actively looking to form relationships with EU trading partners to get consistency of supply, which is how can extract premiums and reflect that back through the value chain," Mr Doyle said.
Asked whether the new beef brands, feedlot accreditations and expanded marketing presence represented a strategic push by JBS Australia into the EU, he said it was 'pretty logical' to pay attention to Europe's large and relatively affluent population; its domestic supply was declining to the point where there was a growing beef deficit each year; it attracted zero tariff for imported grainfed beef, unlike grassfed; and it was a premium market that appreciated and understood grainfed beef.
"The US obviously competes with us in Europe, but theirs is based around an HGP production system," he said.
"We see great opportunities for Australia – we just need more availability of supply. If we can secure supply, then we'll do our part in vigorously promoting and marketing our brand programs in the EU, in conjunction with MLA under the Industry Collaborative Agreement program."
Big premium evident for finished EU grainfeds
One major national processor yesterday was quoting 415c/kg dressed weight for slaughter-ready EU-grainfed flatback steers, plus another 10-15c/kg for Angus descriptions.
Compare that with yesterday's grid price for conventional 100-day grainfed flatback cattle at 340c/kg, and it represents a whopping 75c/kg dressed weight premium for EU-eligible grain-finished cattle. That's possibly an all-time record split.
To be fair, though, there has been a 25-30c drop in conventional 100-day grainfed rates in the past few weeks, due to flat demand in Japan, subsequent oversupply of sweet cuts in Australia, and uneasiness over the implications over the Federal Government's recent live export decision.
Significantly, that decline has not been evident in the market for EU grainfed steers.