This article written by Blyth Calnan, a WA based livestock consultant who works in the Middle East, originally appeared as a blog entry on the Ausagventures rural blogsite, and is reprinted here with permission
As I sit on an aeroplane between Dubai and Perth I watch various nature documentaries smoothly narrated by David Attenborough and Daniel Craig, I am reminded that nature is cruel. Temple Grandin, renowned for developing low stress systems for handling and processing livestock, once rightly said 'Nature is cruel, but we don't have to be'. In our society I could not agree more, in the privileged first world where we do not hunger and our problems are rarely to do with our immediate survival we can, and should evolve to show respect and compassion for sentient beings.
Yet I arrive in Australia and in my first day of driving I am appalled by the billboards plastered around Perth advertising an art exhibition titled 'We don't need a map'. The title photo of the indigenous art exhibition is an Aboriginal woman with a large lizard swinging over her head in the process of bashing it to death. It appears in Australia we condone bashing animals to death, in fact it would appear we celebrate it. Adding even more irony is the location of the exhibition, Fremantle, home of the hippy, activist and live export shipments.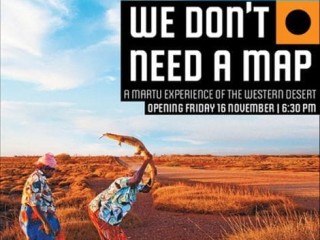 I am returning from a trip to the Middle East. I work with facilities that receive Australian livestock teaching them why Australian animals behave differently from their local animals, develop their facilities and skills to allow them to handle Australian animals effectively and educate them on the expectations of the Australian industry, government and public. As well as the nationals, I work with people from India, Pakistan, Sri Lanka, Bangladesh, Eritrea and other developing countries where the survival of your family is the focus is the focus of your life. These men will usually spend two years working for $150 a month before getting the opportunity to return home and visit their families, you may gasp in horror at this and scream injustice but most of these men are grateful to have the opportunity to provide for their families. It may not be right by our systems of welfare, but it is their reality. Australia is rioting over animal rights in foreign countries whilst people live an existence unimaginable for us. Even for their employers, the wealthy Muslim states that we seem to love to fear, their riches are recent and for the ageing generation memory of hunger and struggles are real.
I am not offering excuses for cruelty that may and has occurred to animals that get sent to these markets. I am asking that we remember that we are part of the planet, an island we may be geographically but we cannot deny we are connected to the rest of the world. We have the resources to provide food for those that cannot produce it for themselves. I am constantly amazed at how fickle we are when choosing what cultures and traditions are considered worth protecting or tolerating and what we judge needs eliminating. We have the opportunity to teach people compassion and understanding of animals, we can choose not to judge those who have not yet had the luxury to philosophise over the feelings of animals.
Dependant on the music and tone of documentaries and campaigns we are manipulated into supporting the predator or the prey, do you want the zebra to survive or the lion to starve? The predator prey relationship is part of the world we are in. We can choose to be part of the world and improve the welfare of animals across the globe, or we can choose to close our doors and hoard our knowledge and resources.
I know our markets and the people who work in them and as tough as the job can be I will continue because in them I see the future of animal welfare, we are spreading the word and giving the skills required to adapt and evolve. I am proud of this industry and to be part of it, I wish more people could see the true improvement and hear the heartfelt thanks of the people in market for our contribution. 'Nature is cruel, we don't have to be', let this be our motto at home and away and work our way towards a society that respects animals for the contribution they make, be it for consumption, companion or wildlife.