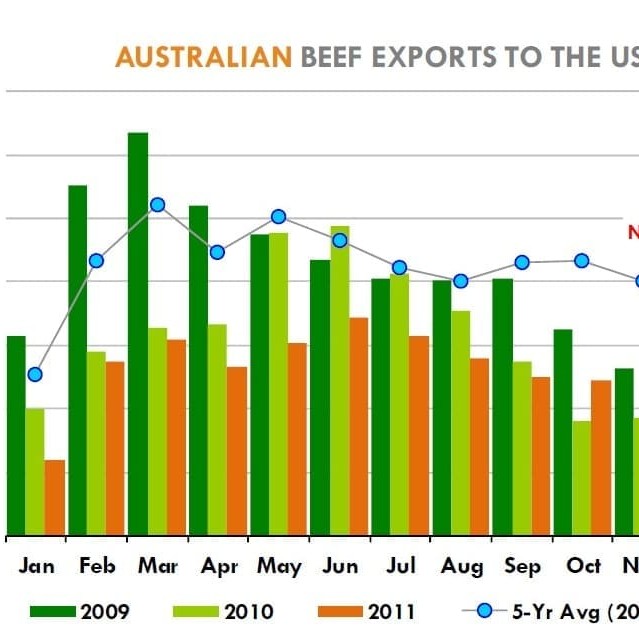 A shift in momentum is happening in Australia's grinding beef trade into the US, driven by a historically low US beef herd, the accumulated effects of the recent drought in US southern states, and an anticipated shortage in domestic beef production heading into 2012.
As the accompanying graph shows, October beef exports from Australia to the US for the first month this year exceeded volumes consigned for the same month in 2010.
That trend is likely to be repeated in trade volumes for the month of November, about to be completed.
Analysts, Steiner Consulting anticipates Australia's November monthly trade to the US will reach close to 17,000 tonnes, equalled only by volumes seen in June.
That estimate looks reasonable, judging by DAFF's export data updated daily. Figures so far for November suggest our exports to the US so far have reached 15,300t, with four shipping days left in the month.
The recent lift in exports to the US relative to last year goes against the overall trend seen in 2011, where shipments have been down 26pc year-to-date compared with last year. As illustrated in the graph, each month from January to September showed a significant deficit on 2010 monthly volumes.
Market conditions in the US for Australian beef have been challenging in 2011 due to the appreciating A$, competition for Australian manufacturing/trim products from other markets and weak US consumer spending.
Significantly, the current recovery in Australia's exports to the US appear to be out of sync with the normal seasonal cycle, illustrated by the five-year trend line in the graph. Shipments normally reach a seasonal peak about April/May.
While US cattle on feed numbers this year have been well above 2010, many of those cattle have entered the feedyards at lighter than normal weights, due to drought conditions, and in some cases are taking months longer to reach marketable weights.
There is also expected to be a large deficit in US cattle on feed going into next year as a result of the drought-driven surge in placements this year.
In its most recent imported beef market report, Steiner Consulting said the US imported beef trade took some time-out last week, largely due to the Thanksgiving Holiday, but also due to the combination of the recent higher beef prices, a falling A$ and renewed global economic fears.
"As has been witnessed several times throughout 2011, any volatility in the currency market has seen US traders take a wait-and-see approach," the Steiner report said.
"With the A$ falling 4pc last week, combined with the 12pc rise in 90CL beef prices (in US¢/lb terms) since the start of October, importers were much more hesitant, with very thin trading evident," Steiner said.
As reported in last Thursday's Beef Central article "Hold on for the grinding beef juggernaut," indicative 90CL beef prices to Australian exporters increased 15¢ last week, to 425¢/kg FAS – 23pc above the corresponding week last year.
The weekly Steiner summary said with the recent sharp drop in currency value US market participants last week questioned why they were not seeing more Australian product offered at levels that could make it more competitive with US product.
There were two possible explanations:
Australian export processors remained wary of the volatility in exchange rate markets, realising that once they started offering lower prices, it could be difficult to push them back up again should the exchange rate shift north again, and
The supply picture in Australia and New Zealand remains relatively tight. As is illustrated in the chart below, the year-over-year change in combined Australian and NZ slaughter during the last four weeks has been down by more than 5pc. For the week ending November 12, for example, total cattle slaughter in NZ was down 27pc from a year ago, while Australia was down 4pc.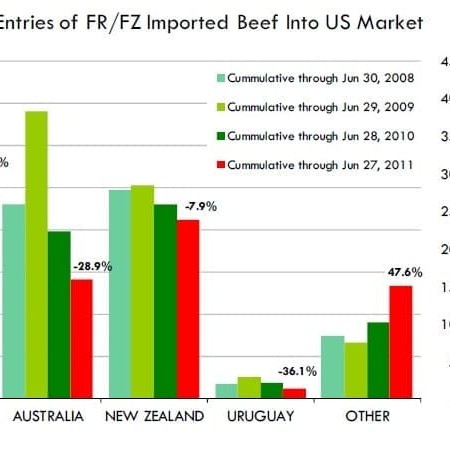 Leading Australian non-packer exporter Sanger Australia sees the recent trend seen in increasing beef volumes to the US reflecting the current trading environment in the US for grinding beef.
Managing director Richard Rains said US wholesale prices for grinding beef, both imported and domestic, had gone up significantly over the past couple of months, which was one of the reasons why Australian tonnage had grown during October and November.
"There are a number of reasons. The US cattle herd is now back to levels not seen since 1950, only exacerbated by the recent drought event – and that's not going to change in a hurry," Mr Rains said.
"The drought centred on Texas continues to rage, eating further into the breeding herd and limiting calf-producing capacity for some years. Not only are US beef imports likely to be down for calendar year 2011 by about 100,000 tonnes on last year, but the US continues to be close to the world's largest beef exporter, due mostly to currency movements."
One forecast had overall US consumption of beef down 3pc for 2011, which Mr Rains put down mostly to the fact that chicken had been 'incredibly cheap' in the US this year. Given the state of the US economy, consumers were continuing to look for a cheaper protein option.
"But that can't last, because the big US chicken meat processors are losing money hand-over-fist. They are bleeding so badly that they're now were winding-back production significantly. That will limit chicken supply, meaning US chicken prices can only go up from here, becoming less competitive against beef."
Alternative grinding meat markets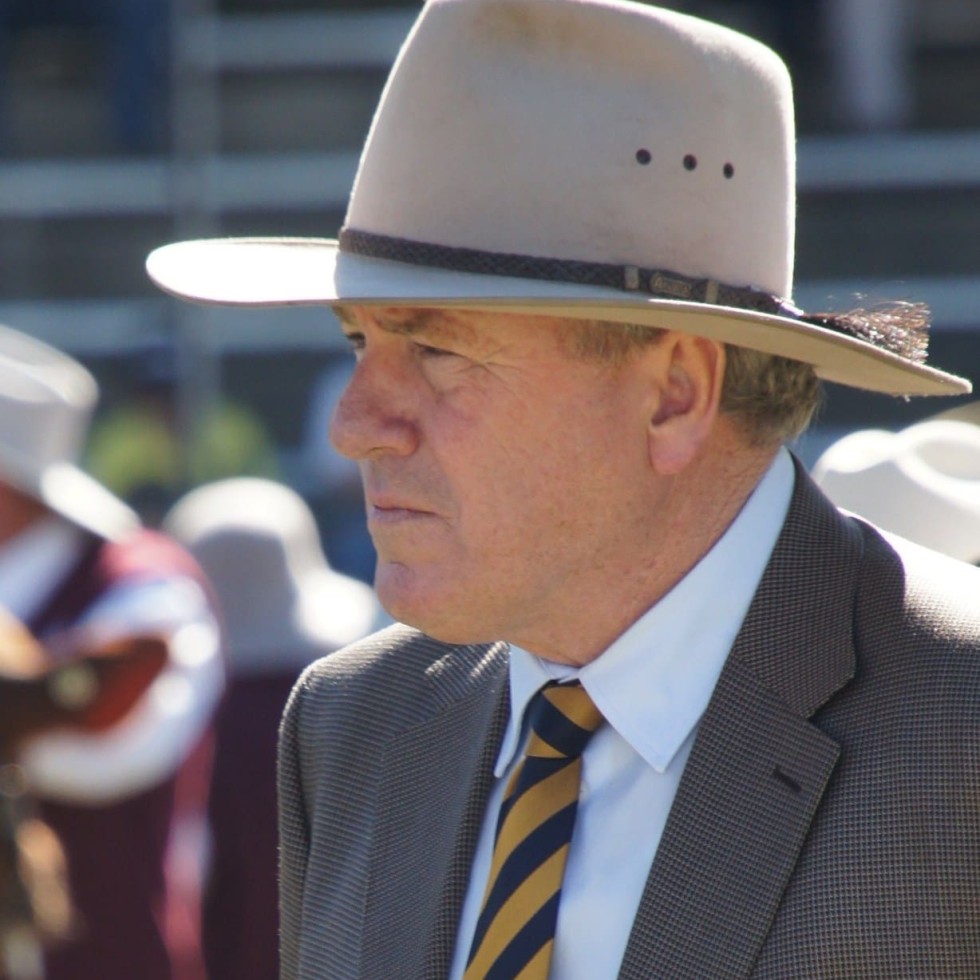 Mr Rains said not that long ago, Australia did not have a lot of alternatives to the US for manufacturing meat and beef trimmings.
"But we're very fortunate today to be in a situation we haven't been in for a very long time. While Japan continues to take a similar tonnage of beef from Australia as it always has, it is paying a lot less for it by reducing the quality requirements, and including much more grinding beef. McDonalds Japan, for example, is now 100pc supplied by Australian beef."
Markets like Russia had also gained momentum as major outlets for Australian grinding beef. As energy prices had continued to stay strong, Russia's appetite for protein continued to grow.
Because of the transport times and distances involved, Russian importers buying Australian beef now were purchasing against the country's 2012 quota, further lifting demand.
"Anything that Australia ships now won't arrive in western Russian ports like St Petersburg until well into January," Mr Rains said.
Manufacturing beef exports China, while growing only slowly, were also likely to expand further in 2012. As the Chinese middle class becomes more affluent, the first thing they want to do was eat more protein, he said.
One of the problems Australia continued to face in world manufacturing beef markets was that money remained tight, and nobody wanted to carry inventory.
"As a result, we are seeing our business become very lumpy," Mr Rains said.
"As the dollar comes down, everybody jumps on the bandwagon and sells, and buyers don't want to be left with product purchased earlier that they paid more for."
Mr Rains said a lot of hurdles remained in doing business into the US. E.coli testing regimes, port marks and security issues meant a lot of Australian exporters would now go to the US only as a 'last resort.' Adding to that would be the addition of six new bacterial pathogens to be included in screening tests from March next year.
"That regulatory move will be a considerable deterrent to trade into the US, with a lot of flow-on risk," he said.
"Nobody in the US sells Australian grinding meat at retail or food service on it's own. It's always blended with fatty US domestic meat. So if some Australian product gets blended, and that finished ground beef is found to carry a non-STEC contamination, we get caught up in the mess, even though it may well have come from the domestic US component."
Mr Rains said there was still plenty of upside on imported manufacturing beef and trimmings prices in the US next year, given the low supply forecast for the US, particularly around the second quarter next year.
"Looking at the US futures market, it's extremely bullish," he said.