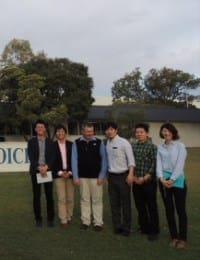 Five young Japanese beef industry workers are mastering their knowledge of Australian beef production after embarking on a mission to fully understand the Aussie beef supply chain.
MLA Japan developed an ambassador-style Meisters (Master) training program for under 30's working in the beef industry after recognising the need to educate Japanese trade and end users about the benefits of Australian beef.
MLA Japan Regional Manager Andrew Cox said the program was a new way to work more closely with the Japanese beef industry and strengthen their relationship with Australian producers.
"Japan is still our highest value export customer, but with increased competition it is important to find new ways to keep our sales strong and Australian beef front of mind," Mr Cox said.
"We devised this program as a way of providing a unique opportunity for the Meisters to learn from experts in the industry about the Australian beef supply chain, by exposing them to Australia's grading systems and meat science, traceability systems, safety measures, nutrition and primal and retail cut breakdowns.
"This is an opportunity for young representatives in the Japanese industry to learn about the facts and future of Australian beef in our most important market, and then have the confidence and knowledge to educate and promote the benefits of Australian beef to their industry."
The program was specifically tailored for young employees with 2-5 years' experience working with major importers and wholesalers in Japan handling Australian beef on a daily basis.
Thirty-nine applicants undertook a two-day education course, and five 'standout' Meisters were then chosen to travel to Australia on a beef supply chain study tour last month.
They travelled to Queensland and Northern NSW to visit a farm, feedlot, abattoir, and processing plants, and also tasted Aussie beef in restaurants taking in aspects from all parts of the supply chain, from the farm gate to the restaurant plate.
The tour also included a beef cutting demonstration with MLA's corporate butcher Doug Piper, who worked with Tasmanian grassfed oyster blade to show its versatility in preparation and cooking methods, as the popular flat iron cut.
Australian cooking methods of barbecuing, stir-frying and roasting of beef were demonstrated, comparing to traditional Japanese styles of cooking of thinly sliced and grilled or boiled for dishes like ramen soup.
The tour was an eye-opening experience for the Meisters as it gave them a valuable firsthand experience of the supply chain, which they could only hear, or read about previously.
Masanobu Suzuki, from Sumikin Bussan Corporation based in Tokyo said; "As a first generation Meister I want to ensure that this program continues in the future so we have second and third generations. When talking to customers, I will now use the knowledge I have acquired and I want to be regarded as an 'Aussie beef Meister'."
Mr Cox said the program had the potential to harness the interest of future generations working in the beef trade in Japan and grow demand of Australian product through an ambassador-style program.
"It is important to work with these young Meisters to maintain and strengthen the Aussie beef's reputation and market share in Japan and we hope to cultivate and develop the skills of the Meisters, as our next generation of Aussie beef ambassadors," he said.
MLA Japan plans to run the Meister Program again in two to three years, potentially shifting focus to young chefs.
Meisters share their experiences:
 "I was impressed by the variety of cuts available not only at Coles and Woolworths but also at smaller butcher shops, and I was impressed by how skilful butchers are."
– Masanobu Suzuki, Sumikin Bussan Corporation
"I was impressed by the confidence with which Australians produce their meat. By visiting the farms, feedlots and packers and talking to so many experts, I was able to appreciate the real meaning of Australia's safety system and meat quality."
– Chie Shirogane, Ito Ham Foods
"In Japan, people attach value to the beef brand (for example Matsuzaka Beef or Kobe Beef). In Australia, people seem to attach value to the process and they look at information about where the product was packed or raised. If I had to choose between grassfed or grainfed beef, I would probably still choose grainfed. But the grassfed Tasmanian beef we sampled during the cutting demonstration was really good and tender, even when cold – that was a big surprise."
– Junki Kurokawa, Nippon Meat Packers
The butcher's account
MLA Japan's in-house Aussie beef butcher Konosuke Shimizu joined the Meisters study tour to learn more about Australian butchery techniques the Australian consumers' red meat preferences.
Mr Shimizu works closely with the MLA Japan office to educate the Japanese beef industry, retailers, butchers, and wholesalers about Australian beef and its qualities including cutting techniques and its versatility in cooking.
Mr Shimizu conducts about 50 seminars for MLA's foodservice, retail and trade partners each year and has presented wagyu cutting techniques for producers in Australia.
He said the Meisters program gave him a valuable insight into Australia's production and processing systems which he could apply in Japan when teaching new techniques or improving existing practices within the Japanese industry.
"The visit reassured me of the high work standards of Aussie beef farmers, feedlots and packers," he said.
"I was especially pleased to have been able to visit the farms and learn about Australian farmers' way of thinking, their business, technology, and the struggles they are faced with. I found the visits to feedlots and packers was also important as they showed us that while each company has its own specific characteristics, all companies place safety as their number one priority.
"The five Meisters who participated were very knowledgeable about the topics and aims of the program, and by allowing them to taste, see, and hear about Aussie beef for themselves, I think has increased their motivation to sell Australian products.
"Seeing safety as a priority has also convinced me of Australian beef's superiority, and I will put the knowledge I acquired through this mission to use in future cutting seminars."
Beef market outlook
MLA's cattle industry projections mid-year update indicates that Australian beef exports to Japan during 2014 are forecast to reach 270,000 tonnes swt, down 7pc from 2013. The trade is likely to remain under double-layered pressure from increased competition with the US, as well as strong demand for Australian beef from other international markets.
For the first six months of 2014, beef shipments to Japan were down 6pc year-on-year to 132,075 tonnes swt, with a significant decline in frozen beef volumes (11pc below the corresponding period in 2013, to 74,246 tonnes swt).
Stronger than expected demand for Australian beef from the US, combined with established volumes to China, limited buying of frozen beef by the Japanese, despite dry weather induced high production in Australia.
On the other hand, chilled exports to Japan for the first six months of 2014 were on par with the 2013 level, at 57,830 tonnes swt, underpinned by a 3pc increase in grainfed beef shipments (to 39,477 tonnes swt). The robust price of US beef into Japan, reduced domestic Japanese beef production, and firm beef demand from the Japanese retail sector sustained the volume.
The historic signing of the Japan-Australia Economic Partnership Agreement (JAEPA) in July and anticipated reduction in tariff during 2015 – from the current 38.5pc to 30.5pc for frozen beef and 32.5pc for chilled – will assist opportunities for Australian product in the market.
Slow but gradual economic recovery, and likelihood of Japanese domestic beef production remaining subdued, should also stimulate the Japanese end user interest in imported beef.
Pictured from top: the Japanese Meisters visit the Australian Country Choice processing plant in Brisbane; are given a tour of Kerwee Feedlot at Oakey; and MLA Japan's in-house Aussie beef butcher Konosuke Shimizu compares notes with MLA corporate butcher Doug Piper at MLA headquarters in Sydney as they both work with a piece of oyster blade beef to produce Japanese and Australian-style cut variations.
Source: Meat & Livestock Australia