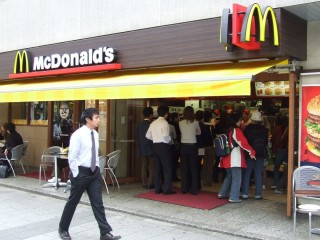 The Japanese operations of global burger giant McDonald's are in recovery mode after being impacted in a number of ways by the Great Eastern Japan earthquake and tsunami on March 11.
The nation's largest burger restaurant chain is still feeling the effects of the combined disasters, but is putting programs in place to restore full trade sooner, rather than later.
The forced closure of some McDonald's Japan stores due to damage, combined with reduced trading hours due to power shortages and the general subdued mood of Japanese consumers towards eating-out had a considerable impact on its sales in the months after the disaster events.
However the end of Japan's nationwide power-saving initiative this month should help restore trade through food service outlets like McDonald's.
The fast food pioneer – possibly the single largest user of Australian beef in Japan, was still struggling to maintain sales during August (down 8 percent on the same month last year), but expects to see signs of recovery in September with the end of the nationwide electricity saving initiative.
The company's second quarter (ended June 30) saw a cumulative increase of 0.6pc in same-store sales and a cumulative increase of 1.8pc in its same-store guest spend on the previous quarter, suggesting the tide may have turned.
During the first half of this fiscal year (ended June 30), McDonald's Japan continued strategic activities to improve performance by expanding capital investment to further improve business efficiency and to offer products which further enhanced McDonald's exclusive value, a company statement said.
In order to minimise the impact from the Great Eastern Japan Earthquake on profit, a number of business management changes were made, including 'strategic closures' of some smaller stores. McDonald's Japan now operates 3275 stores, down 27 from 3302 outlets prior to the earthquake.
That strategy had successfully absorbed the significant sales declines seen after March, although steep rises in commodity costs was still a problem.
Mirroring an identical program in Australia, McDonald's Japan last week launched its "1971 Campaign", celebrating 40 years since the company's first store opened in the Ginza district of Tokyo.
The company's chief executive was quoted in the e.nikkei newsletter saying it would continue to shut-down small stores that could not offer the company's full menu, and place greater focus on large-scale outlets, home delivery systems, and increasing sales during non-peak periods.
The Japanese beef market was partially liberalised in 1991, allowing affordable imports to meet with greater beef demand in Japan. Australian exports of manufacturing beef have grown significantly during the past two decades, particularly over the last several years, due to strong demand from the fast food sector, as well as consumers' preference for low priced items as a result of the current tough economic conditions.