A monthly column written exclusively for Beef Central by US red meat industry analyst and commentator, Steve Kay, Cattle Buyers Weekly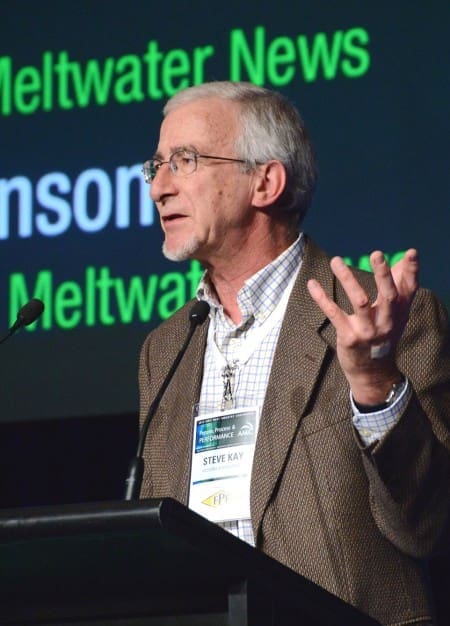 THE record-breaking US cattle and beef markets have everyone agog about what has happened, but also about what might happen next.
Grizzled market watchers (I'm one of those) starting buzzing with anticipation in January when fed cattle prices put in new record highs four weeks in a row.
Prices subsequently hit new highs in six more weeks, notably during a stunning contra-seasonal rally in June and July. Now market watchers wonder when the price bubble is going to burst.
No one remotely forecast what has happened in the young cattle and fed cattle markets this year.
It's almost unfair to remind analysts that at the start of the year, they forecast fed cattle prices to average US $131 to US $134 per cwt in 2014. Instead, prices in the first 26 weeks of the year averaged US $146.10 per cwt. Even more startling is that they averaged $159.10 per cwt in July when they were expected to be at least US $10-15 below that.
Prices of US feeder cattle, from calves to yearlings, took a similar trajectory to new record highs.
Prices 'defy logic'
All these prices are still well over US $200 per cwt and set new record highs again last week. Cattle feeders seem intent on keeping their pens as full as they can and are paying prices for replacement cattle that defy logic.
Cattle placed in July have breakevens that are in the mid-to-high US $160s. Yet the February and April live cattle futures prices are currently barely over US$156. Cattle feeders thus risk losing much of the equity they have earned this year. But that's the boom-bust nature of cattle feeding.
The market's amazing performance has producers shaking their heads in disbelief that prices could go so high, so quickly. Over the past 50 years, fed cattle prices have traded in an approximate US $10 per cwt range over each 15-20 year period. Prices ranged between US $60-70 from 1960 and 1975, between US $70-85 from 1975 to 1990 and US $85-100 from 1990 to 2010.
Prices since then have worked higher each year faster than at any time in industry history. The 2010 price for a grainfed USDA Choice grade steer averaged US $95.38 per cwt. Last year it averaged $125.89, and this year, it might average more than $150. The futures market Monday suggested that prices the rest of the year won't dip below US $156 per cwt and this was nearly US $7 per cwt discount to last week's cash prices.
The price acceleration just this year has been breathtaking. The low for the year (US $137.53 per cwt) was set the first week of January. The latest high was US $163.26 per cwt the week before last. That's a $25.73 advance in 30 weeks. It has left market participants open-mouthed and at the same time wondering when there might be a sharp correction.
That, though, is unlikely to occur unless there is a huge decline in wholesale beef prices. The US beef comprehensive cutout (which includes cuts, grinds and trim) set another new high last week of US $255.78 per cwt. This was the 13th week this year that the cutout has set a new high. But the most startling aspect is that five of those highs came in the last five weeks, when the dog days of summer were supposed to force prices lower.
'Americans want to eat beef, and retailers know it'
Beef processors have consumers at home and abroad to thank for the market's remarkable performance.
Americans want to eat beef and retailers know it. So they have found ways to feature beef. Interestingly, the latest retail prices (for June) showed the All Beef price was 12.0pc above a year ago while the pork price was 13.8pc above. The beef price was $5.51 per pound but the pork price was $4.12. So pork is also expensive, in the eyes of shoppers.
Now we're in August, when live cattle and wholesale beef prices normally improve. But with record prices set in July, it's unlikely the market will rally much this month.
At best, prices might be flat to slightly lower. But there's little to suggest that wholesale beef prices will collapse.
Beef processors are running at significantly reduced levels to match supply with demand. July's average cattle slaughter of 580,000 head per week was the lowest for July in years. The only number near as small that I could find was 593,000 head in 1979. Fed steer and heifer slaughter in July was the smallest for the month since 1975.
The wild card is consumers' response to ever-increasing retail prices. Those prices still significantly lag the record high wholesale prices. The June All beef price of US $5.51 per pound would have to increase to US $5.80 for retailers to restore their beef margins.
That's a big jump. But the US economy gets stronger every month, as does consumers' confidence in it. As measured by a monthly index, confidence is now at its highest level since October 2007.
That's great news for an industry that has to sell the highest price beef and pork in US history.