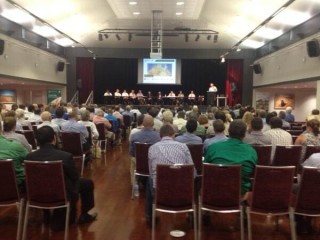 Indonesian Government officials have once again expressed disappointment at the level of direct Australian investment in Indonesia's cattle industry, suggesting current levels do not adequately reflect the size and importance of the trade relationship between both countries.
Repeating their message from last year's high-level IndOz Australian-Indonesian cattle industry forum in Brisbane, Indonesian officials told another joint forum in Broome on Friday that the current level of investment was not what would be expected from two near neighbours with such a significant trade relationship.
Despite the fact it is a net importer of beef, Indonesia has strong aspirations to become an exporter of beef, and sees itself as a natural gateway for the export of Australian-bred, Indonesian fed and processed beef to the ASEAN Economic Community when it comes into being next year.
Indonesia says the low cost of processing in its country supports the economics of Australian cattle being shipped to Indonesian feedlots and then processed in Indonesian abattoirs to underpin an export beef industry from Indonesia to other countries within the forthcoming ASEAN free trade zone. Indonesia believes the strategy would also benefit from the trust other Muslim countries place in Indonesia to conduct the Halal process.
As he did at the IndOz beef forum in Brisbane last year, Himawan Hariyoga, from the Indonesian Investment Coordinating Board, expressed disappointment in the level of direct Australian investment in Indonesia's cattle sector to date, stating that Australian interests have invested only $US6.3 million in the cattle and livestock sector since 2004.
"I hope it becomes more obvious as to why we expect more direct investment from Australia – our main trading partner in cattle business," he told the forum.
Significant Australian investments in Indonesia include feedlot and abattoir developments owned and operated by companies such as Elders and Juang Jaya (50-50pc a joint venture between Consolidated Pastoral Company and Greg Pankhurst and Dicky Adiwoso). Those companies and Australian exporters have also collectively invested millions of dollars on upgrades to Indonesian supply chains since the introduction of the Exporter Supply Chain Assurance System.
Indonesia's direct investment figures do not also acknowledge the enormous financial and time investments made by northern beef producers in tailoring their production systems to satisfy the specific requirements of the Indonesian market, which in recent years has left their businesses badly exposed to the downturn caused by Indonesia's dramatically reduced import quotas.
The most common reason Australian cattle industry interests give when asked why there is not more direct investment in Indonesia is simply because of the uncertain investment environment. Potential investors cite the sudden and unexpected changes that often occur in Indonesian regulations which can destroy the viability already-established deals in the blink of an eye.
Recent examples included Indonesia's sudden decision in mid-2012 to require full pedigree information on imported breeding cattle while boats carrying 10,000 heifers were on the water. More than a year later those cattle are still being held in feedlots under Government imposed quarantine. In the same year Indonesian customs officials also refused to allow thousands of tonnes of frozen imported beef into the country, even though the meat had been imported under valid import permits. Both examples alone cost each of the private exporters and importers involved hundreds of thousands of dollars.
Mr Hariyoga did acknowledge at the forum that "doing business in Indonesia was not easy", indicating that there is some level of recognition at Indonesian Government level as to the reasons why Australian interests remain somewhat gun shy on the direct investment front.
Indonesia is expected to emphasise its expectation of greater investment from Australia when industry and government representatives from the two countries meet for the first e Indonesia-Australia Partnership on Food Security in the Red Meat and Cattle Sector later this month.
An estimated 200 people attended the Broome forum including northern cattle producers and industry and Government representatives from Australia and Indonesia.
Federal Minister for Agriculture Barnaby Joyce and state agriculture ministers Ken Baston (WA), Willem Westra Van Holthe (NT) and John McVeigh (Qld) attended the forum.
The first day gave cattle producers a rare opportunity to interact with ministers, Government Departments and peak councils on critical issues affecting the industry's future.
"Over the past five months the growth in the live cattle trade has put an additional $35 million into the pockets of northern cattle producers so the mood was better than a few years ago couple with a decent wet season in the Territory and the Kimberleys," Australian Livestock Exporters Council chief executive officer Alison Penfold, who attended the forum, said.
"That said, no one is complacent and industry is looking for certainty and stability."
The second day on Saturday involved a closed meeting where industry leaders and stakeholders reviewed progress on a range of projects and to identify areas where energies should be focused in future.
"It was good to note that the work undertaken in 2013 by producer, processing and live export peak bodies with MLA and LiveCorp that led to the development of the Boxed Beef and Live Cattle Indonesia Strategy paper still largely captures the key areas of focus and activity," Ms Penfold said.
"There was however significant concern about the cost of compliance and red tape, a matter of significant concern to live exporters and a strong desire to see some genuine reform in this area."
On that front the industry has welcomed a Federal Government decision to conduct a review of the ESCAS system in July.
Agriculture minister Barnaby Joyce said the recovery in live export orders and the price being paid to producers was starting to underpin the economics of the north again, which was restoring hope to the region.
He said the commercial basis of the live export industry was driving constant improvements in animal welfare.
"(Attacks on the industry) are on the periphery, on the extenuating circumstance, on the exceptional," he said.
"But if you look at the generality, the generality is that the industry in both Australia and Indonesia and everywhere we trade is racing ahead.
"It is getting better all the time, and it gets better because of one of the key drivers, and that us people like to make a buck.
"When you make a buck when things are efficient. When they are clinical, when they are humane, when things are done quietly and without fuss, then you keep your stress levels down in your stock, and we know that…
"But we always find people who will around go around the peripheries, to show the extenuating circumstance, and then to show the extenuating circumstance back to us and call it the generality.
"And we have to always be on the front foot and say no matter what you have, if you find something on the road where something is wrong you deal with that issue, you don't close down the highway, and that has been my approach to this industry and what I intend to do."