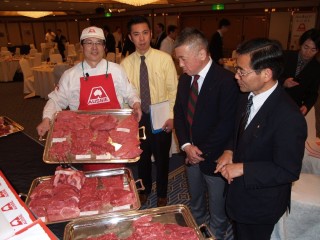 A resurgent Indonesian market was one of the few bright spots in an otherwise anaemic beef export market during July, characterised by double-digit year-on-year declines in trade with major customer countries like Japan and the US.
The monthly data released last week reflects the very tough trading conditions faced by Australian exporters, with total export volumes for July declining 11 percent compared with the same month last year to 79,377 tonnes. That's the lowest July performance since 2007.
Exports declined year-on-year to all of the three major export markets, while some improvement was seen in smaller markets like Indonesia, Taiwan, the EU and the Middle East.
Contributing to the decline in shipments for the month was the lower cattle throughput and beef production, as export processors reduced throughputs in response to the tough international trading environment. MLA's National Livestock Reporting Service recorded average weekly cattle slaughter in Queensland for July down 12.6pc compared with 2010 – the lowest weekly average since 2003, when the effects of BSE were seen in declining consumer confidence in international markets.
In volume terms, the biggest impact was seen in trade with Japan, down 28pc year-on-year to 23,274t. In contrast, exports for July last year were 32,338t, representing a decline of more than 9000t – the largest monthly year-on-year drop seen since June 2002.
The main contributors were:
the high A$
increased US competition driven by low US currency value
flat chilled beef demand due to the sluggish Japanese economy, and further influenced by post-earthquake effects, and
food safety concerns linked to recent radiation contamination of beef, and earlier e.coli pathogen events.
US trade down 24pc for year
Another near-record sized hit was seen in Australia's export trade for July with the US, down 24pc on the same month last year.
Australian currency performance was a clear factor here, as the A$ crept past US111c for a brief period during the month, savagely undermining buying interest in Australian product, despite historically high prices for beef in the US market. For July, Australian shipments to the US totalled 15,753t, down from 20,699t for the same time last year.
Calendar year-to-date shipments to the US now total 114,573t, a 25.8pc decline from 154,424t shipped during the January-July period last year.
Much less impacted during July were exports to Korea, down just 3pc year-on-year, to 11,544t, representing the highest monthly volume trade since March.
The Korean beef market continues to take additional volumes of Australian and US beef in 2011, despite reports of high stocks and falling Hanwoo beef prices. For the first seven months of 2011, Australian shipments to Korea were up 21pc year-on-year, at 84,867t.
If there was a bright spot for Australian beef exports during July, it was the increased trade into Indonesia, in the traditional lead-up to the country's Ramadan religious festival. Declining access to live export cattle sourced out of Indonesian feedlots was another factor. One estimate last week during Senate hearings in Darwin suggested there are now less than 40,000 Australian cattle left on feed in Indonesian feedlots, from a combined capacity of about 300,000 head.
Mostly frozen beef export volumes to Indonesia increased 20pc year-on-year for July, to 6218t. Beef shipments to Indonesia have picked up since May, following a very slow start to the year, with exports for the first seven months of 2011 10pc below the corresponding period in 2010, at 21,816t.
Port bottlenecks
One impediment to future beef trade growth in Indonesia could be lack of port capacity, trade sources warned last week. Five of the country's top six container hubs that represent 90pc of Indonesia's total sea container volumes are apparently full. The consequence is that container vessels are having to wait outside port and truck drivers at the docks are queuing at the gates, leading to very low port efficiencies.
Such vessel delays result in higher costs in the supply chain and APL Terminals suggested there was a 'real risk' of importers and exporters de-selecting Indonesia until port capacity was increased. It said Indonesia would need an additional 15 million teu's of boxed port capacity by 2020. That would require an investment of approximately A$7.8 billion, and could take at least four or five years to develop.
Other smaller Australian export markets to record a year-on-year increases in shipments for July included the EU (up 66pc to 1348t, largely on the back of emerging trade in the high quality grainfed segment), the Middle East (up 49pc, to 3068t) and Taiwan (up 4pc to 2943t).
While encouraging in terms of percentage increase and in some cases value, these markets represent only modest volumes and are a long way from offsetting the major decreases in trade to the US and Japan.