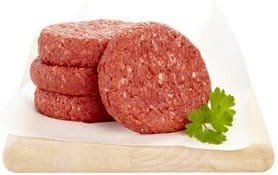 Australian imported lean grinding meat has hit record levels in the US market this week, crashing through the A500c/kg barrier for the first time in the response to stratospheric domestic US cattle and beef prices.
This week's price quoted by MLA yesterday reached A500.2c/kg, which in itself is remarkable, given that the A$ continues to sit uncomfortably high at present above US94c.
The last time the Australian 90CL imported manufacturing beef price in the US approached the magic A500c/kg mark was back on March 20, when it got to A495.8c. But the big difference back then was that the A$ was worth just over US90c – more than 4c less than where it sat yesterday (94.32c).
Imported 90CL prices into the US have now risen 24-26pc in the past 12 months, measured in local currency and US$, respectively. The trend can be clearly seen on Beef Central's 'Industry Dashboard' graphs, soon to be expanded, on our home page (click here to view).
So great is the demand and pricing in the US at present that some Australian exporters, principally hot boners in the south, are diverting lower-value muscle cuts normally sold independently, into 'slash-packs' for sale to the US as manufacturing meat.
That's principally leaner forequarter cuts like chucks and blades, in order to protect the CL lean status.
The other value to Australian exporters in doing this is that it pulls complexity and cost out of the system. One processor told Beef Central that it could well be advantageous to sell such meat in a slash pack as manufacturing meat for 10-15c/kg less than what could be achieved as muscle meat, because of the production cost savings.
US beef price fireworks
Steve Kay's US Cattle Buyers Weekly issued this morning reports the US live cattle market celebrating the July 4 US holiday with its own spectacular fireworks display. Prices on Wednesday skyrocketed to new all-time highs, due to strong demand and ever-tightening domestic supply.
Cattle sold on Wednesday on the Southern Plains close to $158 per cwt, up $3-4 from the Friday before. Cattle up north sell at $157-158/cwt live or $248-250 dressed.
"Unprecedented and confounding are two words that market watchers are using to describe what has occurred since the start of June," Mr Kay reported. "Forecasts of a decline in prices to a summer low of $136-138 have been blown away by a four-week rally that has added $13-14 to cash live prices," he said.
"It's unprecedented for this time of year. The best explanation is that fed beef processors need cattle far more than cattle feeders need to sell them. Feeders are metaphorically locking their gates and only opening them when much higher money is offered."
Strong beef demand at the retail and wholesale levels has also allowed US packers to pay more for cattle. But analysts wonder how packers can hold up boxed beef prices to offset the latest surge in cattle prices. It also renews concerns that demand will suffer at retail and foodservice because of record high cut-out values.
US retailers are being forced to keep raising their everyday beef prices and are featuring beef less on menus and in specials. An analysis of June beef features reveals much less 'featuring' in June, at higher prices than a year ago.
"But Americans so far show no signs of reducing their beef purchases because of the price of beef," Mr Kay reported. One reason is that pork is also much more expensive than last year, up 16pc on a year earlier due to last year's PED virus outbreak.
Mr Kay suggests beef's strong performance also shows that Americans have more money to spend than for at least six years. "They are also more upbeat about the economy and jobs. Consumer confidence in the economy in June reached its highest level since January 2008, surveys show."
Analyst Andrew Gottschalk, HedgersEdge.com, told CBW he remains optimistic about domestic demand, as US employment and wage growth are accelerating. "The bidding war for skilled labour is already underway. That said, the burden of proof is on the demand side as the market approaches the dog days of summer," he said.
Domestic 90s are 'like gold'
Domestically-produced 90CL beef (lean beef from cows) is trading in the US as if it was a precious metal, Steve Kay colourfully described the situation last week.
A pre July 4 holiday scramble pushed spot prices last week as high as $300 per cwt and a daily average of $270. The weekly average was likely to come close to the record $264.28 per cwt set the week ended March 29.
"Cow slaughter has been running well below year ago levels for more than two months. The number of cows in the weekly slaughter (week ended June 14) dropped below 100,000 head for the first time in a long time for a normal week. The 99,390 head total was only 16pc of the total 605,629 head kill that week."
The supply of imported 90CL is also tight, despite larger exports from Australia. A limited amount of those imports is showing up on the spot market, as more product is going direct to end-users, say analysts.
The tight beef supplies reflect the fact that US beef production year to date is down 5.8pc on a year ago. Further confirmation of tight supplies came in USDA's latest cold storage report which showed that beef in freezers on May 31 was down 21pc from a year ago. This also reflects a belief that less 90CL beef is being stored for future use than expected, despite the prospect of even tighter supplies over the northern hemisphere summer.
Overall red meat supplies were down 3pc from April and down 16pc from a year ago. Frozen pork supplies were down 13pc from last year, and frozen poultry down 15pc.
Why are imported 90s so much cheaper than domestic?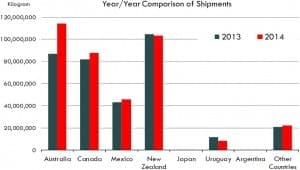 Record high meat-block formulation prices have caused some panic among US grinders and other end-users, the weekly Steiner imported beef report said last week.
The 'meat block' refers to the blend of US fatty trim and domestic or imported lean trim, required to deliver the ideal beef patty, typically around 76pc lean meat, or Chemical Lean.
Short-bought buyers finally decided to come into the market in order to cover needs, the Steiner report said.
"They're finding that offerings from Australia remain limited, even as export data from Australia points to a surge in overall beef shipments to the US, particularly shipments of lean grinding beef," it said.
Australian export data shows that shipments of lean grinding beef to the US (85, 90 and 95CL product) reached 15,867 tonnes in May, 33pc higher than a year ago.
Indeed, for the February to May period this year, Australian monthly shipments of lean grinding beef to the US have averaged almost 15,000t. That compares to a monthly average of 10,000t in 2013.
"This implies that for each month, there is an additional 260 truckloads of imported lean grinding beef in the US," Steiner's report said.
This additional volume has, up til recently, caused imported product to trade at a significant discount to US domestic product. The discount this year in some cases has been as large as US40c/lb (88c/kg), the largest discount of the past 20 years or so, Steiner reported. Click on graph in gallery at bottom of page to see this illustrated in graph form.
In the last three weeks however, prices for imported lean grinding beef in the US have surged by as much as US12-15c/lb.
A number of factors have contributed to the 'suddenly impossible to buy' market for imported beef:
Some US end-users are short-bought and this has caused something of a covering rally.
US domestic grinding beef prices have moved counter-seasonally higher in June. There is a tendency for US lean beef prices to drift lower after Memorial Day holiday, and some end-users were hoping to grab product at lower prices. That did not happen, and users are now scrambling to find product
There appears to have been some delays in deliveries, meaning traders/suppliers are looking for available product to deliver to regular customers
The implied 76CL meat block cost is currently up 27pc compared to a year ago. So far, US fast food operators have struggled to manage costs and there are concerns that there will be little relief in terms of prices and supplies until late in the fall. This has likely made for more aggressive bids.
New Zealand supplies are expected to decline sharply in July. While slaughter a fortnight ago in NZ was a little over 60,000 head and 15pc higher than a year ago, numbers are likely to be cut in half in the next four to five weeks, as the season draws to a close.
Some US market participants are pointing out that the dearth of offerings from Australia may represent an effort to try to keep the market up, knowing that NZ supplies will be seasonally lower in July, while other supplies (Uruguay, Mexico, Central America) remain limited and are bringing less volume than last year. While this may be the case with individual packers, the export data from Australia tells a different story. Australian shipments to the US in June again eclipsed 30,000t and grinding beef likely made up about 25,000t of that. Fiscal year exports reached 265,000t, up 29pc on the year previous. Rather than holding back, it appears that a larger portion of the imported business is by-passing the imported beef trade and delivered directly from Australian suppliers to US end-users.
Is growing US displacing some Australian trade into China?
High prices in the US certainly have encouraged more Australian beef to come to the US this year.
The recent surge in beef shipments to the US has happened while recent exports to China have declined. The May decline in exports to China was due to new measures taken by China with regard to HGPs. It remains to be seen how Australian beef exports to China proceed in the coming months.
The big wild-card in Australian exports remains weather, Steiner says. Drought conditions have forced producers to send more cattle to market and at this point it is a guessing game as to what moisture conditions will look like in Australia's late winter and early spring.
"The bottom line is that imported beef availability in the US is limited, even as Australia ships significantly more product than it did a year ago," Steiner's weekly report said.
"Much of the product coming in is already spoken-for, and short-bought users are having to increase their bids in an effort to secure product."
"High domestic prices remain supportive and ongoing short cow slaughter levels all but assure record high cow meat prices in the US this summer."