US beef exports subsided during April, after a record shipment month in March driven by the extremely attractive currency value of the $US.
Data released on Thursday confirms earlier anecdotal reports published in Beef Central that US export sales declined significantly from March's torrid pace.
April US beef exports were down 9 percent on March, but the month still ranks as the twelfth largest on record for US beef shipments.
April exports of 101.4 thousand tonnes (223.2 million pounds), were still 26pc higher than the same month last year.
Calendar year-to-date US beef exports amount to 389,000t, 30.6pc higher than the same period last year, and 10pc higher than January-April exports in 2003 (pre-BSE), the previous record year for US exports.
The largest customer for US beef in April was Canada, taking 18,000t. That was the first time in history that Canada has ever been the largest destination for US beef, according to US industry analyst, Len Steiner, providing commentary in the US Daily Livestock Report.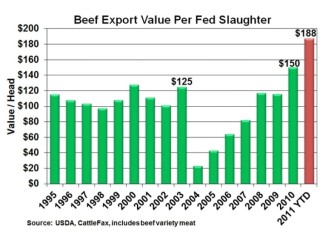 Japan, Mexico and Korea all bought more than 13,000t of US product, while 'other' markets (those outside the top eight customer countries) took 14,000t.
Beef exports to all major US markets except Mexico (down 7.5pc) and Vietnam (down 43.3pc) were higher than last year's April figure.
Although it took little more than half as much US beef in April as it did in March, Korea led the growth in US trade in tonnage terms, up 70pc from April 2010. Hong Kong was the clear winner in percentage terms at +251pc, but that was coming from a low base.
Despite US beef production expected to remain relatively steady in 2011 and US beef imports to decline (with total US beef supplies to drop), the strength of market conditions for US beef overseas has been the premise for the USDA to raise 2011 US beef export forecasts, to 1.17 million tonnes, up 13pc on year-ago levels.
Assisting export conditions, US cattle placements into feedlots so far this year have been higher than year-ago levels, which will assist an increase over coming months in eligible US beef for the Japan and Korean market. Current market access conditions in Japan require US beef to be sourced from cattle less than 20 months of age, and in Korea this requirement is for cattle not to exceed 30 months.
Looking further forward, the USDA predicts US beef exports in 2012 to drop 3pc on 2011 forecasts, given an anticipated 5pc decline in US beef production. However, if the US dollar continues to remain weak and global beef demand continues to improve (particularly in the Asian markets) amid a global decline in beef supplies, incentives to sell beef abroad may outweigh those on the US domestic market, MLA says.