CHINA has ended an embargo on Brazilian beef imports, Brazil's agriculture ministry announced on Tuesday, lifting a three-year ban and opening the door to trade that could be worth half a billion dollars each year to Brazil in new sales.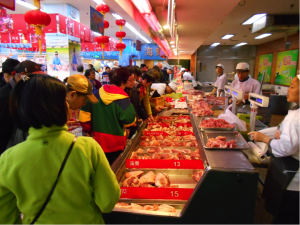 Eight Brazilian beef processing plants and one poultry plant were approved to ship to China, the ministry said in a statement, reported by Reuters yesterday.
The announcement came after Brazilian President Dilma Rousseff and Chinese Premier Li Keqiang signed trade, finance and investment deals worth tens of billions of dollars.
Seventeen more Brazilian processing plants are expected to get approval in June, when Brazilian Agriculture Minister Katia Abreu visits China. The 26 plants represent $520 million of potential sales to China, the ministry said.
China's ban on Brazilian beef imports came well before the huge surge in Chinese imported beef trade that started in late 2013. Given the size of the Chinese market and Australia's reduced capacity to export beef in coming years, Australian analysts are not particularly concerned about 'front-door' competition in China from Brazilian beef. Some Brazilian beef already enters the country through the illegal 'grey channel', and will simply be supplied through a more legitimate route, market watchers say.
Trade talk around the recently-held SIAL trade show in China suggested that Brazil had been hit extremely hard by China's recent clamp-down on grey channel beef entering the country, which saw thousands of containers blocked up in ports like Hong Kong, Vietnam and Thailand. See Beef Central's February report on the clamp-down here.
Although yesterday's trade access announcement was widely anticipated in Brazil, it nevertheless saw stocks in Brazil's three largest meat packers – JBS, Marfrig and Minerva – rise by an average 4-5 percent yesterday. All three will have China-eligible plants, following the agreement.
An important part of the broader China-Brazil trade agreement announced yesterday is a multi-billion dollar China-backed railway project stretching coast-to-coast, that will allow Brazilian beef and other commodities to be shipped via Pacific Ocean ports in neighbouring Chile or Peru. Brazil itself has no direct access to the Pacific Ocean side of the South American continent. The project will make Brazilian beef much more accessible to China.
A number of key beef importing countries currently have bans imposed on chilled/frozen beef from Brazil. Countries that imposed a suspension following the detection of an atypical BSE case in 2012 include China and Saudi Arabia. Despite those suspensions, the World Animal Health Organisation maintains Brazil's status as a country classified with an 'insignificant risk' of the disease.
Another group of importing countries including the US, Japan, Korea, the EU and Indonesia have bans imposed on Brazilian beef due to its Foot and Mouth Disease status. However Brazil is confident of gaining access to the US from certain states with vaccination for FMD, well before the end of this year.
Brazil's agriculture ministry expects the US to approve imports of fresh Brazilian beef for the first time by late June, when President Dilma Rousseff visits Washington.
Brazil is the world's largest beef exporter and China is its top trading partner for all commodities. In 2014, Brazil exported $7.2 billion worth of beef – mostly to second-tier countries. A breakthrough in both China and the US could significantly change the global meat trade landscape.
Source: Reuters, additional reporting by Beef Central.