IT appears China is again cracking-down hard on illegal 'grey trade' imports of foodstuffs including beef and other consumables, repeating a similar episode that occurred in January.
Trade sources say Chinese television on the weekend ran items suggesting imported products (not just foodstuffs) worth close to US$1 billion had recently been seized or held by authorities, trying to enter the country without authorisation.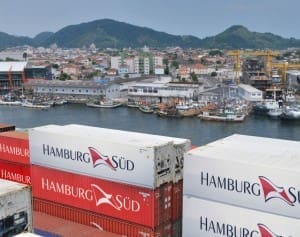 A string of arrests have apparently also been made since late last week – one report said 107 people had been detained at entry-points. TV reports clearly showed individuals in handcuffs, being led away.
The latest round of Chinese Government crackdowns appears to be focussed on Vietnam as the entry-point, trade contacts have told Beef Central.
Three months ago, a similar action was focussed more on trade through Hong Kong. The river demarking the border between North Korea and China has also been raised as an entry point of interest to Chinese authorities.
As one of only a handful of approved exporters to the People's Republic of China, Australian beef and sheepmeat exports arrive via the 'front-door' paying duties and tariffs. However it has been estimated that up to 750,000 tonnes of meat is imported illegally each year through the so-called 'grey trade' via neighbouring countries including Vitenam, Cambodia and Hong Kong, avoiding duties and China's country-of-origin limitations. Brazil, the US and India are the main sources of raw material for such trade. It is unclear whether Australian beef is also involved in the grey trade, simply to avoid tariffs and duties, but an industry source yesterday suggested one large Australian exporter had had staff 'questioned' by Chinese authorities this week.
Despite it's immense size, there is general agreement that China's grey channel trade up to now has played a pivotal role in keeping pace with China's rapidly expanding appetite for red meat.
"China has been making token efforts to clamp down on illegal meat trade for years, but this latest episode which started in January this year and erupted again last week has been easily the longest and most intense in memory," a source close to Australia's beef trade into China said.
He suggested the primary driver was the current Chinese Government's anti-corruption stance, attempting to demonstrate the administration's sincere objective of removing such trade. Lost revenue from tariffs and duties could be another factor.
Another trade source suggested the mood had changed in the China meat market this week, in the wake of the arrests, with signs of fluctuation in price and supply.
It remains unclear whether the offending products last week were in fact confiscated, simply placed in quarantine/bond, detained or rejected.
One of the difficulties with red meat caught-up in such actions was that it could become 'very difficult' to find alternate markets that would take the product, Beef Central's trade source said.
"The authorities can make re-export next to impossible," he said.
"Grey channel or uncertified beef into anywhere in the world these days is next to impossible," he said. "Years ago, a regulatory or documentation issue on a consignment of beef arriving in one market could easily be managed by selling it on, somewhere else – even if it was through the back-door on a fishing boat into Russia. That is now much harder to do."
Industry chatter continues to raise the prospect that China might now admit a Brazil, a US or even an India as a front-door red meat supplier, to offset the void left by the recent grey channel clamp-down.
But increased front door trade competition from a US or a Brazil does not phase Australian exporters, apparently.
"The market is that big, so what if Brazil gains access," the Australian trade source said.
"It's a little like Ireland's recent success in gaining access to trade beef into the US – it makes little or no difference to Australia," he said.
"There's such demand into those areas that another major beef producer gaining official access to China for beef would have little impact on our market prospects. In years gone by, countries like China or Indonesia were selling meat for half of what it was worth in Australia. But that's changed. The world price on beef – perhaps with the exception of Indian buffalo – is now on a pretty level playing field, from one country to another."
"If you don't get the price in one market, it goes somewhere else."
Another Australian trade source said unlike past years when beef demand in China falls away dramatically after Chinese New Year festivities, this year it had held on much better than expected.
Beef Central's Southeast Asian market report correspondent, Dr Ross Ainsworth, yesterday made a brief reference to the recent trade access events in China.
"My sources tell me that in fact this is much more likely to be an internal struggle in which the powerful importers of illegal product are cleaning-out some of their new and unwelcome competition," Dr Ainsworth wrote in his monthly column.
"China needs all the imported beef it can get at the moment, so there doesn't seem to be much sense attached to a real crackdown on grey channel imports. If they really were worried about biosecurity or market impact on their domestic growers, they would logically start by closing off the smuggling of Indian beef via Vietnam as their top priority."
Beef Central approached Meat & Livestock Australia for a comment on recent reports.
A spokesman said MLA was aware of recent developments in China, saying it seemed that the Government was expanding its earlier border crackdown into local wholesale markets, with a 'few cases' of local agents/distributors recently being arrested/fined for selling grey channel beef.
"Overall it is not having an effect on the market," MLA said.