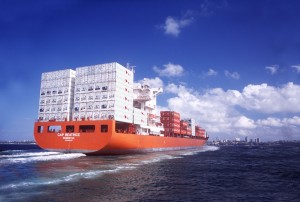 Australia has achieved a significant breakthrough in export beef trade into China, with a partial re-opening in chilled exports, following a nine-month furlough.
China suspended access for chilled beef from all eligible exporting countries, including Australia, last September.
Click here to see Beef Central's September 2013 article flagging the market closure.
While Australia has had an agreed chilled beef protocol to China for some years, the problem was that China had apparently not listed any Australian eligible export plants specifically for chilled trade, against that protocol.
For the nine months of 2013 prior to last year's discontinuation, Australian shipped more than 12,200 tonnes of chilled beef, both boneless and bone-in, to China.
While much of that trade has more recently simply been diverted into frozen form, trade contacts are hopeful that the partial re-opening will deliver further momentum to Australia's front door access to the booming China beef and sheepmeat markets.
Significantly, most of the product previously sold to China in chilled form was grainfed, higher-value cuts, suitable for the upper end of the food service, hotel and restaurant markets, and western style retail.
Australian authorities are still gaining a full understanding of the Chinese language advice posted on the AQSIQ website last week, which flags the market access development. As of Friday afternoon, no formal government notification had been received, and no import permits have yet been issued.
Australian trade authorities and industry representatives has been working proactively behind the scenes for some time explaining to Chinese authorities how Australia's chilled beef process works, through the production and transport chain, shelf-life issues and the associated food safety implications.
On the strength of that, Chinese authorities are now satisfied that their concerns have been met, and have subsequently issued a list of eligible Australian export plants – ten in total – to participate in a partial market re-opening for chilled beef and lamb.
The eligible plants include three Teys Australia plants at Beenleigh, Rockhampton and Wagga; JBS Dinmore, Qld; Kilcoy Pastoral Co, Qld; Stanbroke Beef, Qld; Bindaree Beef, NSW; G&K O'Connor, Vic; Northern Cooperative Meat Co, NSW; and John Dee, Warwick, Qld.
One contact said the list was based on prior performance, that is, plants that were exporting significant volumes of chilled beef prior to the suspension in trade.
Certainly there is no doubt that the ten plants currently listed were significant exporters of chilled product, prior to the suspension in trade. Having said that, there are some obvious omissions from the list, of companies that previously engaged heavily in the chilled trade into China. Nippon Meat Packers is an obvious example.
Authorities say it is now 'highly likely' that Chinese authorities will visit Australia sometime soon to audit the performance of the ten plants currently eligible to export chilled.
The current partial market re-opening is on a six-month trial basis.
While any access to China for chilled beef has to be seen as a significant positive for the Australian red meat industry, the ultimate objective must still be to gain unfettered access for all market-eligible exporters, to avoid distortions created through having a 'two-tiered' market access arrangement like that which currently exists.
An industry contact said the Australian Government was keen to work closely with their Chinese equivalents to make sure that Australian chilled beef being produced is acceptable against China's standards.
"They want to work with the Chinese in a very cooperative fashion to explore the possibility of expanding the number of plants eligible to supply," the contact said.
"I'd imagine that once the Chinese are happy with the quality of the chilled product being imported, and how it is managed through the Chinese cold-chain, the trade access is likely to be widened."
He stressed that the sort of quality product involved in the chilled trade was really targeted not at the everyday Chinese consumer, but five-star hotels and restaurants.
"Once they get used to the product and the ability to handle volume, as it increases due to demand, I'd expect those restrictions to be eased further," the contact said.
Currently, countries eligible to export frozen beef to China through the 'front door' include Australia, New Zealand, Uruguay and Paraguay.
Tomorrow: More questions than answers in China-eligible chilled export list.