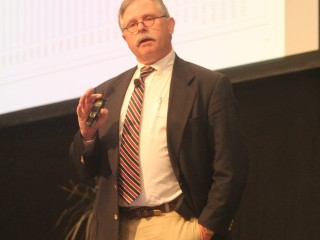 The Chinese market is emerging as a potential "game-changer" for the international meat trade, the Northern Territory Cattlemen's Association conference in Alice Springs last Friday was told.
"1.3 billion people divided by any number is still a very big number, and they're going to rule the roost," US-based cattle market analyst Don Close told the conference.
It is not only China's rapid population growth but its rapid income growth as well that is exciting market watchers.
Meat & Livestock Australia market analyst Peter Barnard used the example of Chongquin, a city of 30 million people in China, to highlight the "energy and buzz" that is occurring in the market.
The average income of residents of Chongquin is around US $3500 a year, but growing at 10-12pc a year, and is forecast to rise to $7000 per person within seven years. Some cities in China such as Shanghai now had average per capita income levels close to those in the US, Dr Barnard said.
The trend was not being missed by multinationals, with McDonalds opening 800 stories in China since 2010, and YUM! corporation which owns Pizza Hut, KFC and Taco Bell currently opening a new restaurant in China every day.
MLA opened an office in China in 2000 when trade was less than a trickle. It has taken some time for projected demand growth to translate into higher beef export sales for Australia, but exports to the market are clearly now on the rise.
Australia exported more than 30,000t of beef to China last year and exported 12,000t in February alone – more than Australia exported to Korea in the same month.
Rabobank's Don Close noted that the US is "very envious" of Australia's front-door access to China.
"We're still working with the grey market with Hong Kong, Vietnam and Taiwan, and having to back door that product into China."
Dr Barnard said that while there would be ups and downs, trade with the market is looking highly optimistic.
"I just personally believe the Asian story is a very compelling story, and a great story for the Australian beef industry."
To predict Chinese trends, follow Taiwan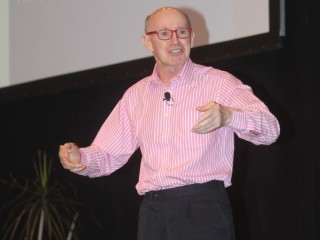 International food market expert Professor David Hughes said his advice for companies looking to export beef to China was to not only spend a lot of time in the market, but to look to Taiwan as a guide to how China will grow from here.
Meat consumption in Taiwan has risen closely in line with growth in income.
"What completely intrigues me is that China is tracking exactly what has happened in Taiwan, which is to be expected because they're the same people," Dr Hughes said.
"It seems they're going in exactly the same trajectory."
Chinese meat consumption trends were mirroring those of Taiwan in that pork was the most popular meat, followed by fish and then chicken, with beef a long way in the background.
While the three white meats dominate in Taiwan and China, and are expected to continue to do so, Dr Hughes said opportunities for beef in China were as good as you could expect in a country of 1.3 billion people and where income was rising fast.
He told Beef Central that good opportunities for beef included:
In food service in the thin seam of upmarket Western-type cuts for more the affluent or business people wishing to make a statement;
In the wider hot-pot market for more income constrained Chinese wishing to eat out with friends and enjoy cheaper shaved beef or lamb;
There would also be modest opportunities at retail largely for cuts suited to traditional style Chinese cooking – such as forequarter shabu shabu type cuts.
"If Chinese per capita beef consumption goes up by a modest 1kg, that's 1.3 million tonnes of extra beef needed from someone," Dr Hughes said.
He added that as the Chinese Government aimed to achieve self-sufficiency in pork production, it would be more open to importing beef.
Dr Hughes reiterated that when dealing with a market of 1.3 billion people, whatever happened in China – good or bad – had the potential to have a disproportional impact on meat demand.
"I suggest that if you're in the meat business you've got every reason to be optimistic, but wear a crash helmet, and do up your seatbelt, because it is not going to be a case of just sit back and enjoy the ride."