PRICES for Australian imported lean grinding beef continued to surge to dizzying levels in the US market last week, on tight supplies in the spot market and ever higher asking prices from Australian export processors.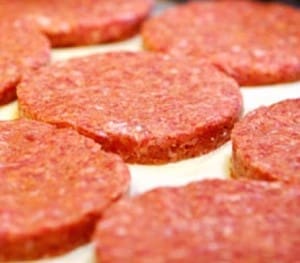 Significantly, imported manufacturing beef in the US is now trading at par with equivalent chilled domestic US supplies, which is not unusual for this time of year, indeed often imported beef trades at a premium in the northern hemisphere autumn.
In response to the recent price bonanza in the US, Australian shipments of lean grinding beef were above 20,000 tonnes in August, more than double year-ago levels, and prices continue to advance higher on an almost daily basis.
MLA was quoting imported 90CL cow meat in the US at A672.3c/kg on Friday, up from 639c a week before, and 419c this time last year. That's a 60pc price advance in 12 months.
In US trade/currency terms, the benchmark 90CL frozen imported boneless beef was quoted at US$3.00/lb on the top side on an FOB US East Coast basis, US7c higher than the previous week. That';s now more than US100c (54pc) higher than year-ago levels, in US currency terms.
The sharp increase reflects very limited supplies of imported beef in the spot market even as Australian shipments to the US are now at the highest levels in a decade.
Offers from overseas packers remained limited in the US market last week, Steiner Consulting's weekly imported beef report said – in part because a significant amount of product was sold in previous weeks and overseas packers are now unwilling to show more meat for future delivery, uncertain what cattle supplies will be like in late September and October.
New Zealand supplies are currently well above year-ago levels but they are still at their seasonal lows and will not deliver any significant increase in shipments until mid-October. This suggests supplies in the US will remain limited until mid-November.
Much of the shortage in the market relates to lean and extra lean beef, Steiner suggested.
US domestic cow slaughter has been trending significantly below year-ago levels.
"This week we expect US domestic cow and bull slaughter to be around 110,000 head, down about 18.5pc compared to the previous year. Normally US cow slaughter picks up in the fall as more culls cows become available. Indeed, there is a brief pickup in slaughter in early to mid-September as pasture conditions deteriorate in some states. Slaughter then trends higher in late October and November as more culls cows become available," Steiner said.
So far, however, pasture conditions have been much better than normal, which has contributed to the shortage of US cows coming to market. The good US pasture conditions also implies higher supplies of hay and lower prices, which again are a factor as to whether producers opt to hold on to marginal cows or if they send them to market.
"We still think there will be an increase in US cow slaughter numbers by October, likely from around 110,000 bulls/cows per week currently to round 125,000 by late October," Steiner predicted.
"The numbers will be smaller than normal, however, and by late January we will likely see bull/cow slaughter back to 110,000/week or less."
Further contributing to the shortage of US cows is the decline in feed costs and the expected decline in hay prices this fall and winter. Already hay prices in August were down 11pc from May levels and are expected to drift lower for the next six months.
Grain prices lower
Grain prices in the US are down sharply in recent months and they are expected to hit multi-year lows this fall. US producers are expected to harvest a record corn crop, with some estimates pegging total production at over 14.5 billion bushels.
Ending stocks for the 2014-15 marketing year are now projected to almost double, compared to the current year, evidence of ample supplies. This suggests US corn prices this harvest are expected to bottom out at around $3.50/bushel, compared to $8 per bushel just two years ago.
This will tend to pressure overall feed costs lower, boost feeder cattle values and provide an incentive for cow-calf operators to retain marginal cows that in the past would have gone to market.
Imported beef supplies:
MLA data shows supplies of imported lean grinding beef have increased sharply this year due to high turnoff, and August shipments were the highest so far this year. Combined volumes of 95CL, 90CL and 85CL beef were reported at 20,564t, 112pc higher than a year ago.
Shipments of 90CL beef to the US at 9692t in August were up 78pc compared to a year ago.
Interestingly, shipments of 85CL beef were reported at 5965t, more than triple the volume that was shipped to the US last August. This kind of volume coming to the US from Australia is evidence that current prices have made the US extremely competitive, Steiner's weekly report trade said.
"The lack of product in the spot market, however, shows that much of this product already is going to regular customers and a much smaller portion will likely be traded in the market. US end-users have been very aggressive in trying to secure supplies given their current very short positions," it said.
"Also, the increase in Australian beef shipments for the most part has offset the shortage of domestic product. If there is one thing that should scare US end-users of imported beef, it is what happens when (not if) Australian cattle slaughter declines from current unsustainable levels."