THIRTEEN years after the Australian beef industry last spent money on television advertising in Japan, clean and safe Aussie beef is again being promoted to Japanese consumers via TV ad slots across major population areas.
The move coincides with a major new "Let's Barbie" promotion orchestrated by Meat & Livestock Australia, introducing Japanese consumers who are enjoying their northern hemisphere summer to Australia's much-loved barbecue tradition.
The ads emphasise the communal nature of the summer barbecue culture, with friends and family sharing a hearty beef meal over a smokey outdoor grill.
Click the image below to preview the English sub-titled Japan market TV advertisement, or click here to access the full "Let's Barbie" campaign page.
The 'Lets Barbie' campaign is MLA's largest in the Japan market in some years, covering billboards, magazines, social and digital media, point-of-sale material at retail and restaurants, and a 30-second video advertisement aired across television and online social media platforms.
"We're encouraging Japanese consumers to grab some Aussie beef and hit the barbecue this summer," MLA's International Business Manager Japan, Andrew Cox told Beef Central.
"Barbecue areas are springing-up all over Japan and we are well-placed to capitalise on this development," he said.
Australia's southern hemisphere production cycles are also working to our advantage in the campaign.
"Complementary seasons mean domestic Australian demand for grilling cuts is generally lower, whereas the American grill season usually creates higher export prices on US steaks," Mr Cox said.
Additionally, the two recent tariff cuts on Australia beef heading for Japan as a result of last year's Free Trade Agreement have put more focus on Australian product, contributing to the decision to re-engage with TV.
"For this campaign, we are reminding people that humans have always got together to grill meat, and this summer Japanese consumers should get their friends and family together and load the barbie with Aussie beef," Mr Cox said.
Managing costs of expensive Japanese TV air-time
Beef Central asked Mr Cox how MLA had managed to accommodate expensive TV advertising within an ever-tightening Japan region marketing budget.
"For the advertising costs, we have kept our production costs down and negotiated usage rights for two years, so that we can amortise those production costs over that time," he said.
"We've struck a balance between television and online advertising to make sure the media buy is targeted and cost effective. Television was chosen this time because retailers love the fact we are supporting the product with mainstream investment – and because we are launching a new concept here, in the word, 'Barbie'. Video is more effective than more static media for this application, we believe," he said.
The last time Australian beef was advertised on mainstream TV in Japan was a brief period in 2002, after the BSE outbreak in Japan led to a crash in beef consumption. The message then was to reassure Japanese consumers that Australian beef was clean and safe.
Prior to that, Australia spent millions of dollars each year on TV marketing campaigns in Japan during the 1990s, soon after market liberalisation opened up new opportunity for Australian beef exports.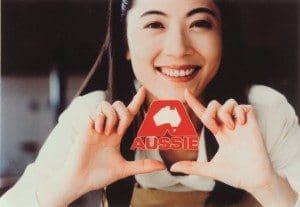 That expenditure – representing a considerable proportion of the Australian beef industry's overall annual marketing spend at the time – left a consumer awareness legacy of the famous "Aussie Beef" logo that has astonished marketing experts.
A decade and more after the TV campaigns stopped, Japanese unprompted consumer awareness of the "Aussie Beef" triangle remained close to, or above 90 percent – far stronger than marketing industry conventions would suggest it should.
Even today, hold up your fingers and thumbs in the familiar 'Aussie Beef' triangle shape, and it almost inevitably registers a recognition with any Japanese consumer old enough to remember the original TV campaigns.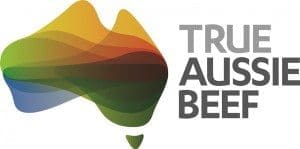 MLA last year launched this new "True Aussie" logo as part of a global logo alignment.  The symbol can already be found on more than 60 percent of retail meat trays carrying Australian beef in Japan, and in more than 10,000 foodservice outlets.
The MLA Japan marketing budget is being scaled back over time, as emerging 'growth markets' in other parts of the world require more industry investment. Those funds have tended to be drawn from 'mature' markets like Japan, Korea and domestic trades.
This year (starting yesterday) MLA Japan's consumer/media budget is just over A$2 million. Those funds need to cover two seasonal promotions, year-round digital and social media, nutrition communication, consumer insights and other activity.
Certainly, collaborative advertising undertaken by major end-users of Australian beef, like the example below from McDonald's, also helps keep Australian beef in front of Japanese eyes via their televisions.