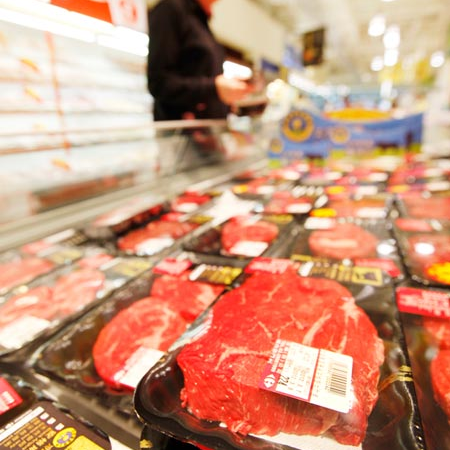 While Australia fell short of utilising its entire European Union Hilton HQ grassfed beef quota in the 2012-13 year just completed, it fared a lot better than most EU quota beef suppliers.
Australia utilised 90 percent of its Hilton grassfed quota last financial year, shipping 6441 tonnes out of its allocation of 7150t, down from close to 100pc in 2011-12.
The shortfall was partly due to more EU-eligible cattle entering the separate grainfed EU prodcution stream, rather than the Hilton grassfed stream.
Overall, global Hilton quota usage remains well below available volumes, however, with shipments last financial year under the quota at 41,800t, representing 62pc of the volume available.
The Hilton quota is country-specific, with access allocated to Argentina, Australia, Uruguay, Brazil, New Zealand, Paraguay and the US/Canada.
Argentina has the largest quota allocation at 30,000t, but it shipped only 81pc of its allocation last year. The US and Canada share access to 11,500t, but filled only 4pc of their combined allowance, while Brazil, with 10,000t access, filled only 30pc.
Australia has been a consistently high user of its allocation, MLA regional analyst Ben Larkin said.
"Disappointingly for countries that regularly fill their allocation, including Australia, NZ and Uruguay, unused quota cannot be redistributed to other supplying nations," Mr Larkin said.
"This effectively limits the amount of high quality beef these nations are able to ship and the amount of product available to EU importers and consumers."
Although Australia's Hilton quota usage last year fell, our grassfed beef exports for 2012-13 were up 2pc, to 8800t. That indicates that some Australian grassfed beef had either been shipped:
under other EU quotas which Australia has access to, such as the GATT frozen beef quota
under the A/B manufacturing beef quota, or
out of quota, in which case it attracts a higher duty.
July exports to the EU remain high
Overall Australian beef exports to the EU totalled 2041 tonnes in July, down 1pc on June, which was the largest month for beef exports since 1998.
Although overall shipments were down slightly, grainfed beef exports continue to set records. Grainfed shipments totalled 1177t in July, up 12pc on the previous high set a month earlier.
This takes overall beef exports 2013 calendar year-to-date to 11,162t, up 42pc when compared to the same period in 2012. Grainfed shipments have doubled so far in 2013, totalling 6004t, while grassfed exports are also higher, up 6pc at 5158t.
The EU has been a bright spot for the Australian beef industry in recent years, with total beef shipments up 31pc, year-on-year, in 2012-13, totalling 17,531t.
An analysis of the situation on the ground in the EU provides for some interesting findings, with beef and sheepmeat consumption falling slightly, as domestic supply falls and the economic situation remains bleak.
"Demand for beef has remained depressed due to the ongoing economic downturn, yet tight supply has driven local cattle prices to record highs," Mr Larkin said.
According to economic analyst agency, GIRA, this had made the situation for processors in the EU very difficult, as retailers had tried to accommodate consumers with lower confidence, and consequently squeezing processor margins.
Not only this, but lower consumer confidence had reduced demand for high-end cuts, leading to carcase balance issues and reduced profitability in the processing sector.
GIRA forecasts beef consumption in the EU to fall 3pc in 2013, when compared year-on-year, which is a reflection of the region's continued poor economic situation, and the relatively high beef price, driven by high cattle prices.
Despite these challenges, third-country beef imports have been strong so far in calendar year 2013, with January-May volumes totalling 82,400t, up 17pc when compared year-on-year.
Higher exports volumes from Brazil and increased usage of the EU grainfed beef quota by Australia, the US and Uruguay have driven imports higher.
Brazil's exports have been assisted by currency depreciation, which averaged US48¢ for the first seven months of 2013, down almost 10pc on a year earlier.