AN 'empty chair' has for 20 years provided a symbolic reminder of the need for Meat Standards Australia to remain consumer-focussed in its policy decision-making and strategic development.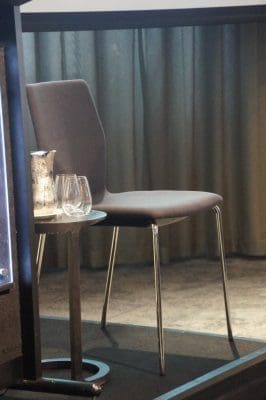 At last week's Brisbane gathering marking the 20th anniversary of the commercial launch of MSA, a chair was placed next to the speaker's rostrum to remind stakeholders of the importance the consumer in the equation (see picture).
Steering committee chairman David Crombie and his fellow committee members back in 1997 coined the 'empty chair' term, and it continues to be referenced in MSA conversations to this day.
If there was ever any doubt about a pathway, policy or eating quality R&D investment decision, the committee tended to refer to the 'empty chair' for guidance – in essence, making a decision on what was best for the consumer.
"The term went down in industry folklore – so much so, that as soon as anybody talked about an 'empty chair', industry stakeholders by and large understood exactly what was meant," former Australian Lot Feeders Association executive director Rob Sewell recalled, in the book, "Grainfed: The history of the Australian Lotfeeding Industry."
Meat & Livestock Australia managing director Richard Norton told last week's Brisbane anniversary gathering that what MSA had done, and continued to do, was put the most important person in the value chain – the consumer – at the forefront of what it does.
"The industry said we must improve our product to meet consumer demands, and that's something that obviously drives innovation through the industry, and especially programs like MSA," he said.
MSA program manager Sarah Strachan told last week's meeting that one of the unique features about MSA was that it offered value not to just any isolated party in the supply chain, but to every single stakeholder along the chain.
"It's a program backed by robust science, which uses a unique validation process through the consumer sensory process – using everyday consumers to test what impacts on eating quality – which has not changed across the 20 years that the program has been in existence."
Ms Strachan described the 'empty chair' as the fundamental cornerstone of the MSA program.
"In those early meetings leading up to, and immediately after the program's launch, a chair sat in the middle of the room. If there was every any debate over why the program was testing tropical breed content, or HGP use, or transport distance, the 'empty chair' would provide the answer, and determine whether each trait has an impact on eating quality.
"Who sits in that empty chair? It's the mother of six, buying ingredients on the run after school to prepare a meal; it's the dad running home from the train trying to get a meal ready for the family; it's the young couple coming home from sport, thinking about their beef meal for dinner."
"They are the ones who have a wallet, who walk into a retail store or butchery, and put money across the counter for a piece of beef."
"We could have used machines, or trained taste panel experts to try tell us what impacts on eating quality," Ms Strachan said. "But they're not actually the ones who put their money across the counter and inject those funds into our industry."
160,000 consumers in taste tests
While it was true to describe MSA as a 'paddock to plate' program, Ms Strachan said it could also be viewed from the consumer end.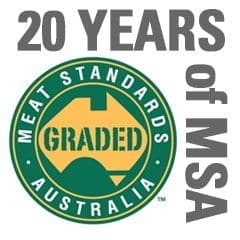 "If we accept that the consumer is king, and understand what they think about eating quality, about what their expectations are, and what they are willing to pay for the product, we can work backwards. Rather than trying to produce a product and find a home for it, it's about producing something to fit a specific consumer requirement that we know a lot about."
Ms Strachan said 160,000 consumers in 11 countries around the world had now participated in MSA's sensory testing processes, eating 800,000 different pieces of meat.
"As a result, we now know everything about those different pieces of meat. A consumer can very distinctly pick a pass/fail mark for each for eating quality – they have clearly told us what a three, four and five-star pass mark is – and what's important is that those opinions have not changed in 20 years of testing."
"While we have expanded the MSA model over the years, and are able to predict the eating quality of more cattle types using more pathways, we are learning more about those cattle and pathways – but those consumer thresholds for pass marks has never changed."
What is the consumer willing to pay for MSA?
Of the 160,000 consumers who had been involved in taste panel testing, about 40,000 had told MSA what they were willing to pay for consistently tender product, Ms Strachan said.
"Within those 40,000 consumers – regardless of whether they are rich or poor, young or old, rural or city dwellers, living in a large family or as a single – its remarkable how similar they are in their expectations and willingness to pay for it.
"Consistently, they have said if a piece of meat does not meet their expectations – even at a pass mark – they are only willing to pay half as much for it. Given a four-star, better than everyday eating quality, they say they are willing to pay one and a half times as much as a good everyday eating experience. With a five star eating quality, they're saying they are willing to pay twice as much."
And that willingness to pay is consistent worldwide.
"It means we can use the MSA model to become quite sophisticated in the way that we segregate our product, to consistently hit these good everyday, four-star and five-star quality levels, and ensure they are not getting that fail product," Ms Strachan said.
New developments were providing the platform to make MSA 'really simple' for the consumer, she said.
By the end of 2018, MSA would be able to predict up to 240 cut-by-cool combinations out of a single carcase.
"But the consumer does not buy a carcase – they buy a meal, or a piece of meat thinking about preparing their meal. They know what meal they want for dinner and what the occasion is – whether it's Tuesday night after soccer practise, or a special Valentine's day or Sunday roast dinner.
"But when they are walking into that shop deciding what they want to prepare for dinner, they are not thinking about how many teeth an animal had, or what type of carcase it came from.
"It's always been the power of MSA, but there are more opportunities developing to make beef simple to purchase for the consumer, as well as making them confident when they buy it that they will be successful with it when they get it home.
"It's a matter of fitness for purpose – putting the right cuts from a carcase into the right cooking methods, and overlaying that with 'good everyday', 'special' or 'very special' occasion .
"The MSA model, at the processor and brand owner level, can really help segregate that product into those categories," she said.
Early contributors
Former ALFA executive director Rob Sewell, who was active in the industry during the MSA establishment phase from 1997 to 2006, credits two consumer experts, Di Coffey and Judy Philpott, for much of the valuable early understanding gained about the domestic consumer's likes and dislikes about beef in areas like tenderness, juiciness and flavour.
Much of their research was encapsulated in the formation of the so-called 'empty chair' around the Australian Meat Standards, and later Meat Standards Australia task force tables, he said.
"If there was ever any doubt about a decision, the committees tended to refer to the 'empty chair' for guidance – in essence, making a decision on what was best for the consumer," he said.
Consultant Di Coffey did a lot of the early sensory taste panel work prior to the launch of MSA, managing an Australian Meat Standards project when the industry first got access to some research funding on the subject from the Australian Meat & Livestock Corporation.
"This process of a peak council being given funds to kick-off an important project like this was a grey area at the time, and had to be meticulously documented with budgets, plans, expenditure and monthly reports. But it proved our credibility in being able to manage such a project," Mr Sewell said.
When Di Coffey moved on to other commitments, ALFA employed Judy Philpott to carry on this important work, and it provided an invaluable foundation for delivering the consumer perspective in MSA's progress.
Both Di and Judy made important presentations at industry conferences of the era, explaining some of the key findings from their consumer work, both in Australia and overseas.
"There were quite a few mixed signals in consumer feedback the early stages, because they were working with an inexact science," Mr Sewell said.
One of the early positive findings was that consumers in Japan, Ireland and elsewhere basically had the same views about boundaries for acceptable tenderness in three, four and five star MSA beef as Australian consumers did.
Click the links below to view some earlier stories in our MSA 20 year anniversary series: