WITH individual Wagyu steaks now selling for up to $600 in metropolitan city restaurants, the task of judging the quality and characteristics of Wagyu in branded beef competitions can no longer be taken lightly.
Sydney's Black Bar & Grill steakhouse, an extension of the city's Star Casino complex, currently features a $600 Blackmore Fullblood Wagyu steak, available only as a pre-ordered 'off-menu' item.
It's symbolic of the sort of pressure to perform that high-end Wagyu beef now faces, and largely triumphs over, in high-end food service outlets in Australia, and around the world.
A team of judges (including this correspondent) last week rallied at Brisbane's Eaton's Hill Hotel to taste-test and rank entries in the Australian Wagyu Association's 2018 branded beef competition.
Sixteen striploin entries arrived from elite Wagyu supply chains based in Queensland, NSW, Victoria, South Australia and Western Australia.
Three steak classes were judged for Fullblood, crossbred, and commercial steak (mid marbling range) entries, plus Wagyu gourmet sausages, using heavily-managed cooking and preparation procedures designed to deliver consistency. Each entry was ranked using standard MSA consumer taste test guidelines (tenderness, juiciness, flavour and overall liking), as well as visual raw state.
Judges included an expert panel made up of chefs and restaurant owners, animal and meat scientists, and other industry identities.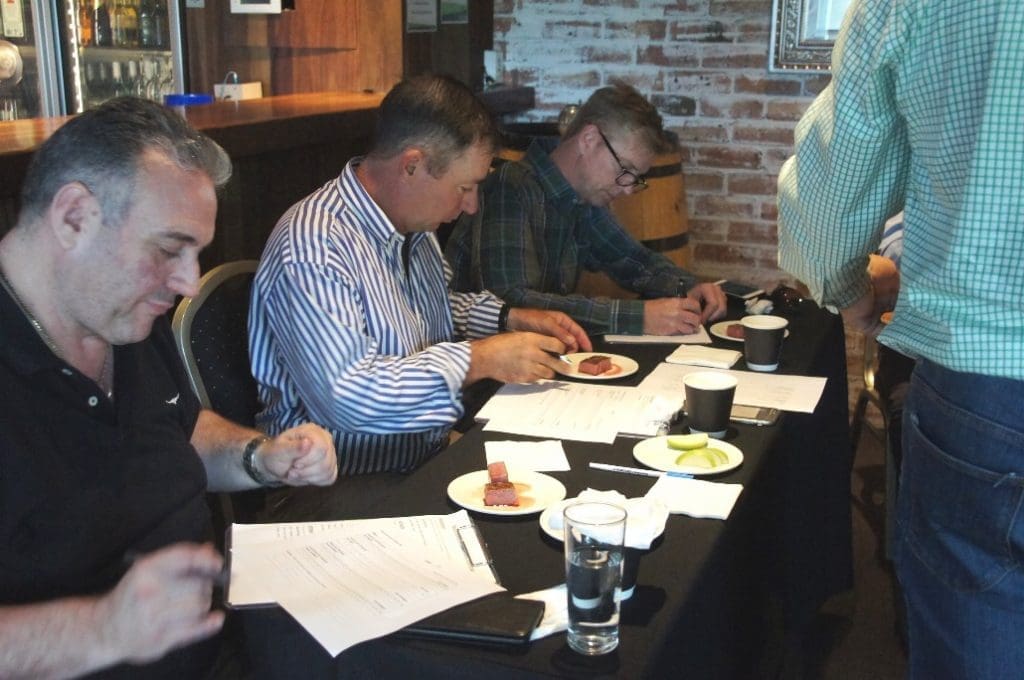 Five key lessons
As one of the judges in this year's competition, here's five quick lessons we learned:
Lesson One: 'Tenderness' is not a term that can be readily used to differentiate high quality Wagyu beef samples. While subtle differences can be distinguished, the fact is that all entries were supremely tender, by conventional beef standards. It means that other attributes, like juiciness and flavour, become the main determinants of how the points are distributed.
Lesson two: Marbling was perhaps more abundant than ever in entries in this year's competition (see example published here). Judging entries in the raw portion of the competition, it appeared that the composition of marbling tended to be somewhat coarser this year than some examples seen earlier. That may be partly explained by the greater number of entries this year in the crossbred and 'commercial steak' classes, rather than in the Fullblood class.
Lesson three: Despite somewhat similar Japanese-style longfed rations being used, interesting flavour contrasts can still be found in different samples of heavily marbled Wagyu beef. This judge's tasting notes this year ranged from the predictable 'cereal' notes (wheat biscuit to cereal husks and lentils) to nutty, herbal, minerally and savoury flavour notes. Mellowness, richness and silkiness varied between entries (all entries, from fullblood to commercial were intermingled in the blind tasting, to avoid pre-conceptions among judges). Long-lasting flavour was a feature of the better entries.
Lesson four: Wide variation was seen in meat (muscle fibre) texture, from extremely fine in some samples, to quite coarse in others. While meat texture fineness is much prized in Wagyu in Japan, it is less closely scrutinised in most other countries. MSA, for example, does not include a category for meat texture.
Lesson five: The size of some of the striploin samples in the competition had to be seen to be believed. A slight adjustment in this year's rules to the cutting-point where samples were extracted from each primal may have contributed, but some of these striploin steaks were truly epic in their dimensions. The example pictured above basically covers half of a large commercial dinner plate.  Carcase weights producing some of the larger samples must have been at least 550kg, and perhaps closer to 600kg, experts said on the day.
Winners of the 2018 AWA branded beef competition will be announced at a gala dinner during the 2018 Wagyu conference being held this year in Mackay, in the lead-up to Beef 2018 in May.