With the nation's largest metropolitan population of 4.5 million people on its doorstep, it's little wonder that DR Johnston's Sydney wholesale distribution centre leaves an impression on visitors – both for its sheer scale and efficiency of operation.
Operated under JBS Australia's domestic sales division, DR Johnston, the wholesale and domestic meat depot is regarded as the largest in Australia, both in terms of cold storage holding capacity and turnover.
The business is located at Greenacre, in Sydney's inner-west, in a modern, purpose-built facility constructed five years ago by landlord, Beak & Johnston, which operates from premises next door.
Beef Central paid a visit to Greenacre during a recent visit to Sydney, at DRJ group general manager Harry Tancred's invitation, and was amazed at what it saw during a tour hosted by depot manager Paul Bezzina.
In any given week, the DRJ business services anything up to 3000 customers, ranging from 20-pallet consignments totalling 10 tonnes or more, down to single-carton buys. That represents total sales of anything up to $3 million a week, depending on time of year. Single-day orders can top 500.
The sales and marketing room is the real heartbeat of DRJ's Sydney operations, abuzz with a constant stream of banter over meat trades, with more than a dozen sales staff manning the phones from before first light each morning.
A seven-bay load-out area (see image below) sends a message to first-time visitors that this is a depot used to handling some serious volumes of meat on a daily basis, with first loads despatched from 5.30am.
DRJ Sydney also operates its own fleet of eight refrigerated body trucks, ranging in capacity from 6 to 12 pallets, to keep the food service and retail trades supplied.
These days, it is very hard to push a 12-pallet refrigerated truck through inner-Sydney streets, with the bigger units tending to service the volume clients further out in manufacturing areas in the metropolitan area, or doing runs through to other distribution hubs.
The Greenacre site services all of NSW, as well as pushing product into South Australia, Queensland and the NT, based on some pre-existing customer relationships.
'Cavernous' freezing & chilling capacity
The centre's freezer capacity is truly cavernous, holding more than 1000 pallets. Chiller capacity in three large rooms can accommodate a further 1600 pallets, giving 2600 pallet storage in total. At an average pallet weight of 800kg, that gives total storage for about 2000 tonnes.
That's a quantum leap from the DRJ business's previous premises, used up to 2007, which had freezing capacity for only 200 pallets, 800 pallets for chilled, and just two load-out docks.
Each of the new chillers is ten metres high, with double-depth racking to accommodate pallets five or six-high. Many of the direct abattoir-sourced pallets are 42-48 cartons each.
A fleet of extra high-reach Crown forklifts are used for picking and packing, plus several others used specifically for stock rotation.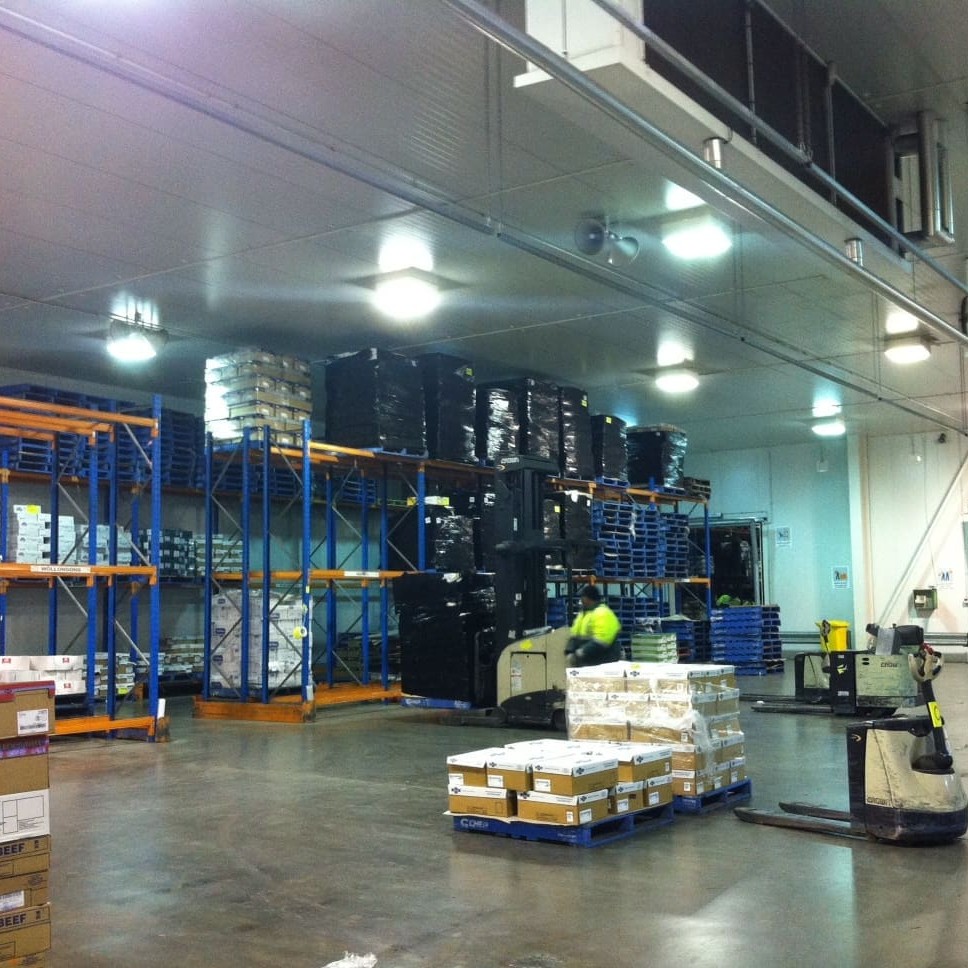 Another impressive feature is the football field-sized refrigerated marshalling/load-out area, which makes handling and collation of orders so much easier than before.
Total size is 60sq m x 50sq m, giving a 3000sq m working area, meaning high volumes can be arriving at the same time as high volumes are being prepared for despatch, while still providing ample room to safely work and mark-up orders.
Currently orders are generated on a computerised paper-based system, using the Sastek printed description written on each order.
A bar-code scanner system will shortly be implemented to replace this, promising to improve a little further on human error, but even now, mis-ordering is rare. The bar-code process should also make product easier to track and trace through the network.
Typical stock rotation for July was around 16-17 days, but that will shorten at other times of year.
Long gone are handling rails for carcase or quarter beef. The facility, like many others these days, handles carton meat only. One well-informed trader operating out of DRJs suggested that there might only be 1500 carcases traded weekly across the entire Sydney CBD these days, such is the dominance of carton meat in the retail market.
Wide range of brands in stock
One of the surprising aspects when visitors have a look through the chillers is the sheer range of stock on hand. That's because of the diverse nature of the DRJ customer-base, ranging from high-end restaurants (serviced indirectly via other wholesalers) and boutique butcheries through to much more price-conscious customers, who are still seeking consistency of performance in their beef offer.
Many of Australia's best known commercial beef brands are in evidence on the pallet racks. Being a true independent wholesaler, DRJ's trade is not restricted to JBS-controlled brands like King Island, Friboi, Swift Premium, Riverina or Beef City, although they are well-represented on the stock manifest.
Many other brands, drawn from plants north to Queensland, south to Victoria, and occasionally, as commercial market forces dictate, from as far as Western Australia and NZ, are on-hand.
"We stand as a truly independent wholesaler, and are under no illusions that we have to take only product produced by JBS packing plants," a sales team member said. "It can come from anywhere. Whatever material that is in demand among our customers, that we can buy at the best price, is in the coldroom," he said.
In Beef Central's estimation, about 50pc of the stock on hand was JBS-sourced, with Greenham, Kilcoy and Bindaree well represented among the remainder. But stock from much smaller processors, like Everson's near Kempsey, for example, also appears on the pallet racks.
Sourcing policy is based not only on price, but also heavily on customer feedback. The range on hand included everything from longfed Angus through well-known MSA brands, to more generic PR-cipher type material, and veal. The business tends to avoid niches like Wagyu and organics, preferring to operate more in the 'thicker volume, middle ground.'
The client base includes a vast array of food service, catering and retail end-users. Independent supermarkets have been one of the growth segments in recent years, a trend reflected in industry survey data commissioned by MLA though the Neilsen group.
Unlike some wholesale/distribution businesses that have tended to extend into other parts of the meat supply chain, the DRJ site does no additional portioning, MAP or DarFresh packaging, or value-adding work, being totally dedicated to large-scale carton wholesale trade in fresh and frozen cryovac meat. Nor is there any ageing work carried out at the site, in order to meet MSA requirements.
"It's product-in, product-out, purely trading," a sales team member said.
Latest generation European-designed freezing and chilling technology is used in the coldrooms, although there is no blast freezing capacity, meaning any in-coming material is already pre-frozen. The chillers and the marshalling/load-out area all hold around the 1-degree C mark.
Warehouse manager James Dean, said for some years prior to the move to the current premises, the business had outgrown its previous facility. The old site's 400-pallet freezer was converted back to a chiller, with all frozen meat stored off-site for several years.
The new facility's expansive freezing capacity was especially useful in stockpiling material like hams and lamb legs leading up to the peak -demand Christmas period. In the freezer trade, close to 50pc of the turnover is in fact in chicken and pork, in a strategy designed to act as a 'one stop' protein shop for customers. In chilled product, that drops to only 10pc of turnover.
MSA turnover grows
Currently, MSA-packed beef would account for 10-15pc of total turnover through the facility.
One of the dedicated MSA salesman said the market share continued to grow, both through JBS's own MSA brands, and others. Consistency remained the key attraction to MSA product. While some customers asked for a certain MSA brand by name, others were happy to order simply by MSA/AusMeat spec, or boning group.
"With its large ethnic population, Sydney is also a huge market for Halal product for us," he said.
"With the Australian dollar being so strong over the past year or two, there is a concerted effort to sell more of JBS's overall beef production on the domestic market, and facilities like DRJ Sydney are helping make that happen."
The company aims to lift its its domestic share of overall beef sales up to 20pc, from 15pc in the next year or two.