IS THE Australian beef industry being laid waste by corporate supermarket retailers in their deadly quest for market share and more customer visits?
The question is again being asked as the nation's largest retailer, Woolworths, today launches a $5/kg mince campaign to customers, matching an identical offer that's been in place for some time from major rival, Coles.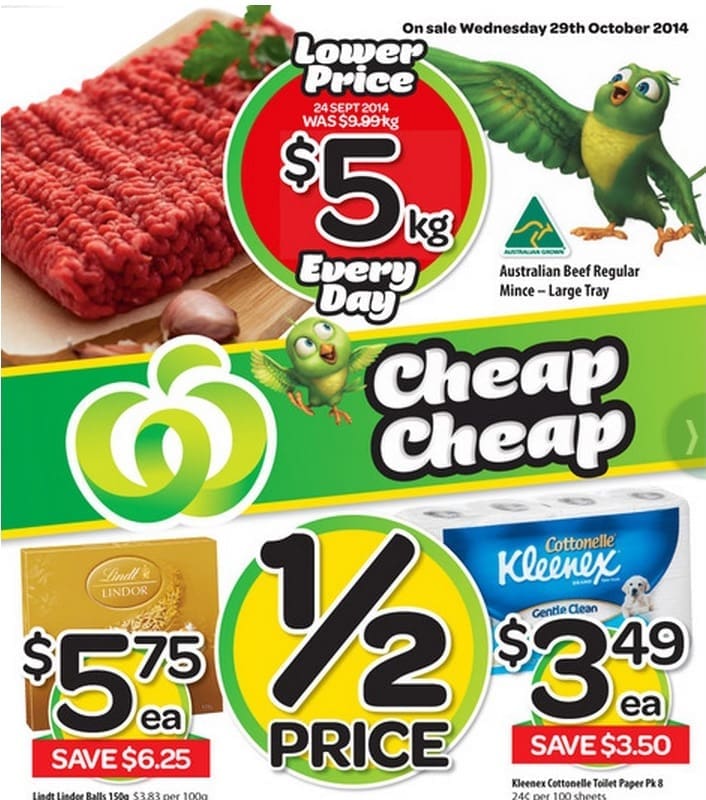 In consumer marketing like the example appearing here, Woolworths proudly proclaims that from today, it has halved the price of its regular mince from $9.99/kg to $5/kg. Woolworths now sells its regular mince in 900 gram packs, for $4.50/pack.
The move price-matches a campaign launched by Coles in July last year.
Far from being a short-term campaign to clear a stock surplus, for example, both companies indicate the strategy represents 'permanent, everyday' prices, rather than one-off, short-term specials.
Former Australian Meat Industry Council national retail president, Kerry Melrose, said the move would appear to suggest that both Coles and Woolworths had placed a 'death wish' on the beef industry.
"They're not doing the right thing by the growers, and independent butchers cannot go close to matching that retail price," Mr Melrose said.
"It defies logic. Butchers would be paying up to $2/kg more for raw material to produce equivalent mince, even before it gets into their coldroom. That's before the butcher's costs, ranging from refrigeration to wages, rent other fixed costs, or any retail margin."
"It's a total loss leader being applied by the major supermarket groups, and in my opinion it amounts to predatory pricing," Mr Melrose said.
"The fact that mince is such a high-volume product makes it even worse. Mince can account for a very large percentage of overall meat purchases, and the figure is growing. It's nothing but a predatory attack in independent butchers."
"At the same time, cattle prices to the grower haven't risen for years. It's hard to comprehend how the majors will defend this sort of retail pricing, when cattle prices go through the roof, after it rains," he said.
While major supermarkets were currently heavily discounting a number of red meat items, both beef and lamb, there were a lot of prices on other grocery lines that had gone up, to compensate, Mr Melrose said.
Loss leader sacrifice might total $2.60/kg
The retail pricing disparity becomes even more obvious when comparisons are made with current pricing levels for lean grinding beef being exported into the US and other international markets.
Last week's Steiner Consulting imported beef market quote published by MLA had 90CL frozen trim/cow meat at $6.82/kg in Australian dollar terms, on the wharf in Australia. A leading export meat trader had frozen 85's (perhaps a more direct comparison with what's on the shelf in Coles and Woolies regular mince), on his screen this morning at $6.20-$6.30/kg.
"It means that Coles and Woolies are tearing-up at least a dollar a kilo just on the wholesale purchase price, and their trim is fresh, not frozen," the trader said.
"That does not include mincing, MAP packaging, distribution or shrink, let alone marketing. You could easily add another $1 to $1.30/kg for the additional costs, so if there's ever been a loss leader in Australian beef, we're looking at it," he said.
"At $5 a kilogram, it's cheaper than buying petfood for my cat"
"At $5/kg, it's cheaper than buying petfood for my cat," he said.
With Woolworths currently accounting for 34.1pc of domestic beef sales across Australia, and Coles 24.6pc (Nielsen Homescan survey), it's reasonable to assume that the two combined account for almost 60 percent of all retail beef mince sales across the nation.
Given current pricing policies, that figure may in fact be even larger, a domestic market watcher suggested.
Stakeholders close to supermarket retailing say there are four 'staple' perishable food items that are seen as essentials in the quest to drag customers through the door and build market share – milk, bread, beef mince and sausages.
At least the first three of those have been savagely discounted over the past three years, with 85c loaves of bread recently being advertised by the big two retailers.
Coles launched its $5/kg three-star mince in July 2013, dropping a dollar off an already low price of $6/kg as part of its 'Down, Down' campaign.
Coles is the only retailer offering leanness guidance on its beef mince product, claiming an 83CL (83pc lean meat, 17pc fat) ratio on its three-star mince.
It's been at least a decade since supermarket standard 'three-star' or 'regular' quality mince has retailed as low as $5/kg, a reliable wholesale/retail source told Beef Central yesterday.
Woolworths has already started heavily promoting its $5 mince offer in mainstream metropolitan TV commercials yesterday.
Earlier, Coles claimed that beef mince recipe searches had gone up by more than 60 percent compared to a year ago. At least some of that is likely to be linked to consumer attitudes to spending, with a more cautious approach to the household budget. Retail price may also help explain part of that trend.
All of Coles' mince offer, with some very minor exceptions for 'butcher's mince' prepared in-store, is now centrally-packaged in Modified Atmosphere Packaged form and distributed nation-wide from one of three sites – Australian Country Choice, Cannon Hill, Qld; Western Meat Packers in WA; and Sommerville Retail Services, Melbourne, Vic.
Coles says that despite some supply challenges, its discounted mince campaign does not compromise its no-HGP claims. The company is the only major retailer using CL scan technology allowing it to make specific fat percent claims on its mince packs.