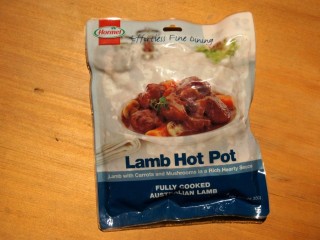 International processed food giant Hormel has launched its first locally-produced value-added heat-and-serve red meat line, featuring shelf-stable packaging technology.
Hormel's Lamb Hot Pot (pictured) is a restaurant quality wet dish sold in a flexible pouch, which does not require refrigeration and carries a nine-month shelf life. While the first products launched are lamb-based, the range will grow to include beef wet dishes including curries and casseroles.
US-headquartered Hormel Foods is a US$6.75 billion turnover company with a vast array of further-processed food products in its stable. While the company is little known in Australia, it is a household name in North America and elsewhere.
The company had only a minor joint venture presence in Australia before 2009, when it purchased a value-adding division of the former Tatiara lamb company.
That move was partly in expectation of changing market access arrangements in Asia and elsewhere as Free Trade Agreements emerge between Australia and customer countries. Currently import duties on value-added products to countries like Japan, Korea and Taiwan are prohibitively high, but FTAs established with Australia will see tariffs and duties lowered dramatically. This will provide an opportunity for much greater value-adding activity out of Australia than is currently the case, many involved in the trade believe.
Consumer attitudes
One of the big issues about shelf-stable cooked meat products is the 'degree of suspicion' with which they are treated by many consumers, who are unfamiliar with the new technology. The typical customer still finds it hard to accept that a higher-quality cooked meat product sold in a plastic bag does not have to be kept refrigerated to preserve its integrity.
For this reason, many Australian supermarket retailers are stocking the Hormel products in the chilled cabinet, alongside fresh meats, even though they could legitimately sit in the dry goods grocery shelves next to the Corn Flakes.
Because of this, many people working in the value-added field believe the natural home for retort or microwave-ready shelf-stable meat items is in the food service sector, not at retail.
"A pub serving counter-lunches could simply throw a pouch into a microwave or a pot of boiling water for a few minutes, snip the top and serve a delicious beef or lamb curry with mash, for very little time or effort," one trade contact said.
"It may be that shelf-stable meat products never have a big segment in the retail market. It's hard to change traditional consumer attitudes about how food products containing meat should be stored, despite their unbelievable convenience."
Hormel Foods Australia has established a production facility for its fully cooked, heat-and-serve meat products from its recently acquired facility in Melbourne. Prior to that, the company's only presence in the Australian market was in importing a small selection of its pre-cooked products produced in the US, such as Spam and canned Stag chilli.
Having a production facility in Australia allows Hormel to generate a local income stream, which is a necessary step for HFA to diversify operations and to further position itself as a local leader in quality food products, a company statement said.
HFA says it will continue to focus on providing convenient and time-saving options for its customers and consumers. The new capability to produce fully-cooked, shelf-stable and frozen meats and meals in Australia greatly improved the company's position to compete in the domestic and export markets.
"We see an immense potential for product development in Australia and aim to utilise the facility to its utmost potential, including Halal products," a spokesman said.