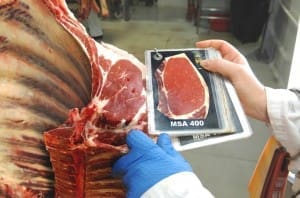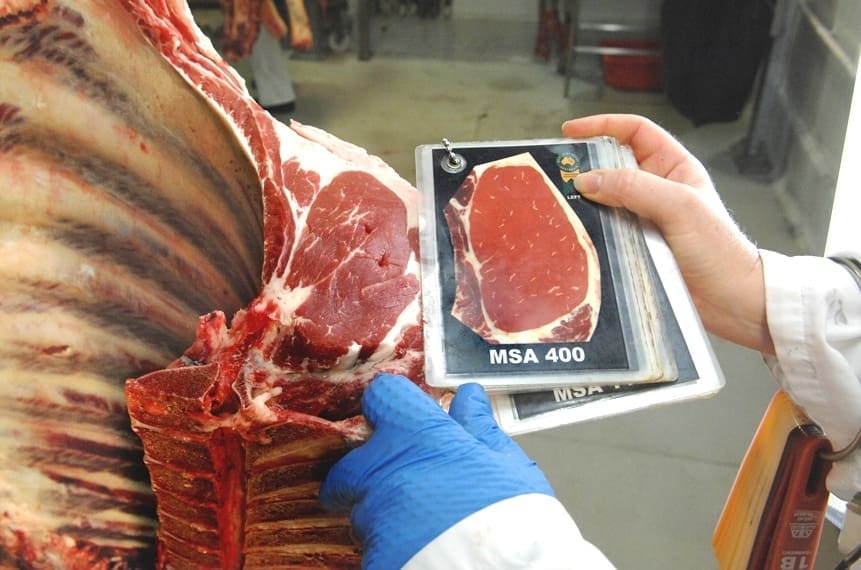 WITH the weather turning warmer, demand for barbecue cuts is on the rise, but the big challenge facing the domestic wholesale meat sector is going to be supply, stakeholders say.
"Where once the domestic wholesale market helped set meat prices in Australia, especially for loin cuts, that's really no longer the case. All this heavy international demand for beef is just blowing every b*stard away," a senior wholesaler contact told Beef Central yesterday.
"We're the followers now."
The wholesaler suggested there would be a lot of grainfed meat on the market heading into Christmas, with feedlots operating at close to capacity due to the drought. But the competition from the export trade was such that unless the wholesale market could pay $6-$7 a kilo for virtually any lean beef item, it was getting cut up and put in an export grinding meat pack.
A lot of product that used to be sold as whole muscle meat was now going into the grind, he said.
While values on some lean cuts in the domestic wholesale market had already risen sharply, there is still widespread anticipation among wholesale sector stakeholders that prices will rise further.
"A lot of that muscle meat just isn't going to be there," a prominent trade with a presence in three states told Beef Central.
"Already volume is down, because domestic wholesalers just can't get the muscle meat they normally require. It's going into a hamburger in the US, China, Japan or elsewhere."
As an example, lean knuckle meat has been trading this week and last above $7/kg wholesale, an unheard-of level. Cap-off topsides in some cases are now dearer than some rumps, for the same reason.
"It's simply a matter of, 'If you can't pay this amount for the domestic wholesale trade, it goes into an export grinding meat carton.' It has become the default price on a range of cuts that would normally be sold back into the domestic trade," the wholesaler said.
"In past years we'd go back to our diaries to see what rumps or cube rolls did this time last year, as a reference point. But I burnt all my diaries the other day, because history no longer provides an indicator of what lies ahead, price-wise."
That trend is filtering up the chain to the sweet cuts, also, which traditionally start to move in volume around the Labour Day long-weekend as the weather warms up.
The big question now is what happens on the domestic wholesale market when there is widespread rain and cattle supply starts to dry-up. It could potentially put wholesale prices under considerable pressure, contacts suggest.
"If we get good general rain across eastern Australia over summer, god help the domestic wholesale market," a Beef Central trade contact said.
Confounding that, however, is the retail price wars going on at national supermarket level, where Coles and Woolworths continue to sell beef specials at giveaway prices as low as $5/kg for mince, to attract customers. One retailer is said to have sold one million trays at that price. Figures like that do not reflect the strength of the export market, however.
In one recent example, a national supermarket paid $7/kg wholesale for legs of lamb, and retailed them as a special for $6.99/kg. Good PR cube rolls have retailed as low as $14.99/kg.
"All those second and third-grade cuts that the domestic wholesale market has lived on for years, they're now driving the market, and pushing the better cuts higher. All of a sudden, the world has made the Australian market catch up, in terms of valuing secondary cuts," the wholesaler contact said.
"If you have to buy wholesale A-cipher rumps today, you have to pay $6.50/kg for them – if not they go into an export slash pack. This time last year, those same rumps were worth $4.60-$5.00."
"Even at a best case scenario, that is $1.50, or 33pc higher than a year ago."
Compounding the effect, the primals that have gone up in value most are the big, heavy muscles, like blades and chucks. Adding $1/kg to a blade adds a lot more value to a carcase than an extra $1 on an eye fillet.
Chuck rolls last week were trading in the export market at $8/kg, again, an unheard of figure. A year ago, they were worth around $5.80 to $6.
Lean cuts like chuck roll are in highest demand in order to get to the 85-90CL requirement for lean ground beef. Even cap-off rumps, rostbiff and topsides are finding their way into the grind.
Because the rump cap has its own intrinsic value, particularly for export to markets like Brazil which prizes the picanha, it is sold separately. But removing the cap also provides an additional benefit, in greatly reducing the rump's fat content, turning the remainder of the primal into an 85-90CL item for grinding.
The absence of rumps in the domestic market in recent times has even forced some supermarkets into the livestock market to buy cows, specifically to meet their budget/specials rump requirements. That's because the wholesale better quality cow rumps they used to buy are now being diverted into export grinding beef.
NZ meat shortage looms
New Zealand is facing a similar dilemma, with domestic product being diverted into US export in increasing quantities, leaving a hole on local supply. That is being filled, in part, by product being sourced out of Australia, NZ media suggests.
"We're hitting daylight savings when everyone fires up the barbecue wanting steaks and in the next three or four weeks we are going to be very short. Steaks are going to be quite pricey," an NZ trade source said.
"We've seen some cuts enter into the grinding market that would usually be used in the NZ domestic market," he said.
Beef+Lamb New Zealand chief executive Rod Slater said current supply was the worst he had seen.
"It's probably as bad a year in terms of availability of good stock as we've seen for many a long while," Mr Slater said.
Two consecutive droughts in the North Island had also had some impact as farmers unload stock, he said. "New Zealand retailers prefer to sell NZ beef, but if you can't get it they have to find something else for you."
In Japan, trade observers have noted that wholesale prices for Australian grinding beef used in hamburgers continue to climb.
"The wholesale price of Australian cow meat, which has a high ratio of red meat to fat, has climbed by 40pc over the last three months and the meat is currently being traded at around JPY900/kg," the Nikkei financial press said on Friday.
"The US is significantly increasing its imports of Australian beef and this is causing international supply and demand to tighten. The number of cattle being raised in the US has reached its lowest level since 1952," Nikkei said.