Independent retail butchers and supermarket operators across Australia engaged as 'ambassadors' under the new MSA consumer-education campaign have strongly backed the scheme's new direction.
Beef Central spoke to a sample of retailers yesterday to seek their views on the new consumer-focussed MSA education program, and brand refinements discussed in today's companion article "MSA's mission to re-engage with the consumer."
Here's a sample of their views:
Ian Shaw, Ellis Butchers, McLaren Vale, south of Adelaide, SA: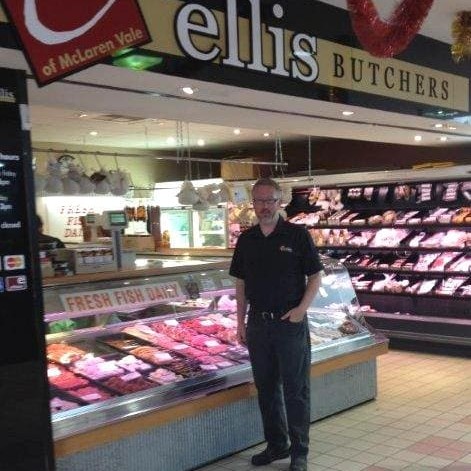 Ian has been a long-term user of MSA beef through his retail shop, and while many of his regular customers had a fair appreciation of what MSA was about, he fully supported the move to educate, or re-educate the typical consumer.
"Up to now, MSA has been very trade-based, and I think it's right that it should now be focussed more on the end-user," he said.
"Wholesalers, food service operators and retail butchers all know how and why the system works, but up to now, the consumer has not had an opportunity to get a better grasp of what MSA is about."
Asked whether MSA symbols now had a place on packaged beef alongside, or in place of commercial brand logos, Ian said it depended very much on the shop.
"In my case, I tend to promote MSA instead of the brand I buy through the wholesale market, but I know a lot of retailers do the opposite, or sometimes even a combination of both," he said.
His strategy allowed for relatively easy movement from one brand to another as price or supply circumstances dictated, provided they were both operating under MSA principles.
Asked whether the arrival in early 2012 of Woolworths as an MSA licensee would potentially dilute the impact and value of the program in his shop, Ian thought not.
"If Woolworths is going to throw a lot of money at promoting the merits of MSA, so far as I am concerned, that is a good thing. They can help drive the whole MSA program awareness, and if I can leverage off that a little, all the better."
Frank Russo, Rainbow Meats, Chirnside Park, Melbourne:
Frank operates four successful retail outlets in busy shopping centres across Melbourne, all operating under the Rainbow Meats banner. An MSA users for the past 10 years, he supported the need to re-engage with the consumer through the program re-launch designed to educate customers.
"The key message is that there is a strong, credible system behind MSA to deliver a consistent eating experience every time," he said.
"We buy only MSA boning groups 1-5, because we know it is going to perform, without fail. It gives us confidence in the product and in our own business, which has grown as a direct result of MSA," he said.
Asked whether the inclusion of higher boning groups under the MSA pathways model would potentially muddy the waters in terms of MSA's perception in the marketplace, Frank said it could, but it was up to each stakeholder to work out what boning groups suited their retail application.
He said many of his customers had only very limited knowledge of the significance of the MSA logo, because under the Rainbow Meats model, the company name became the brand and the reputation.
"We have not yet decided whether we will use MSA logos right down to pack level, but the identity is well established in the shops themselves. But ultimately, Rainbow is our brand. We sell a lot of Nolan's Private Selection MSA beef out of Queensland, but while it is a fantastic product, we think our customers don't need to know it's Nolan's meat so much as that it is Rainbow meat. But along the way, MSA can help underpin both our reputations"
Frank reserved judgement on the potential impact of the arrival of Woolworths as an MSA participant early next year, but he said it was possible that Woolworths MSA promotion might help awareness for everybody.
"If Woolies goes out and spends a million dollars on marketing an MSA product to consumers, the butcher has the opportunity to go out and label his product MSA, and gain some spin off. It could be about growing the pie. I actually like having big stores around my shops, because they are big customer traffic generators."
But the big leverage the butcher has over supermarkets in MSA use is in being able to sell the merits of the system to their customers, face-to-face. Nothing beats that interaction with the customer. Who does a customer speak to about MSA in a Woolworths store?"
Tom Bradshaw, Super IGA supermarket, Wembley, Perth:
Tom has pretty much used MSA through his independently-owned IGA store since its launch in WA in 1999.
"I think the focus on the consumer is a good move. Basically what it does from my point of view is take the guesswork out of beef purchasing. That is a powerful message for the consumer who knows little about beef in general."
"It's important to get the message out there and let the public know we are selling quality beef."
The Wembley Super IGA meat cabinet includes individual MSA stickers on each pre-pack, in addition to cooking suitability suggestions, and broader MSA program signage around the meat department.
"Beef generally in this part of the world is pretty good, but the addition of an MSA program just helps assure customers that they are making the right decision," Tom said.