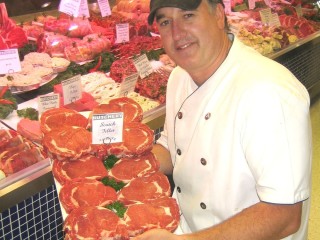 Market-savvy independent butchers are holding their own across Australia, despite a sustained and deeply-entrenched red meat price war and big-spend marketing campaign being waged between Australia's two major retailers.
More than ever, independent butchers realise their major assets in attracting business are higher levels of customer service, more product variety, and the ability to value-add items for time-poor shoppers.
These will be some of the themes explored in Australia's largest gathering of red meat retail butchers on the Gold Coast later this month.
Meat & Livestock Australia's National Retail Innovation Expo is being held at the Gold Coast Convention Centre on Sunday June 26. Up to 500 independent retailers and other industry stakeholders from across the nation are expected to attend.
In addition to workshops and demonstrations, there will be more than 60 trade exhibits in place covering a wide array of industry activity. Some of these will include:
Cooking and smoking equipment
Refrigeration
Value-added and specialty products
Point-of-sale equipment and promotional products
Scales and ticketing
Red meat wholesalers and branded-beef producers
Packaging solutions.
A dinner will be held on Saturday evening, June 25 before the National Retail Innovation Expo commences the following morning.
There will also be a three-day Red Meat Networking Club retail study tour attached to the program, running from June 27-29. This will provide a behind the scenes experience in some of Southeast Queensland's best and most successful retail butcher shops.
Great accommodation option
Intending visitors to the Retail Expo looking for convenient accommodation should consider Boulevard Towers holiday apartments.
Located at 45 The Boulevard, Broadbeach this four-star high-rise has a premium beachside location, 2-3 minutes walk to the Gold Coast Convention Centre. It is equally close to Kurrawa Surf Club, great for a steak and a beer on the clubhouse balcony.
Boulevard Towers is offering Beef Central readers an Expo special $210 inc GST for the Saturday night, or $200/night for more than 1 night stay (two bedroom, one with ensuite). Just quote Beef Central and the Butchers Expo.
Email: holiday@boulevardtowers.com.au Web: www.boulevardtowers.com.au
Phone 0755 388555