DRY-AGED beef in supermarkets. Designer hamburgers in McDonald's, where customers can select from up to 19 premium ingredients in a 'build-your own' gourmet burger meal.
These are just two of the 'premiumisation' trends being seen in Australian retail and food service environments recently.
McDonald's, the world's largest burger chain, has this week announced plans for a $1 billion  makeover of its Australian operations over the next five years, expanding its restaurant numbers and remodelling others to accommodate plans for 'create-your- own' gourmet burgers.
Under the program, customers will be offered 19 different burger fillings and artisan ingredients to choose from.
McDonald's also plans to open another 30 restaurants a year over the next five years, adding to the 930 sites already in operation in Australia.
Globally, McDonald's has been struggling to maintain sales performance in North America, Europe and the Asia Pacific region, using its existing model, as outlined in this earlier Beef Central story. Revamping the company's formula has been suggested as a solution to turn around the recent poor financial performance.
"We have a new approach to innovation, which is a significant change for us in Australia," McDonald's chief executive Andrew Gregory told The Australian newspaper yesterday.
The company will begin by trialling gourmet burgers in a few stores, before rolling out the offerings nationwide.
The 'create your own' options will be more expensive than conventional McDonald's burgers, be served on timber platters more typically seen in up-market restaurants, and may involve table service.
Mr Gregory said plans to expand store numbers in Australia were partly driven by the growing population in Australia. It was also aimed at growing the company's revenue in Australia, currently rising at only 3pc a year.
Similarly in the retail sector, major supermarket operators are adding features never previously seen in supermarket stores, blurring the lines between supermarkets, delis and premium independent beef suppliers.
Both Coles and Woolworths now have selected outlets featuring dry-aging cabinets in their full-service meat departments.
Other gourmet food features included in Woolies new flagship Double Bay (high disposable income area) store include a walk-in refrigerated cheese room and an in-store chef delivering cooking lessons, and helping customers make important selection decisions.
Similarly, Coles latest 'next-generation' store in Sydney's Macquarie Centre in the city's northwest includes dry-aging cabinets for beef, baristas, pastry chefs and sushi chefs.
Retail researcher Michael Bate from Colliers International told The Australian that 'luxury' was finally filtering down to the grocery aisles.
"It's changing," he said. "In these (new flagship) stores, you are seeing beautiful products and high quality own brands."
As is happening in the rest of the country's retails sector, the internet is a major factor pushing national food retailers to lift their game, whether that be offering highly-marbled Wagyu beef, or featuring a dry-age cabinet. The rise of celebrity chefs and food TV shows has also contributed.
To compete with online and provide a special experience for customers, retailers in certain areas have invested heavily in site refurbishments, changes in format, adding new features and specialised staff.
"It's an investment in quality, not quantity," retail consultant Kevin Moore, from Crossmark Asia Pacific said.
"Suddenly retailers are not simply stocking their shelves, but 'curating' their goods, finding the best cuts of beef, the choicest free-range chicken or the freshest local produce."
Premium home brands taking off
Woolworths director of customer experience, Jess Gill, told the Australian that customers are likely to become more inclined to buy non-perishable (grocery) items online.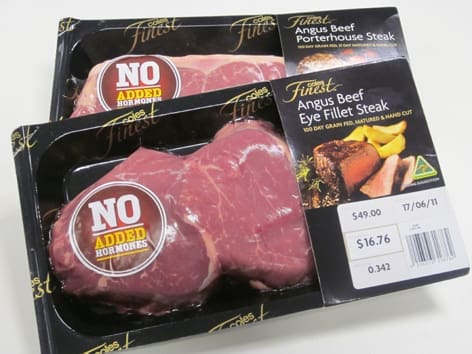 "That means there has to be much more of a reason for them to come into the store, so we want to 'up' our fresh food offerings so that fresh every day will become much more of necessary."
"We have a tasting station and a foodie on site who cooks up something different every day," she said.
Both Coles and Woolworths have also launched premium-end in-house food brands in the past two years, including red meat as well as up to 300 other grocery and perishable items. Coles calls its premium range 'Coles Finest', while the equivalent Woolworths version is 'Woolworths Gold' brand. Both are being heavily promoted through mainstream print and electronic media.
See earlier Beef Central article, "Premiumisation model works for Coles."