Figures hidden within an ABARES report released last year revealed a notable trend in Australian meat consumption patterns that passed by largely without notice.
Table 126 of ABARES' 2016 Agricultural Commodities report shows that in 2015, for the first time, pigmeat overtook beef to become Australia's second most consumed meat per person.
It was only by a small margin, just 300 grams per head, but represented a big milestone in Australia's shifting meat consumption habits.
According to the report, Australians ate 27.9 kilograms of pigmeat per person in 2015, compared with 27.6 kilograms of beef and veal.
That was a dramatic turnaround on just one year earlier. In 2014, according to the figures, Australians ate almost five kilograms more beef per person than pigmeat (30.3kg of beef per head versus 25.8kg of pigmeat).
The significant year-on-year change hints at a degree of subjectivity in the data, which is further reinforced by ABARES' use of the term "apparent" consumption per head.
However, the drift is in keeping with the long term downward trend in beef consumption per capita in Australia, versus increasing pork and chicken consumption, as highlighted by the chart below (chicken maintains its dominance on the consumption per capita measure with 45.3kg per head):

 Yellow – Chicken   Blue – Beef   Grey – Pigmeat   Orange – Lamb     Click on chart to enlarge.      Source: ABARES
What's behind these trends?
Market research continues to show that 'price' is the number one driver of fresh meat consumption choices in Australia.
It is unlikely to be a coincidence that the sharp reported decline in beef consumption in 2015 corresponded with sharp increases in cattle and retail beef prices in the same year.
Fresh pork is cheaper, selling at around two-thirds the retail price of fresh beef.
It is also worth noting that the per capita consumption figures include all pigmeat products.
Australians still eat more fresh beef than fresh pork, but the combination of all pigmeat products, including the large volumes of processed bacon, ham and deli meats imported to Australia, now accounts for more consumption per head than beef.
However, at the same time, fresh pork consumption is also growing.
A long-term barrier to pork consumption in Australia was a lack of knowledge about how to cook fresh pork at home.
Australian Pork Limited has worked to counter this with a series of simple but effective marketing campaigns, for example the "six-two-two" message that teaches consumers to cook fresh pork fillets for six minutes on one side, two minutes on the other side, and then rest for two minutes.
The changing demographics of Australia's population also supports growing domestic demand for pigmeat. Pork is still the most consumed meat in Europe and Asia and immigrants from these regions tend to bring their eating habits with them.
Beef holding ground
On other important measures though, beef continues to hold its ground.
Meat & Livestock Australia's chief marketing and communications officer Lisa Sharp told Beef Central that on the specific measure of per capita consumption, which simply divides kilograms eaten by the number of people in a country, a long-term decline in figures for beef is not unexpected.
"We have such a changing demographic mix, I think it is only likely as we have more and more people coming from different other parts of the world used to other popular proteins we would continue to have a slow erosion
"And that is what we see in the UK and US for example."
Consumer measures MLA watches closely to see how beef is tracking include household penetration (which meat is appearing most often in households each week) and average serves per week.
On both measures beef continues to score well, Ms Sharp said.
In household penetration, chicken and beef are both appearing in over 80pc of households each week. According to the same data, the penetration of deli meats and fresh pork is 47pc each.
The measure of "average serves per week" shows how often each week different meats are being eaten. On this score beef has maintained its average serves per week, a strong result given its recent price increases.
Future challenges and strategies
Ms Sharp said beef is "really, really strong" in the main meal (dinner), but within that category, the big battle is focused on increasing the share of mid-week meals.
She said pork industry marketers had done a good job in promoting how easy pork is and how quick is.
The three most important drivers of consumer meat purchase decisions in Australia are price, followed by nutrition and healthy meals, followed by convenience. However, research is showing that convenience and quick to prepare are becoming more and more important.
The Better on Beef marketing campaign was focused specifically at addressing health perceptions around eating beef. The campaign's target was to lift the number of consumers who say beef is a healthy to 50pc, and has shifted the actual number to 58pc.
However the challenge for beef now is to remind consumers that beef is also quick and convenient.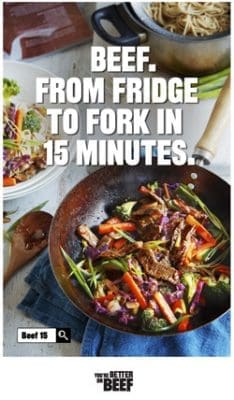 In February MLA launched the "Beef 15" campaign, which gives consumers access to a wide range of healthy beef meals that can be prepared in just a few simple steps, in just 15 minutes or less.
The campaign is in market at the moment, so no discernable results are available yet.
"In that battleground for the mid-week meal, we want to talk about health but we need to talk about convenience too," Ms Sharp said.
She said the lunch time meal was also an area of untapped opportunity for beef marketing in future.
Product innovations such as beef bacon and the roast beef in a bag being produced by Teys and Woolworths would play a role in efforts to build beef market share.