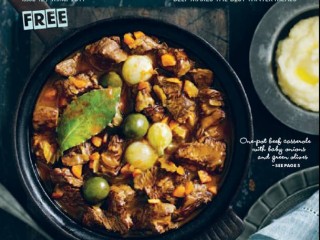 MEAT & Livestock Australia will launch the next phase of the industry's domestic beef marketing campaign on Wednesday, embracing new opportunities designed to provide a more continuous presence for beef promotion rather than short, sharp bursts.
The Australian Meat Industry Council's national retail committee were briefed on the new campaign over the weekend.
MLA marketing general manager Glen Feist said the next phase of the domestic program was all about attempting to 'take the highs and lows out' of beef marketing, leaving a more consistent approach.
"We're adopting a marketing approach more like that used by major retailers, who aim for year-round presence, rather than short bursts," he said.
The new "Winter Warmers" campaign starting Wednesday will be the first to adopt this strategy, with a range of activity happening all season, under a common theme.
The centre-piece will be a new TV ad, following on from the earlier wedding parody, which MLA believes could have a useful shelf-life of three to four years. It is designed so that different 'front end' elements can be added or removed, depending on the season. For a video preview of the new advertisement, click here.
The campaign will run in capital cities, plus selected regional TV networks, and will also include an increased radio presence.
Returning again for the new campaign will be the phenomenally successful Entice magazine, coaching householders to 'have a go' at making casseroles and other winter fare.
The print-run for the latest edition is again a staggering three million copies, and if past performance is anything to go by, butchers and other participating supermarket retailers often run out of stock, such is their popularity.
So powerful was the impact of Entice magazine during winter 12 months ago that it put a premium in the wholesale market for in-demand casserole cuts for some weeks, in some regions.
MLA's Domestic Market Taskforce has also responded to signals from some processors, who traditionally have trouble shifting loin cuts into export markets during the southern hemisphere winter. As a result the latest Entice magazine not only carries recipes for forequarter and secondary cuts, but also loin cuts suited to winter roasting.
A first for the new campaign will be a promotion in collaboration with market-leading Melbourne/Sydney metropolitan radio station, Nova, and Channel Nine's morning Today Show involving a "Beef Truck" where listeners vie to have their workplace supplied with a "Winter Warmers" casserole lunch from the promotional vehicle each day. The "Beef Truck" will also be employed at major football stadiums, train stations and similar high-density metropolitan venues.
MLA will also continue its behind-the-scenes involvement with the popular Master Chef TV program, and is also sponsoring a new cable TV show called "Secret Meat Business" appearing on the Food Channel, which will include product give-aways and other consumer promotion.
Rather than straight direct-spend on media, the latest domestic campaign appears to be putting greater emphasis on public relations, events and media positioning in other ways, that may provide more 'bang for the buck' for industry levy payers.
Rather than greater expenditure, the domestic market promotional budget from July 1 is in fact a little less than it has been earlier.
Mr Feist said the 'Winter Warmers' campaign will be followed in July/August with a new nutrition campaign, providing a continuity in the beef consumer message that was not seen previously when campaigns tended to be 'shorter, but sharper.'