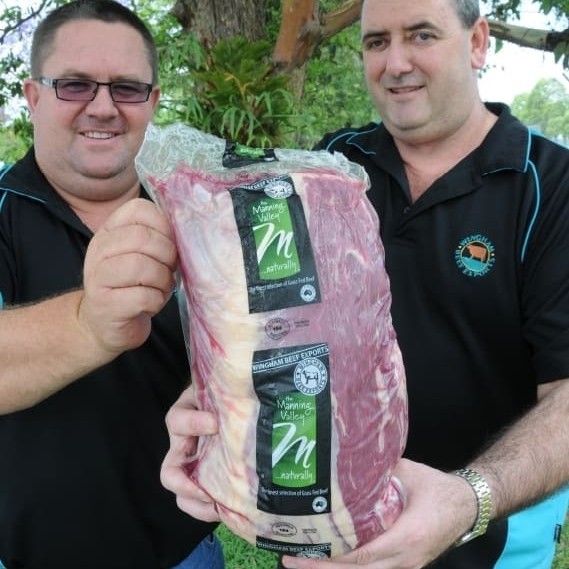 Nippon Meat Packers Australia's Wingham Beef Exports plant in NSW is the latest to join the 'Natural' beef brand trend across Australia, with the launch of a new MSA-backed product this week.
Along the lines of the King Island brand phenomenon, 'Manning Valley …Naturally' is a region-specific brand identity that could at some future time encompass a range of locally-produced foodstuffs.
The concept was devised by the Greater Taree City Council as a marketing initiative designed to showcase the region's abundant high quality produce, and potentially act as a 'foodie' tourist drawcard to the region from nearby Sydney.
Wingham Beef Exports, located in the heart of the Valley, has entered into an agreement for exclusive use of the brand in the beef segment.
Wingham general manager Grant Coleman said the Manning Valley and surrounding districts located between the Mid North Coast, Lower Hunter and Tablelands was a highly productive grazing region with a high proportion of British-bred cattle, making it ideal location for a quality MSA-driven brand initiative.
The brand program will take the premium end of the plant's throughput, looking for milk and two-tooth grassfed cattle, no-HGP, mainly British base. The program will be divided into an MSA boning groups 1-3 category, aimed at the upper level restaurant/butcher shop trade, and a higher boning groups 4-10 category for the remainder.
Because smaller beef herds are a common feature of the Manning River valley area, the program will cater for a relatively wide carcase weight range, from 180kg to 350kg.
The wide range of cuts size will tend to see butchers taking the lighter carcase range for more manageable portion size, and the food service trade the bigger bodies.
Wingham's first 'Manning Valley…Naturally' product is hitting the Sydney wholesale market this week, being marketed through Nippon's domestic wholesale arm, Beef Producers Australia.
While Sydney-based, BPA has a footprint up and down the East coast, and the brand may soon find its way from Hobart to Brisbane. The idea is to start the brand at a modest level of throughput, building awareness and demand for the Manning Valley identity, and then adding supply capacity to match.

While Nippon's Wingham plant has only fully adopted MSA systems over the past two to three months, it was in fact one of the early adopters of MSA in the processing sector when the tenderness guarantee scheme first started a decade ago.
Demand, and accredited livestock supply at that time was limited, and the first Wingham MSA program 'faded away', only to be re-activated in early September.
Part of the renewed interest is driven by the fact that Nippon Meats Australia now has a much stronger domestic market focus than it did earlier, when much of the company's turnoff was directed into North Asia.
"The other reason was that BPA's young salesman based at the Wingham plant was picking-up the very clear signal that retail and food service operators in the region very much wanted to target that good quality segment, day-in, day-out," Mr Coleman said.
"While we believe we already have very good quality beef here, by putting the MSA-brand and systems in place behind it, it makes it that much better and more consistent. It adds a lot of integrity to the program, and we genuinely believe that given the grass resource in this area, under MSA our grassfed beef will eat as well, if not better than domestic grainfed beef," Mr Coleman said.
"A lot of people in the district think it's a great idea, but it comes back now to getting it out into the marketplace, and building some brand loyalty. It's a beautiful carton lid (similar to the striking black, green and white brand image pictured on this page) and should be easily recognised in the marketplace," he said.
"At the end of the day we are a 600-a-day plant in a smaller regional community, and it is important to explore niche markets to remain viable in a very competitive beef market. It may only be a certain percentage of the kill, but these niche MSA-type markets are important, engaging in partnerships with livestock suppliers at one end, and butcher shops and restaurants at the other."
Moving recently from two shifts to a single shift, reducing throughput from 750 to 600 head daily, had freed up some chiller space at the plant, making it a little easier to cope with MSA boning group carcase sorting, Mr Coleman said.
The MSA cattle supply footprint for Wingham extends south to the Hunter Valley, west to Walcha and north to Dorrigo/Glen Innes. However a shortage of local MSA-accredited livestock suppliers has been overcome with a series of MSA courses conducted across the region in the past few months. The small-scale of many local producers presented a challenge in the MSA accreditation area, however compliance rates against MSA specifications in the early stages are well above 90pc.
"We get a lot of small consignments," Mr Coleman said. "It's not like Queensland where ten or twelve suppliers can occupy an entire shift. Here, it's not uncommon to have 50-60 different suppliers represented in a day's kill. That, in itself, presents its own challenges in an MSA kill," he said.
While Wingham itself has no direct connection with Woolworths supply, the BPA business already sells the major retailer a lot of primal cuts, and it could be well positioned when Woolworths launches its full MSA supply program in January.
In another significant recent MSA move within Nippon's Australian operations, the company six months ago started a grainfed MSA program at its Oakey abattoir in southern Queensland, mostly under the Angus Reserve 160-180 day program.