It's not unusual for this time of year, but the wholesale beef market is finding it tough going for grilling cuts at present, as winter chills chase 'barbecue tongmasters' indoors until things warm up.
Major supermarket retailers have told Beef Central recently that while roast cuts and some slow-cook items have perhaps not sold up to expectations so far this winter, the particularly mild conditions during May and most of June kept grilling cut sales reasonably buoyant.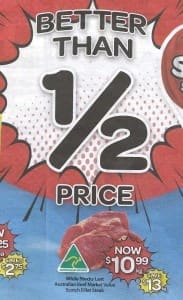 That's now changed through, with the onset of proper winter conditions. Pricing, particularly on certain grilling cuts like scotch fillet (cube roll, rib-eye) has fallen away recently, driven in part of historically high weekly kills for the past four months, but also a decline in consumer demand.
There's no shortage of evidence of the current supply/demand imbalance, with major supermarket chain Woolworths yesterday placing national metro newspaper advertising pushing a "Less than Half Price" Red Spot specials of Market Value scotch fillet at just $10.99/kg – a discount of a whopping $13/kg.
The company's online shopping portal also has new Red Spot specials on both Everyday and Market Value porterhouse, curiously both offered at the same price of $10.99/kg, also less a than half price.
Woolworths 'Market Value' (budget) offer is typically AusMeat PR or YP-cipher grassfed beef, 4-6 teeth, bought out of the general wholesale market, rather than through the company's internal supply chain. It does not carry MSA protection. Contrary to some beliefs, neither Woolworths nor Coles use A-cipher cow meat in their budget segment offers, and never have.
A wholesale market contact said Woolworths had been caught with a quantity of hard-to-shift scotch fillets after conditions had turned cooler recently, and had apparently decided to convert them into a loss-leader.
"They've got cube rolls up their jumper all over Australia, plus they've been buying quantities of PR/YP scotches in, paying around $11/$11.50, to stock up to run a big special," the contact said.
Apparently Woolworths adopted a similar strategy a week earlier with chicken breast, selling at less than $7/kg.
"They've found themselves in a corner with their own meat, and figure the best way out is to give it to their customers at a short-term half-price sale," our wholesale sector contact said.
"Woolworths, like everybody in the chain has use-by dates to deal with, and if a certain product starts to stockpile due to demand changes, they have to keep moving them, through price adjustment," he said.
Export alternative
Scotch fillets (cube roll, rib-eye) tend to be the worst affected in such circumstances, because the cut is in much lesser demand in emerging export markets than grilling cut alternatives like striploin (sirloin porterhouse), which continues to gather considerable support markets like China.
"The emerging, developing export markets just don't have the same attraction for cube roll as they do for other grilling cuts. It's a more western cut than what they are used to, and cube roll is not a cut that they embrace," Beef Central's wholesale contact said.
"Even in Australia, scotches can be harder to place over winter than other cuts. Go to a conference or a large function somewhere, and you will see an eye fillet, or if you're in Melbourne or Adelaide, perhaps a striploin on the dinner plate, but never a cube roll."
The contact said bottom-end A-cipher (cow) cube rolls in a typical year went from $6 at the low point in the cycle, to $11/kg at the top. Even good quality grainfed 100-day cube rolls could vary anywhere from $14 to $17/kg across the yearly cycle.
Wholesale prices on cube rolls were 'all over the place' at the moment, which led to our contact declining to offer indicative quotes on different descriptions.
"It's an annual thing, but certainly at this time of the year, these cuts come under pressure. Having said that, retailers have had it pretty good earlier in winter this year, because it was so mild, and consumers continued to use the barbecue."
The disadvantage some supermarket groups are at is that their supply chains may not have access to export markets, to act as a safety-valve during times of over-supply on the domestic market.
"Also, the big supermarkets are normally short of those grilling cuts at other times of the year. So it means they have to go through a bit of pain now, because they know there will be a high demand period for the same cuts during summer."
The winner, in current retail price cutting for sweet cuts, is the consumer, who is getting some outstanding bargains.
A senior management source at Woolworths said this week's Red Spot specials on beef were part of the company's effort seeking "always try to improve our value offer to our customers."
"We work closely with our suppliers, and just now, in the middle of winter, is a great opportunity to deliver some really great value to customers," he said.
"It's a short term promotional activity that we have on, this week."