McDonald's Australia has joined the list of chains offering plant based burgers in Australia with the nation-wide launch of its new "McVeggie" burger on Wednesday.
It follows the highly-publicised introduction of plant-based and vegan offerings by Australian fast-food rivals Hungry Jacks and Domino's in 2019.
Unlike Hungry Jack's plant-based Impossible Whopper, which aims to closely mimic a beef burger using plant-based ingredients, McDonald's McVeggie burger does not resemble a traditional beef patty.
It instead uses a deep fried potato, cheese and veggie patty, accompanied by lettuce and pickles, as the picture above shows.
However, like the Hungry Jacks' burger launched in October last year, which attracted criticism from vegans because  the plant based burger is cooked on the same grill as meat burgers, McDonald's new offering has not pleased all vegetarians because it is cooked using the same equipment as McChicken patties.
McDonald's said the move is a response to customer demand.
"We know there's an appetite for alternatives to traditional meat proteins and Australians are looking for more plant-based options in their diet," McDonald's chief marketing officer Jenni Dill said.
"As a business constantly focused on responding to what Australians want, we're excited to now be serving up the McVeggie burger to our customers across the country."
She said the new McVeggie patty is constructed from Australian grown vegetables including potatoes, peas, corn, carrot and onion.
Roy Morgan Research has suggested that more than 2.25 million Australians live a meat-free lifestyle, making the country the third-fastest growing vegan market worldwide.
Last year McDonald's launched a vegan burger named the McVegan in Finland and Sweden followed by testing of a plant based burger called the PLT using the Beyond Burger in 28 stores in Canada.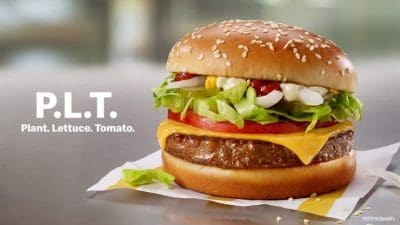 Last week McDonald's and Beyond Meat announced they will expand the PLT trial to 52 stories in Ontario for the next 12 weeks.
Despite the expanded trial a market analyst cautioned against too much excitment.
"The initial feedback has been largely positive, although it seems that the trial has not been a blowout success thus far that justifies an immediate nationwide rollout across both Canada and the US," Alexia Howard from Sanford C. Bernstein told the Los Angeles Times.